ST. LOUIS • A man who police say was shot and killed by a homeowner while trying to break into a Dutchtown home has been identified as Trevin Johnson, 26.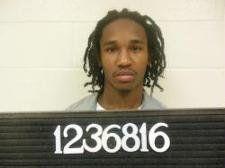 Police received a call for help at about 11 p.m. Four people were inside the home at the time, and the caller reported that three men were trying to force their way in. While on the way to the home, police got another call that someone inside the home had shot one of the people trying to break in.
Johnson was pronounced dead at the scene after police and paramedics arrived. 
The two other men who were involved in the home invasion ran off and have not been captured, police said. Authorities asked anyone with information to contact CrimeStoppers at 1-866-371-8477. Tipsters can remain anonymous and may be eligible for a reward.
Johnson had more than a dozen convictions on counts including burglary, stealing, resisting arrest and gun charges, according to the Missouri Department of Corrections. He served a prison term in 2012 and another from March 2015 to July 2018. 
Johnson is the half-brother of Anthony Smith, 24, who was fatally shot by former St. Louis Police Officer Jason Stockley in 2011.