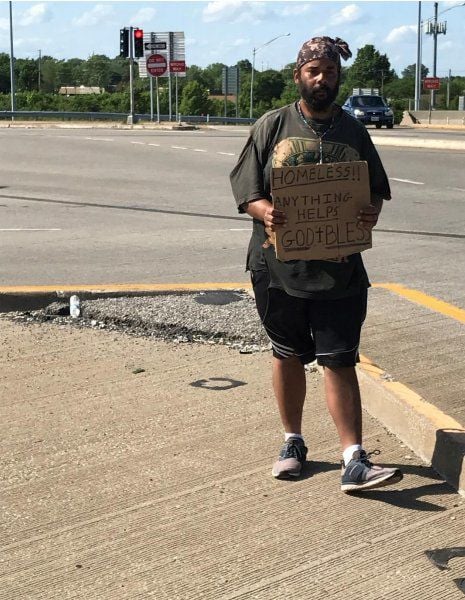 ST. LOUIS COUNTY — A federal judge on Tuesday struck down multiple St. Louis County ordinances used to target panhandlers and awarded $150,000 to a homeless man who had been arrested several times for violating those ordinances.
U.S. District Judge Stephen N. Limbaugh Jr. also awarded $138,515 to Robert Fernandez's attorneys.
St. Louis County police cited Fernandez "31 times and arrested him four times for soliciting without a license and (have) held him pursuant to these arrests for a total of 28 hours and 26 minutes," Limbaugh wrote.
"County police officers repeatedly arrested and detained (Fernandez) for engaging in protected First Amendment speech, pursuant to an unconstitutional ordinance defendant implemented and enforced," Limbaugh wrote.
The judge prohibited the enforcement of an anti-vagrancy ordinance, one barring people from standing in a roadway for the purposes of soliciting, and another covering solicitor licensing.
Limbaugh said two of the ordinances were unconstitutional restrictions on speech. The county required a license for soliciting, he said, only for "those asking for 'property or financial assistance' or selling or taking orders for certain items. They do not apply when people are, for example, advocating for a political cause, soliciting votes or seeking petition signatures," Limbaugh wrote.
Limbaugh said the county had failed to back up its claims that the ordinances promoted safety of traffic and pedestrians, saying "many other forms of roadside expression, such as protesting, soliciting signature petitions, campaigning or evangelizing," could also distract drivers.
Regarding the anti-vagrancy ordinance, Limbaugh said, "These types of vagrancy laws are 'plainly unconstitutional' violations of due process because they do not give fair notice of what is prohibited and because they lend themselves to arbitrary enforcement."
Bevis Schock, one of Fernandez's lawyers, said Limbaugh didn't restrict the right of county officials to "put in restrictions for safety of pedestrians and drivers, but the way the county wrote this one was obviously an attempt to restrict speech by poor people."
"They said it was OK for a politician to stand on the side of the street and ask for money, but not Robert Fernandez. I don't think that helped their case," Schock said.
The County Council has been unsuccessful in attempts to change the ordinances to address both a lawsuit by Fernandez and complaints by residents and police about aggressive panhandlers.
In an email, St. Louis County Counselor Beth Orwick wrote," We are reviewing the decision of the Court and will then decide next steps. "
Fernandez can often be spotted at the northbound exit for Interstate 55 at Lindbergh Boulevard, because the large amount of traffic means he can make more money there, the ruling said.
Fernandez applied for and received a solicitor's license before, but the license expires after six months, can't be renewed and limits solicitation to daytime and a maximum of three days per year at certain busy intersections, the ruling said.