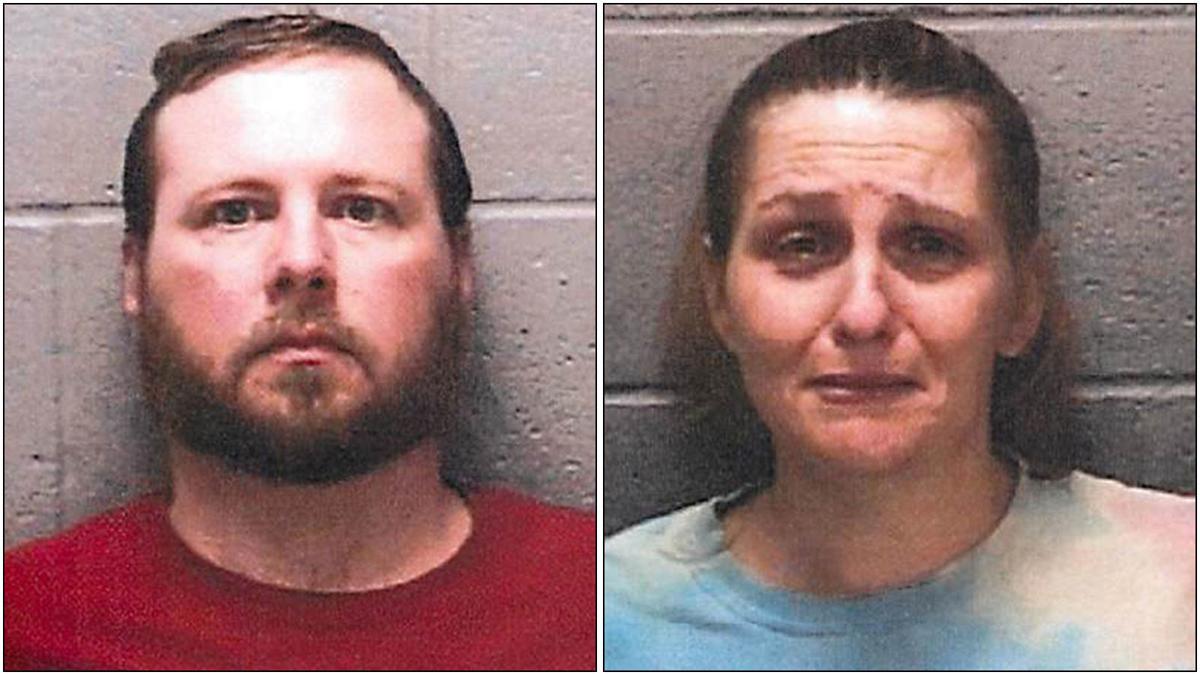 JERSEYVILLE • Nearly two years before a 6-year-old Jerseyville boy died of starvation, workers with the Illinois Department of Children and Family Services received a hotline call about the child's home and launched a probe that appeared to focus on the child's weight.
The hotline call in January 2016 "alleged inadequate food in the home," according to a statement from DCFS spokeswoman Alissandra Calderón. "After a pediatric specialist concluded that the now-deceased child's weight was a result of a medical condition, the investigation was closed as unfounded."
Police and prosecutors say Liam's father, Michael Roberts, and stepmother, Georgena Roberts, both 42, starved the boy and his 7-year-old brother as a form of punishment over about two years. The Robertses have been charged with first-degree murder and two counts of child endangerment. Bail for each has been set at $500,000.
Court documents say the Robertses "knowingly and intentionally" caused Liam to become "extremely malnourished," starting in December 2015.
Jerseyville County State's Attorney Benjamin Goetten said authorities did not believe the dead child's malnourishment was the result of a medical condition, but declined to elaborate. He said he would release more information soon. DCFS would not disclose the medical condition.
The child endangerment charges relate to the 7-year-old boy. That child "fell into a state of severe malnourishment caused by" the Robertses, according to court documents. The couple "withheld food and nourishment on a constant basis" from that boy, charges say. Police said the boy was admitted to intensive care. He has since been stabilized, officials have said.
DCFS is investigating again after Liam's death, and took custody of the boy's five siblings who lived in the Roberts home in the 200 block of Ferguson Street. That includes the 7-year-old brother and a 9-year-old child, who were both taken to St. Louis Children's Hospital Friday. The others are ages 12, 13 and 14. All five of the children have been placed with relatives.
It was unclear why the 9-year-old was taken to a hospital. Calderón has not responded to questions about the status of the 9-year-old.
Goetten said Wednesday that his office had not received any reports or evidence regarding the 9-year-old's condition to suggest that any criminal conduct occurred, therefore the parents had not been charged with abusing that child.
Neither Liam nor his 7-year-old brother were enrolled as students in Jersey Community Unit School District 100 this year, according to Superintendent Brad Tuttle. He would not say when they were dropped from the district's rolls.
He said "several older relatives" of the deceased child were students in the district, but he declined to release any additional information about them.
The Jersey County coroner identified Liam but declined through the prosecutor's office to comment on the condition of his body or how long he had been dead when brought to the hospital. An official cause of death will be released when an autopsy report is finished.
Jerseyville Police Chief Brad Blackorby has declined to answer questions about the case and referred reporters to Goetten.