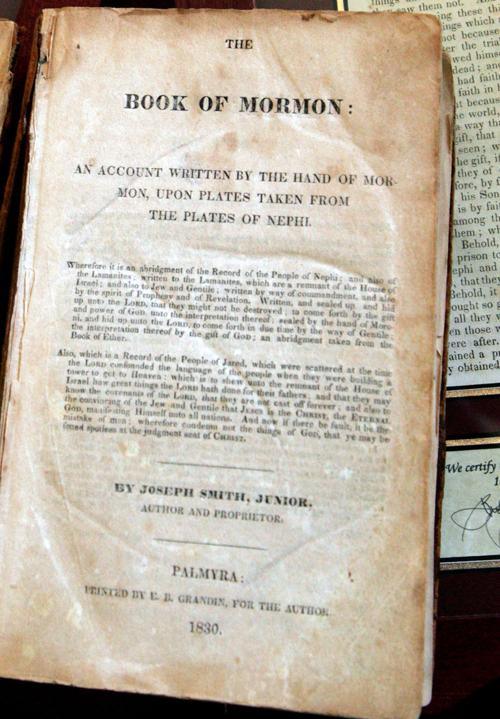 A woman from Southern Illinois can keep a rare 1830 Book of Mormon worth tens of thousands of dollars despite filing for bankruptcy, a federal appeals court in Chicago said Thursday.
A bankruptcy trustee sought permission to sell the book, which Anna F. Robinson found while cleaning out a library in Anna, Ill., about 100 miles southeast of St. Louis, to help pay Robinson's debts of $23,000.
But Illinois law exempts "a Bible" from the items that must be sold to pay debts.
After filing a Chapter 7 bankruptcy in 2013, Robinson wasn't sure that the exemption covered valuable bibles. A trustee said that because she had other copies, both electronic and on paper, it did not.
A bankruptcy judge agreed, writing that allowing exemption of Robinson's Book of Mormon would "violate the intent and purpose of the statute," namely "to protect a bible of ordinary value so as not to deprive a debtor of a worship aid," the appeals court ruling says.
But a U.S. District Court judge disagreed, saying that the Legislature had placed no limitation on the value of a bible.
On Thursday, the 7th U.S. Court of Appeals held the same, ruling that the "plain wording of the Illinois personal property exemption statute" allows the exemption for Robinson. The court said that "it seems clear" that the Legislature did not intend to set a dollar value limitation on a religious text.
Although it is clear that the exemption applies to only one bible, the three-judge panel said, they did not agree with the trustee that it should "limit Ms. Robinson to one Book of Mormon of negligible monetary value."
Patrick McCann, one of Robinson's lawyers, said that he and Robinson were "happy" with the decision.
McCann said that the trustee had the book, but he expected it would soon be returned to Robinson, who is a member of the Church of Jesus Christ of Latter-day Saints. She has no plans to sell it.
"She could have sold it a hundred times," McCann said.
McCann said that he had the book in his office at one point but never took a picture.
"It's just a simple little (book) you wouldn't think it was worth a dollar," he said. "I guess what makes it valuable is Joseph Smith himself handed these books out."
Robinson's book is a first edition, one of only 5,000 printed by Smith, the founder of the Mormon church, the ruling says.
She found the book in 2003. At the time, she was working for the library in Anna. She agreed to clean out a storage area in exchange for use of the area as an office. She was also allowed to keep any books she found, the ruling says.
Robinson told officials that she kept it in a plastic zippered bag and takes it out only to show "her children and church members," the court ruling says.
In a 2014 episode of "Antiques Roadshow," a Book of Mormon from 1830 was valued at $75,000 to $100,000, in part because it was in good condition and had been handed down within one family, the Deseret News reported.