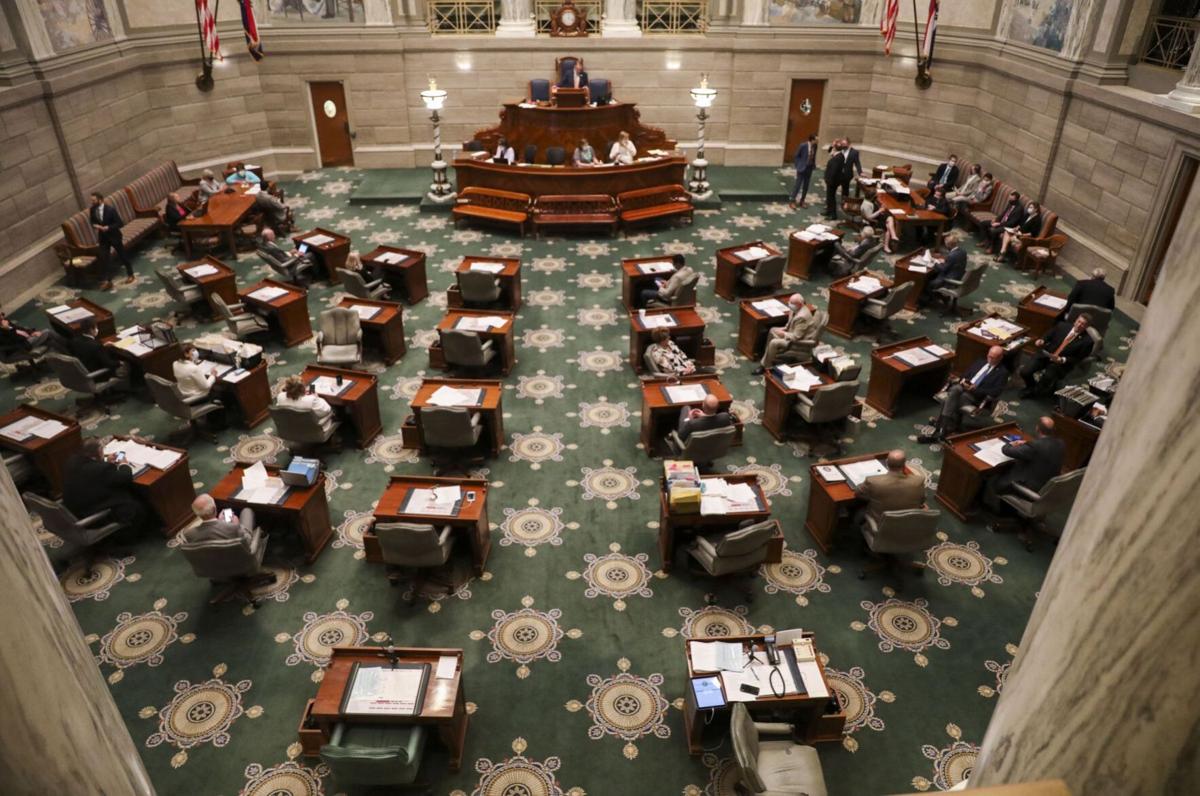 Updated at 3:15 a.m. Thursday.
JEFFERSON CITY — Missouri Senate Republicans flexed their majority early Thursday morning, employing a rarely used parliamentary maneuver to cut off debate and push through a proposal allowing the attorney general to intervene in St. Louis murder cases.
The action capped a day of contentious debate in the upper chamber. Shortly before noon Wednesday, state Sen. Bob Onder, R-Lake Saint Louis, proposed giving the Missouri attorney general the new powers — a measure originally sought by Gov. Mike Parson, but thought to be dead after the House failed to act on it.
Democrats stalled a vote by debating the change for six hours, blasting the effort as an attack on Circuit Attorney Kimberly M. Gardner, the city's first Black prosecutor, and an affront to the authority of local law enforcement, noting the Missouri Association of Prosecuting Attorneys had long opposed such efforts.
Onder's move to resurrect the measure eliminated the possibility of a drama-free conclusion to the special legislative session, which Parson called to advance legislation to address crime.
Late Wednesday afternoon, the Senate shelved the matter, delivering a temporary win to Democrats. But Republicans shortly after 8 p.m. began meeting behind closed doors. After 1 a.m. Thursday, the Senate reconvened.
At about 1:20 a.m., Onder withdrew his previous proposal and submitted a new measure authorizing interventions. In an apparent concession to opponents, the replacement legislation expires Aug. 31, 2023. He then successfully moved to cut off debate, or to "previous question," collecting signatures from 18 Republicans to end debate.
The Senate Fiscal Oversight Committee, which reviews bills before they are presented for final passage, met at 2:15 a.m. Thursday. State Sen. Jamilah Nasheed, D-St. Louis, said the committee was breaking the state's Sunshine Law by not giving 24 hours' notice before debating the bill.
"We are breaking the law right now," she said, adding that she wanted her concerns "on the record" for an eventual lawsuit.
After the Senate Fiscal Oversight Committee advanced House Bill 2, which originally dealt only with what evidence is used in prosecutions, the full Senate voted 22-8 to send the proposal to the House, which doesn't have to take up the Senate's bill.
"This is an insult to justice," said Sen. Karla May, D-St. Louis, adding officials had "turned over responsibility" for the state's COVID-19 response to counties, but moved to take away local control in this instance. "It's sad, and it's hypocritical to me."
The maneuver to cut off debate is rarely used in the Senate, considered a "nuclear option" of last resort that can trigger fierce retribution by the losing senators, who can then filibuster other priorities. It is regularly used in the House, which moves at a faster pace than the more deliberative Senate.
Earlier Wednesday, Nasheed accused Onder of "carrying the water" for former Gov. Eric Greitens, whom Gardner prosecuted in 2018, charging the sitting governor with computer tampering and invasion of privacy. Greitens resigned in June of that year.
Onder countered that Parson and Attorney General Eric Schmitt supported the change "to fight violent crime in the city of St. Louis."
Nasheed responded: "She didn't ask for your help!" 
"She is badly understaffed, badly, has very little experience in her office, and badly needs help," Onder said. The measure, he said, "can be a valuable tool to fight the crime epidemic, the murder epidemic, in the city of St. Louis."
Onder also criticized Gardner's prosecution of Mark and Patricia McCloskey, who face felony gun charges after brandishing firearms this summer at protesters who entered Portland Place, a private street in St. Louis' Central West End. Some conservatives have rushed to defend the couple, who spoke at the Republican National Convention last week.
"It is political theater," Sen. Lauren Arthur, D-Kansas City, said of Onder's proposal.
His legislation would allow the attorney general's office to act if the city's chief law enforcement officer requested an intervention; if more than 90 days have passed since the alleged crime; or if a "complaint, information, or indictment" has "not been filed or has been filed and dismissed." 
Residency relief approved
Earlier Wednesday, the Senate voted to ease the city's residency rule for first responders, sending the proposal to Parson.
The residency legislation would remove the current requirement that police officers live in the city seven years from their hiring date.
It also removes residency rules for other public safety personnel, including firefighters, ambulance attendants and drivers, paramedics, dispatchers, registered nurses, physicians, and sheriffs and deputy sheriffs.
The measure prevents the city from enforcing the residency requirement for employees hired before Sept. 1, 2023.
Senators green-lighted it on a 25-5 vote.
St. Louis' two senators — Nasheed and May — voted "no." Other Democrats who voted against the bill were Sen. Brian Williams of University City, and Sens. John Rizzo and Lauren Arthur, of the Kansas City area.
Sen. Jill Schupp, D-Creve Coeur, who is running for Congress against U.S. Rep. Ann Wagner, R-Ballwin, voted to lift the residency requirement, along with Democratic Sens. Scott Sifton of south St. Louis County and Gina Walsh of Bellefontaine Neighbors.
St. Louis voters, meanwhile, are set to vote on the requirement in November. Opponents have said lawmakers were disregarding local control.
"This is a positive step toward leveling the playing field and allowing us to be more competitive in hiring, retaining and recruiting public safety employees from a larger geographic area," St. Louis Mayor Lyda Krewson said in a statement.
The St. Louis Police Department was down 143 officers as of August, the department has said.
While the St. Louis Police Officers' Association cheered the Legislature's action, Jeanette Mott Oxford, a former St. Louis state representative and director of policy for the advocacy group Empower Missouri, opposed the action.
She said the city needed to take a "multi-faceted approach" to fix staffing shortages, including professional development efforts, new training, higher wages, better benefits and work conditions.
Other action
Senators approved a witness protection fund, House Bill 66, delivering the measure to Parson. Detractors said the fund would do nothing because the Legislature had not funded the program.
The Senate modified House Bill 11, which would criminalize knowingly encouraging, aiding or causing a child younger than 17 to engage in a weapons offense, sending it back to the House for further consideration.
The upper chamber forwarded House Bill 16 back to the House, which would make it a class E felony to transfer firearms to minors in order to avoid arrest for a crime.
The House, in its bill, had wiped a provision from state law that outlaws transfer of a firearm to a minor without the guardian's permission. They argued close relatives taking children hunting could be charged under current law.