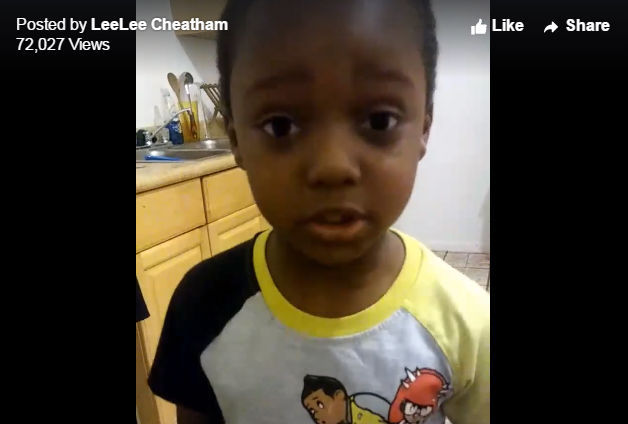 ST. LOUIS • With the help of his mother, Jeffrey Laney took to Facebook imploring people to stop the violence.
"People need to stop killing each other because this is just making me feel bad," the 6-year-old St. Louis boy says in the video that his mother posted on her Facebook page last week.
Soon, the views added up, standing at more than 70,000 as of Sunday afternoon.
"He was just complaining about being afraid to die," his mom, Leanndra Cheatham told the Post-Dispatch. "He listens to everything around him and watches the news and there's not a lot of good things on there."
Cheatham said the death of her cousin, Taylor Simpson, 17, who was killed in a drive-by shooting last month in University City, took a toll on her, and Jeffrey saw her struggling to deal with the loss. She has taken videos of her son before, so during one of the talks about violence, she decided it was time to do so again. Jeffrey said the murders have to stop.
"I don't want nothing to happen to all my family, and I'm really serious because I'm really scared to die and I'm really scared for my family to die," the kindergartner said in the 4 minute, 20 second video.
As she was making the video Monday night, tears began to fill Cheatham's eyes.
"I didn't want people to hear me break down crying, so I had to cut it short," said Cheatham, who lives downtown with her son. "I was hurt but proud."
Cheatham, 28, works at the St. Louis Justice Center, taking inventory of prisoner possessions and other data entry.
"I remind him every day that that is the one place he don't want to be and that there are a lot of bad people out there," Cheatham said.
Jeffrey says in the video that carjackings and other crimes are something that a little boy should not know about.
"I know about all bad stuff," Jeffrey says in the full video.
On Saturday, Cheatham posted on Facebook that what her son said in the video keeps her awake at night.
"I can't do nothing but look at him and hurt because he feels that way!!" she wrote. "God he is supposed to be enjoying this stage."
Despite Jeffrey's plea, he did end his video message on a hopeful note.
"God is my weapon," he says. "God is going to make sure I'm safe."
Shake off your afternoon slump with the oft-shared and offbeat news of the day, hand-brewed by our online news editor, Mandy St. Amand.