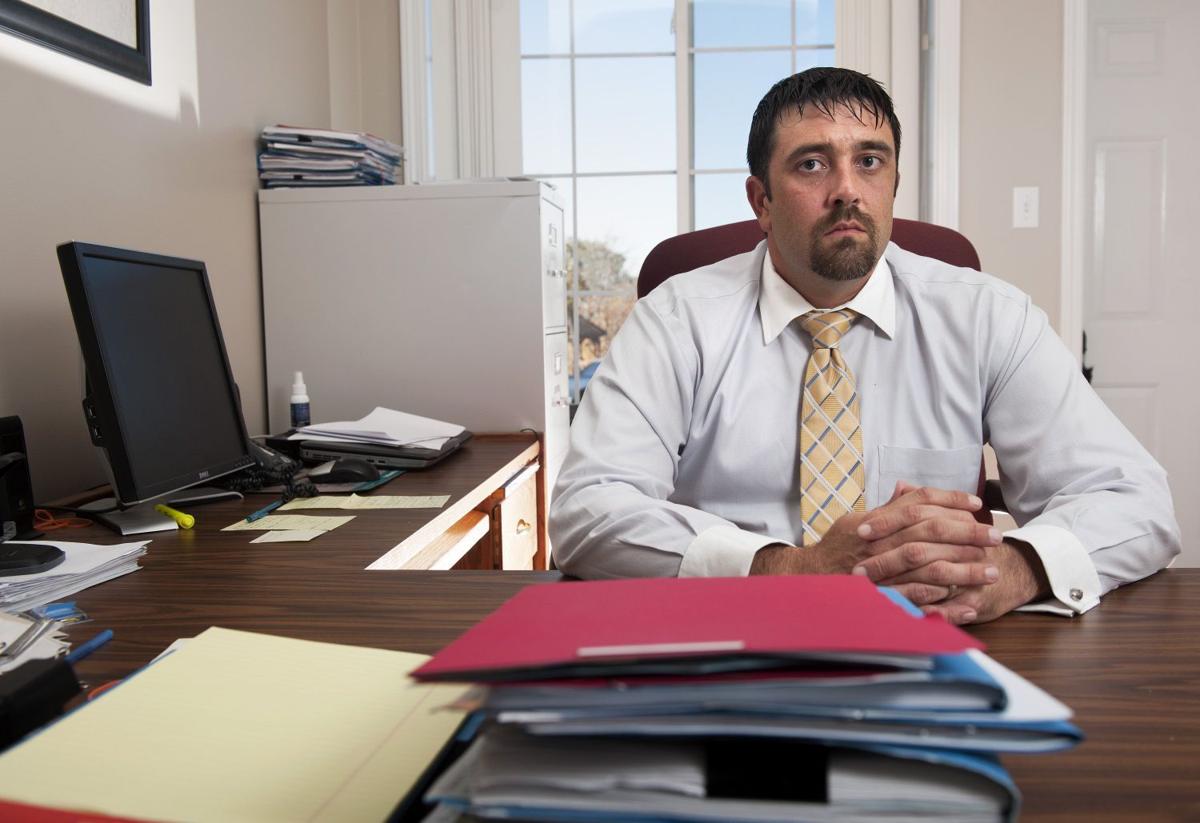 HILLSBORO • Nineteen-year-old Cody Gaines could have received 20 years in prison.
But after he pleaded guilty to a number of charges including first-degree robbery and stealing a motor vehicle, Gaines' court-appointed public defender, Charles Hirth, argued for leniency, a second chance.
It worked: On Oct. 6, a Jefferson County judge sentenced Gaines to 120 days of shock incarceration. If he misbehaves, he could face the 20-year prison sentence.
Hirth embraced his client. Then he let out a breath he'd been holding for what seemed like hours.
"I was nervous for him," Hirth said afterward. "Man, he's just a kid."
Low-income Missourians have had the right to a public defender for half a century — it's a right relayed during every arrest made. But with funding at its lowest level in four years, the state's 376 public defenders are overworked and underpaid, statistics suggest.
Some experts blame it on politics. After all, it's not popular to spend public money on people such as Gaines, who couldn't afford representation.
But legislative budget leaders say all state employees are facing the same fate as Missouri struggles to gain financial footing after the recession.
Michael Barrett, director of the Missouri State Public Defender System, asked Gov. Jay Nixon, a Democrat, this summer to give the public defender program an additional $10 million in the supplement to the current year's budget.
Nixon's office says they haven't determined that budget recommendation, but evidence suggests such an increase is unlikely.
Piles of cases wrapped in blue folders — some of them several inches thick — decorate Hirth's desk like oversized paperweights. He pored over one as he checked the online court docket.
It was Oct. 6, a day in which five hearings for his clients had been scheduled. That meant a long day in court for Hirth, and a gas station soda for lunch. His work day started at 7 a.m.
"It's impossible to stay ahead," he said. "Every case I close, I get another three new ones."
Hirth, 38, is one of five lawyers in the Jefferson County public defenders office. He juggles 130 to 150 cases at any given time — a familiar plight among the state's public defenders, who together handle about 100,000 cases in a year.
A 2014 study of the state's system found that public defenders were spending an average of 27.3 hours less than deemed sufficient to provide reasonably effective counsel in various cases. For example, the study determined attorneys should expect to spend about 63.8 hours on a sex-related felony. Missouri public defenders spent an average of 25.6 hours.
Based on the study's conclusions, the state system needs almost 270 additional attorneys to meet the current needs based on last budget year's caseload data.
And that's with one of the strictest eligibility guidelines in the country. Missouri guidelines match the federal poverty guidelines, meaning an individual with a salary of $11,000 a year would not be considered poor enough to receive a public defender.
Put another way, a person could qualify for food stamps but not legal representation in Missouri.
But the state's public defenders can't even think about adjusting those guidelines without increased funding. System funding is $38.3 million in the current budget year.
Because it's not politically popular to provide money for this program, Paige Canfield, St. Louis University School of Law professor and director of Appellate Advocacy, said the system would have to reach a crisis point before anything changes.
"When public defenders start turning cases down," Canfield said, "that creates a crisis and eventually (the state) has to fix it."
Until then, public defenders say, they work long hours to get the job done.
Hirth spent more than 20 hours crafting a case to convince the judge that Gaines deserved mercy. He often works on cases outside normal business hours — including some weekends, early mornings and long after the sun sets on his Hillsboro office.
"You have to make time for your clients," he said. "And if there's no time, you figure it out."
The state's public defender system has complained about staffing levels and workload for years. A 2012 state examination by then-Auditor Tom Schweich said public defenders weren't keeping track of their time spent on cases accurately, suggesting that they were overstating their workloads. Public defenders responded by saying they were understaffed by any measure — an assertion that the 2014 study supports.
Hirth went to law school with a public defender career path in mind.
Eight years after becoming a public defender, he still believes in the cause. But that faith doesn't make paying back his student loans any easier.
"I don't know if I see myself doing anything else," said Hirth, who receives about $1,400 in his paycheck every two weeks, after deductions. "I hope something happens in the future, but it's not like I'm playing the lottery."
A 2011 compilation of salary data shows that three-year veterans of Missouri's public defender system made less than $46,000 a year — a figure lower than all eight surrounding states. By this year, that three-year salary average had risen to $50,341.
In Iowa, by contrast, a three-year veteran public defender makes $65,395 each year, with smaller average caseloads.
That state's 150 public defenders handled about 144,000 cases last budget year with the help of contracted private attorneys who make $60 an hour, said Kurt Swaim, first assistant state public defender in Iowa.
Iowa has about 1,000 private attorneys on tap when public defender caseloads become unmanageable, Swaim said.
Those private attorneys are paid through the state's indigent defense fund, which totaled about $31 million last budget year, and the public defenders are paid through a separate line that totaled about $26 million, he added.
As a result, Swaim said, turnover is low. And when public defenders leave, it's usually to take a post as a judge.
That differs greatly from Missouri, where the turnover rate is about 15 percent annually.
Canfield, a former public defender, said the turnover "puts an extra burden on the whole system."
"You can't send (serious) felonies out with a lawyer who just passed the bar," she said.
THE OTHER SIDE OF THE LAW
Hirth sat patiently in the jury box Oct. 6 as Jefferson County Judge Robert Wilkins ran through the list of names on his sentencing docket.
Three hours of Hirth's day would be eaten away as he waited for his three clients' cases to come before the judge. Hirth had another client set to stand before another judge that morning, but it's difficult to be in two places at once.
That's why it's especially hard for him to watch prosecutor after prosecutor stand before the judge, each on one case, and then walk out the door.
The Jefferson County Prosecuting Attorney's Office employs 15 assistant prosecuting attorneys, plus Prosecuting Attorney Forrest Wegge.
But it's difficult to compare prosecutors to public defenders.
The prosecutor's office receives much of its funding from the county, so employee pay and caseload differ from other counties across the state.
In Jefferson County, a starting prosecutor makes about $44,000, Wegge said. A starting state public defender makes $38,928.
Prosecutors' caseloads range from 200 to 500 cases at a time, but they handle some less serious cases. Some are child support cases or bad checks, Wegge said. They even handle traffic tickets and collect taxes for the Department of Revenue.
Wegge, in his ninth year as Jefferson County prosecutor, says he hasn't seen much turnover in four or five years.
"We do what we have to do, that's the bottom line," he said.
Michael Barrett's $10 million request this summer came shortly after the U.S. Department of Justice's report on the violation of the constitutional rights of poor children — particularly African-Americans — in St. Louis County Family Court.
Barrett asked for the money by letter to Nixon, writing that his office repeatedly had warned that the rights of poor Missourians weren't being upheld because resources were too few and the case load was too high.
But it's unlikely the system will see the kind of money Barrett requested.
House Budget Chairman Tom Flanigan, R-Carthage, said low pay and high workloads were not limited to public defenders. All state employees are asked to "do a lot and stretch themselves for limited compensation," he said.
"I wish the economy were better, I wish the growth in state government was doing much better," Flanigan said.
In the budget year that ended June 30, state revenue came in $340 million more than anticipated, and revenue has continued to grow since then.
So, Flanigan and House Speaker Todd Richardson, R-Poplar Bluff, are pushing for an increase in pay for all state employees in the coming budget year.
The Bureau of Labor Statistics shows that the average pay for full-time state government workers — $39,993 in 2013 — was the lowest in the nation.
State employees didn't receive a pay raise in the current budget year, but they saw small raises in years prior.
Though a small raise for public defenders is unlikely to solve their problems, the Justice Department report suggests that adding public defenders would be an immediate fix.
Hirth says the Jefferson County office could use an additional two attorneys, though he can't imagine what it would be like to have extra time to spend on the cases that need it.
It would certainly make days such as Oct. 6 much easier, when he skipped lunch to prepare for preliminary hearings only to have one client show up 30 minutes late and the other not at all.
Meanwhile, Hirth will continue to put in the extra hours to get results like the one in the Gaines case — results that Judge Wilkins classified as "working a miracle."
Hirth chalked up the Gaines sentence as a win and moved on to the next case, hoping he wouldn't see Gaines in a courtroom any time soon.