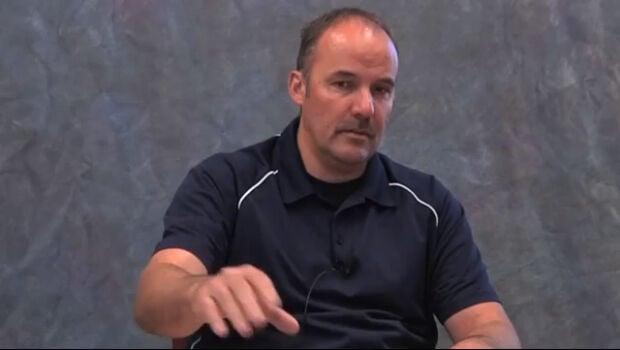 COLLINSVILLE • A video of a Collinsville police officer answering questions about drug-dog training is raising questions of whether his tactics amount to evidence tampering and possibly set up innocent motorists for unfair roadside searches later.
Officer Michael Reichert explains in a recording posted online that officers sometimes planted or smeared illicit drugs on vehicles parked overnight at businesses or motels, to test the dogs' abilities.
The drugs would be retrieved, but he acknowledges that if the vehicle were stopped by other police later, a dog sniff could lead to the search of a motorist who would have no explanation for the scent.
The video, entitled "Lodging in Collinsville," was put together by Terrance Huff, who earlier this year created "Breakfast in Collinsville." It mocked Huff's Dec. 4, 2011, traffic stop and drug search by Reichert as Huff and a friend passed through on the way home to Hamilton, Ohio, from a "Star Trek" exhibit in St. Louis.
Huff and the friend sued Reichert and the city for unspecified damages, leading to the pretrial deposition, on video, of Reichert.
Madison County Public Defender John J. Rekowski expressed outrage Thursday at what he saw.
"Is planting evidence a practice?" he asked. "Probably not by most law enforcement officials. That's exactly what this is."
He said it puts innocent people in jeopardy of a time-consuming search.
He also said the practice brings the sanctity of the evidence locker into question.
"I know of no authority that allows a police officer to take evidence out of the vault to do this," Rekowski said. "It raises serious questions that we need to look at, and we're looking at them, believe me. We're quite curious about where this stuff came from, accounting for it, what he does (with the drugs) when he's done.
"If he's taking evidence from a case I'm handling and putting it back like it was never touched … that raises serious issues."
State's Attorney Tom Gibbons declined to comment, citing Huff's litigation.
Calls to Collinsville Police Chief Eric Van Hook were not returned.
On the recording, Reichert tells Huff's attorney that police cars as well as cars in junkyards and public parking lots have been used to train dogs.
"We'd go to a hotel or grocery store parking lots, throw (drugs) on U-Haul trucks ... underneath big trucks and 18-wheelers and so forth," Reichert says, acknowledging that it was sometimes done without the vehicle owner's permission. And sometimes, he said, marijuana was wiped across a car door.
He said the dogs can detect the smell "for a time."
The five-minute, 39-second video is derived from a five-hour deposition. Huff narrates the version he posted.
"If you've stayed at the Days Inn, Motel 6 or any hotel near the Bluff Road exit in Collinsville, you may have unknowingly had drugs or drug scent planted on your vehicle," he says. "So imagine this: You wake up in your hotel. You gather your stuff and you check out. You hit the highway.
"While driving along, you pass this guy," he says, as a police car comes into view. "He pulls you over for whatever reason, calls in a canine."
He includes a scene from the CBS show "The Good Wife," which shows the star and her children being pulled over by a fictional Madison County sheriff's deputy.
Huff continues: "That gives the officer probable cause to search your car. You're detained for as long as it takes to search through your car."
The video uploaded to YouTube.com on Tuesday, had received about 6,400 views by Thursday afternoon. "Breakfast in Collinsville" had more than 428,000.
"I was just kind of stunned," Huff said about the officer's description of the tactics. "People who stayed in that area ... should have a right to know those practices are going on."
Marlon A. Walker covers Illinois general news for stltoday.com and The St. Louis Post-Dispatch. Follow him on Twitter at @marlonawalker