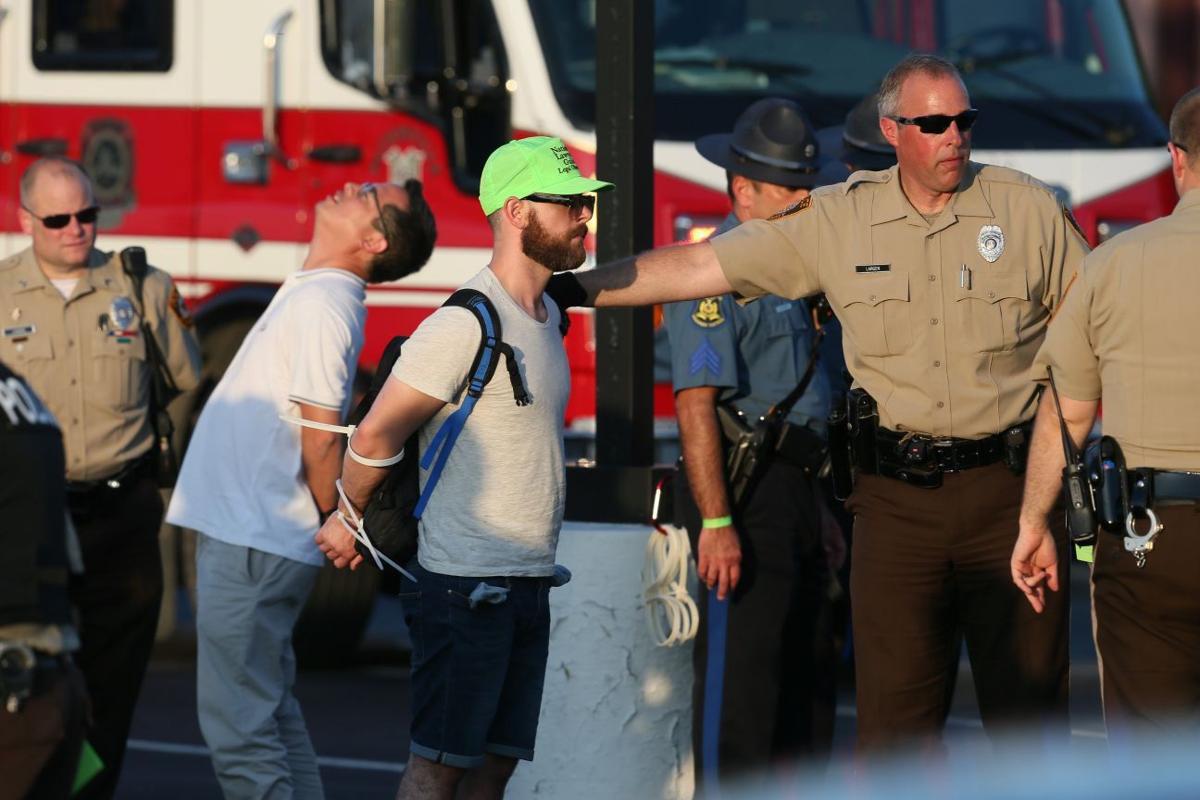 A circuit court judge in St. Louis County ruled on Monday that the county's ordinance barring interference with a police officer is constitutional and should not be struck down.
A lawsuit filed by two Ferguson protesters in 2015 alleged that the ordinance was unconstitutionally vague and could be used as a catchall to ban many activities that are protected under the First Amendment.
Melissa V. Bennett and Rebecca "KB" L. Frazier, both of University City, were arrested on Oct. 22, 2014, near the Ferguson police station, during a demonstration for a National Day of Protest Against Police Brutality.
The office of County Counselor Peter J. Krane charged them nine months later, accusing them of having "unlawfully interfered in any manner with a police officer or other employee of the county in the performance of his official duties or to obstruct him in any manner whatsoever while performing any duty."
Reno agreed with Krane's position that the county's interference ordinance resembles a Mississippi anti-picketing law that prohibited blocking access to government buildings and public spaces, which the U.S. Supreme Court upheld in 1968 in Cameron v. Johnson.
In that case, the high court ruled, the terms "obstruct" and "unreasonably interfere" were sufficiently clear.
Krane said he was "very happy" with the decision. Maggie Ellinger-Locke, a lawyer for the plaintiffs, said she planned to appeal.
The plaintiffs had argued the ordinance was more like a law that the U.S. Supreme Court struck down three decades ago, in Houston v. Hill, which barred interruption of a police officer in his duties "in any manner." In that case, the plaintiff had been arrested after shouting at police who had stopped to talk to his friend. The court found that the law as written gave police broad power to arrest virtually anyone who annoyed them.
The Department of Justice has criticized Ferguson police and courts for abusing a charge — "failure to comply" with a police officer's order. A Post-Dispatch story last month showed how Ferguson's lawyers for hire were refusing to back down from those cases against protesters, even those the Justice Department cited as infringements on constitutional rights.
The charges against Bennett and Frazier accused them of "walking and standing in the roadway after being warned not to do so by the police officer," according to the citation. Each was held for seven hours after the arrest.
Krane's office dropped the charges against them but they sued anyway because they continued to protest and were subject to the ordinance.