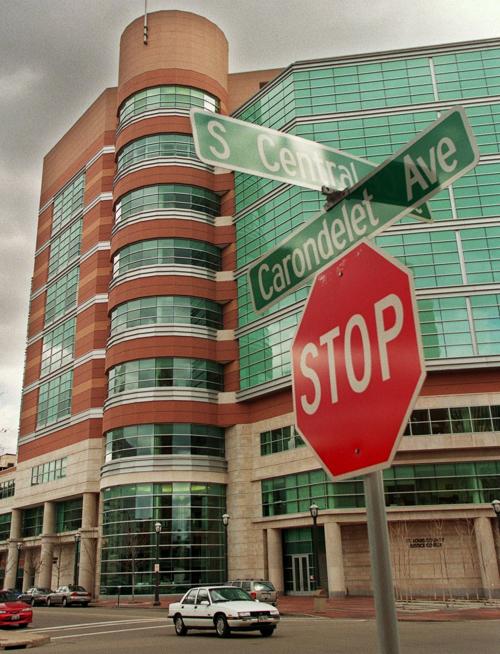 CLAYTON — An internal investigation at the St. Louis County Justice Center suggests Jo'von Mitchell's jailers and nurses believed he had a bad headache or a virus on the day before he was found unresponsive in his cell and that investigators believe he received attentive and appropriate care.
The investigative report, obtained by the Post-Dispatch, says Mitchell had worked for hours on Dec. 23 pushing food carts and showed "no signs of distress" in surveillance video. The report suggests the first sign of illness was when he could not get off the floor of his cell to visit a family member about 1 p.m. on Dec. 24, and that he did not ask to be taken to a hospital until early the next morning.
Even though the jail staffers seemed to understand by 4:30 a.m. on Dec. 25 that Mitchell was very sick, it took more than eight hours to transport him to the infirmary. It's not clear what medical attention he received in the infirmary before a nurse found him unresponsive in a cell in the infirmary at 5 p.m. on Dec. 25. He died on Dec. 27. The medical examiner has not ruled on his cause of death.
Mitchell's brother said Tuesday in an interview that jailers should have rushed his brother to the hospital when he was unable to get to his feet, suggesting they did not care about his health because he is facing charges that he shot a county police officer.
The brother and the Post-Dispatch both received written statements from several inmates on Mitchell's floor claiming that corrections officers could be heard saying Mitchell was faking his symptoms. The county's internal report does not address any of those allegations.
"I know how they treated my brother," said Mitchell's brother, who did not want his name published. "Justice is going to be done."
Mitchell's death was the first to occur after a host of reforms under Page, including changes that were supposed to trigger prompt action when inmates needed medical attention.
The report obtained by the Post-Dispatch found that Cueto told investigators — as he told the newspaper — that his cellmate had been sick and vomiting in the early morning of Dec. 24. But the report says neither Cueto nor Mitchell reported his illness at that time because they believed it would pass.
The report found that at 1 p.m. on Dec. 24, jail officers and nurses were aware Mitchell was too sick to stand and greet his brother in a visiting booth. The report also concludes that jailers did not make Mitchell stand for head counts throughout the day.
After Mitchell did not get up to visit with his brother, an officer logged: "Inmate was sick and unable to get up. Nurse was notified and responded to unit to see inmate …. Informed by medical staff that if not better by tomorrow, to complete a sick call form so that the provider can be contacted over the holiday."
Cueto told investigators that during a head count on Dec. 24, an officer checked on Mitchell several times, banging on the door to get Mitchell to respond. Mitchell told her to stop hitting the door and kept a sheet pulled over his eyes because the light was hurting them. He "was able to sit up and speak" when a nurse came to take his vitals about 3:50 p.m., the officer told investigators.
That officer told investigators she didn't make Mitchell stand for counts because he told her he was "too nauseated." Later that night, after a nurse gave him a nutritional shake, Mitchell seemed to be feeling better and told the officer to have a merry Christmas, the officer told investigators.
Mitchell's cellmate called for help at 4:37 a.m. on Dec. 25. Another officer told an investigator that Mitchell complained of a headache and dizziness and slurred his speech. The report says video footage about 6:50 a.m. shows Mitchell being escorted to a sally port by inmates to see a nurse. He walks unsteadily, leans up against a wall and slides down to the floor, then lies on his back.
Mitchell wasn't moved to the infirmary until 12:36 p.m. The video shows him stumbling and leaning against the wall as he walks, finally getting into a wheelchair to be taken to the infirmary. A nurse arrives at his cell at 12:45 p.m. and remains there until 1 p.m. The report did not lay out what medical treatment he may have received. More than four hours pass.
A nurse told an internal investigator that she was preparing her medicine cart about 5 p.m. on Dec. 25 when a corrections officer told her that Mitchell did not answer to him during cell rounds but "he did not convey any sense of urgency or fear that something serious was wrong with the patient or that he should be seen right that second."
While the county executive's staff said the officer "immediately involved the jail's medical staff," in fact, that wasn't true. The report found jail video showing it took three minutes for the jail officer to escort the nurse to Mitchell's cell. The report says the officer "does not act with a sense of urgency."
The nurse told the internal investigator, "Something told me I should go check on him first, and that's when I found him unresponsive."
The nurse called a "code one" and began life-saving measures at 5:15 p.m. Clayton EMS was called at 5:20 p.m., arrived at 5:25 p.m. and started CPR on Mitchell. He was transported to St. Mary's Hospital in Richmond Heights at 5:45 p.m., and was transported again at 9:02 p.m. to St. Louis University Hospital.
The report obtained by the newspaper was not intended for public release, and the information most likely would never have been made public. It was dated Jan. 9, the same date as the newspaper's interview with Cueto.