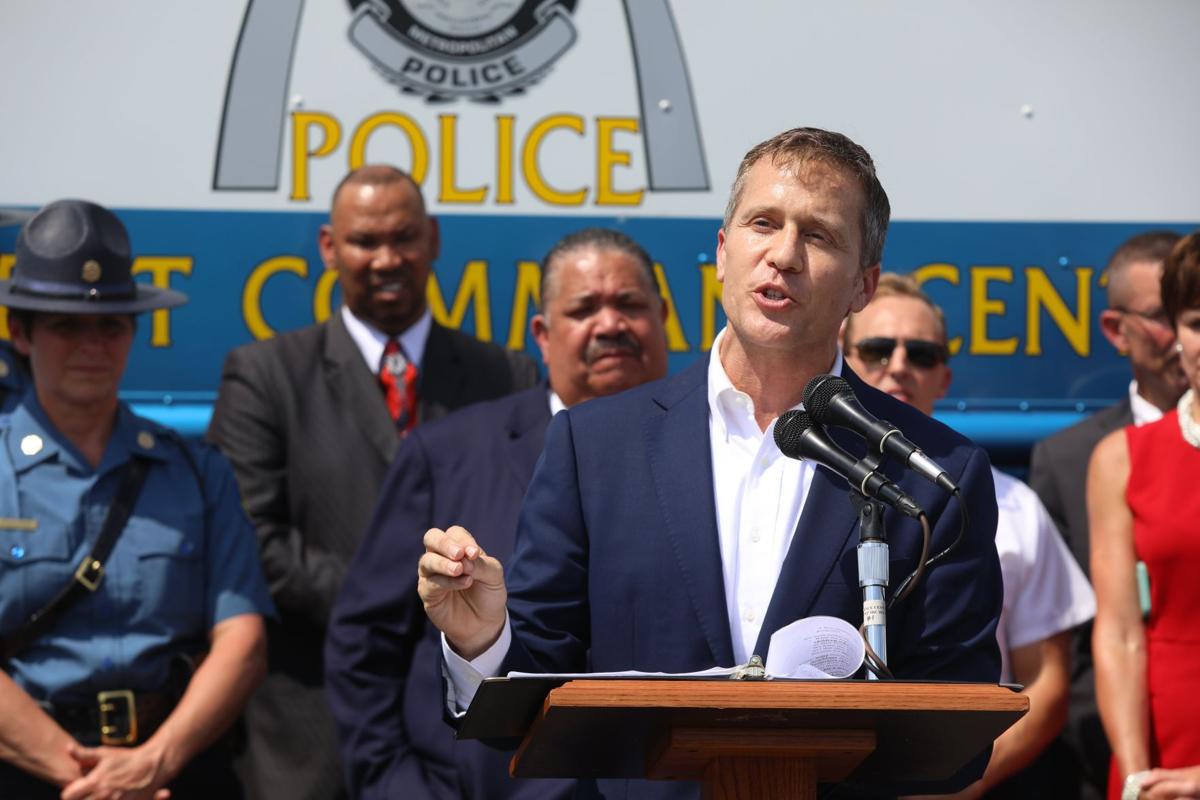 ST. LOUIS • The Missouri Highway Patrol began policing interstates in St. Louis on Sunday as part of a plan Gov. Eric Greitens says will help combat crime in "the most dangerous city in the United States of America."
The pilot program, as reported by the Post-Dispatch last month, puts troopers on patrol along Interstates 55 and 70 in an effort to free up St. Louis police resources for violent crime in the city's neighborhoods. The Highway Patrol is contributing 20 to 30 troopers as part of the 90-day pilot program.
During a press conference Monday at a parking lot on the city's north side, Greitens said troopers made "dozens of arrests" during their first night on the job.
St. Louis Interim Police Chief Lawrence O'Toole, who attended the press conference, did not know the outcome of the first night of the operation, but said he believed troopers issued more warnings than tickets and made two drunken driving arrests.
He said city officers have not patrolled the interstates for years, only responding to accidents or other issues when needed so they can remain focused on crime in neighborhoods.
"Having another presence of law enforcement will be helpful," O'Toole said.
Greitens also outlined how his administration is working with other entities including the FBI, Drug Enforcement Administration and the state Departments of Corrections, Social Services and Mental Health to help address crime in the city.
He offered few specifics on how the collaboration differs from what the agencies have done in the past, as most of his comments were lost among shouting from protesters who said the best way to reduce crime is to support an increase to the minimum wage — a measure Greitens opposes.
Minimum wage, guns
Greitens met with about two dozen Missouri Highway Patrol troopers Sunday night and posted a video of his meeting Monday afternoon, just hours before the St. Louis press conference. In the video, he tells troopers they have "a lot of support" behind them as they are "going out onto some of the highways in what is right now the most dangerous city in the United States of America."
"We're coordinating at a strategic, operational and tactical level in a way that just hasn't been done before in the state of Missouri," he told them.
He said the troopers patrolling in St. Louis will be trying to target violent felons — in part by putting officers in certain spots "in anticipation of pursuits." He also said the troopers will streamline communications with St. Louis police and go after the drug trade by using aircraft operations to identify criminal activity and put officers in place to intercept drug trafficking.
He said the state's Department of Social Services will provide trauma training counseling in the city's public schools, among other efforts. He also said the Department of Mental Health would offer more crisis intervention training for law enforcement officers as a way to reduce violent encounters.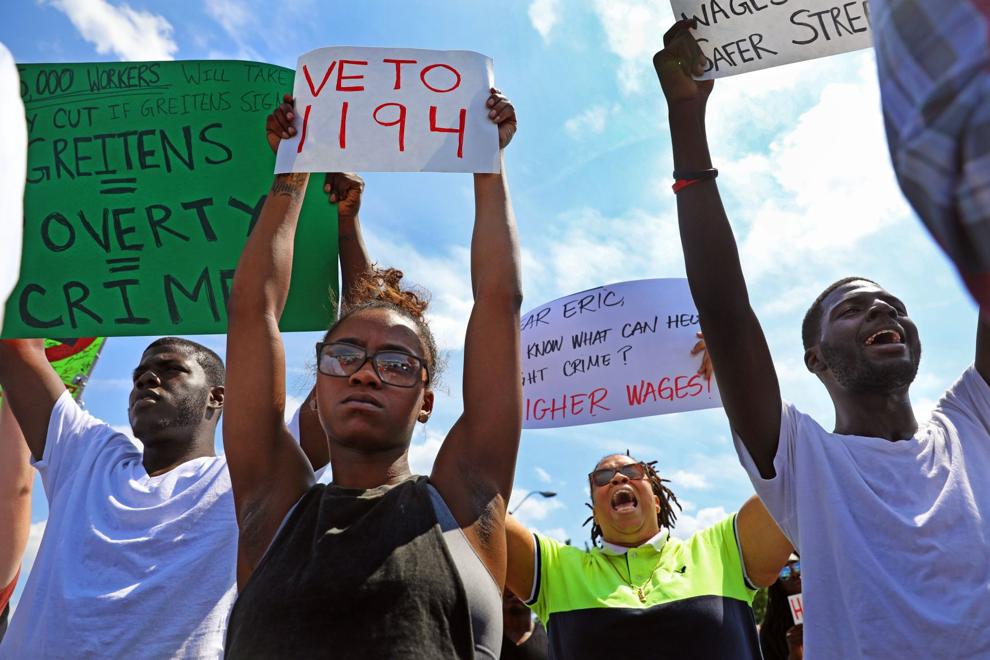 Greitens was hard to hear through much of the press conference as protesters on the convenience store parking lot at Riverview Boulevard and North Broadway heckled him, called him a liar and shouted that the best way to reduce crime in St. Louis would be to support a living wage.
The governor announced June 30 that he would let a bill rolling back a $10 minimum wage to $7.70 in the city become law.
"The fact is, I was elected governor of the state of Missouri to bring more jobs to the state of Missouri," Greitens said. "Unfortunately, what politicians in the city of St. Louis did would have had the exact opposite effect. This policy actually hurts the people it was intended to help."
One of the protesters, the Rev. Clinton Stancil of Wayman A.M.E. Church in St. Louis, said he regretted supporting Greitens.
"Everything he said was a lie," said Stancil, citing the minimum wage issue in particular. "(He said) we would sit and talk about it, but when we disagreed with the governor, he no longer wanted to talk about it. He only wanted to deal with clergy who will not voice their opinions."
Greitens said Monday that his administration has been working with local leaders and clergy to enact public safety plans.
St. Louis Mayor Lyda Krewson spoke briefly about how cooperation between St. Louis public schools, the circuit attorney's office, social service agencies and her office also is "unprecedented." She said she's happy that troopers patrolling the city's interstates but offered no comment on how state agencies will be coming together under Greitens' plan.
"I'm happy the state is recognizing that we have a crime crisis," she said. "It's not a crime problem, it's a crime crisis."
In Krewson's remarks, with Greitens looking on, she blamed the city's crime issues in part on easy access to guns. Later, Alderman Jeffrey Boyd directly confronted Greitens on the issue.
"The fact that the state of Missouri makes it allowable for almost anybody to carry a gun is unacceptable," Boyd told Greitens. "How can you help us if you don't stop some of these guns from getting out on street in the beginning?"
Greitens responded to Boyd, "I appreciate your passion." He added: "You and I have different positions on the Second Amendment."
"We're recognizing there are going to be political differences among us on some questions," Greitens continued, "but I hope that you and I and others can find ways to work together on these really important problems."
Idea floated for years
The robbery in December of Greitens' wife outside a St. Louis cafe also prompted the governor to look for ways to address crime.
But the idea of partnering with the Highway Patrol in the city has been floated for years.
Krewson said Monday that the patrol once policed the interstates. She said she is not sure why it ended, but that she's happy the state has returned: "After all, St. Louis citizens are state taxpayers, too."
It was tested at least once, several years ago, when troopers partnered with city police officers for an entire summer during a particularly high crime spike, according to an internal St. Louis police memo obtained by the Post-Dispatch.
What changed is unclear. The Greitens administration has not returned emails seeking comment on that issue.
In the video post Monday, Greitens also told the troopers he met with Sunday that the difference the program will make on crime in St. Louis depends on "those on the front line."
"The difference is ... going to be made by every single one of you who go out into a dangerous situation and say, 'Not tonight. Not on my watch,'" Greitens said.
He then thanked the troopers, all of whom he said volunteered for the assignment and said, "Let's go get 'em. Let's go get 'em," before shaking their hands.
Kevin McDermott of the Post-Dispatch contributed to this report.