James Cook, the MetroLink security guard gunned down Sunday, served eight years as a U.S. Marine, including spending a year in Afghanistan where he saw combat.
The fact that he was shot dead in St. Louis, his mother-in-law said Monday, was particularly heartbreaking.
"What is the irony of that?" Vickie Munton of Sullivan told the Post-Dispatch. "It's just wrong."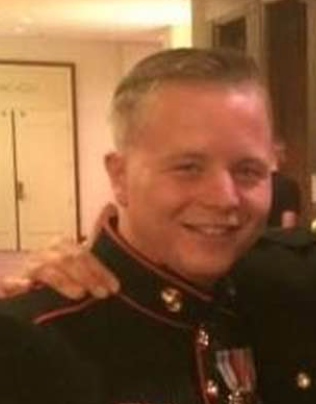 Cook worked for a private security firm hired by MetroLink. He lived in Sullivan, Missouri, and made the two-hour roundtrip drive to St. Louis several days a week.
"Sometimes he would work double shifts and sleep a few minutes in his truck," Munton said.
He worked to support his wife, Kimberlee Cook, and their two daughters, Zoey, 9, and Lydia, 5. 
Munton said she was concerned about safety issues her son-in-law faced on the job but that he didn't talk much about it. Cook made $27 an hour working security, and he wasn't allowed to carry a gun, Munton said. His family thinks he was allowed to carry mace.
"He was not allowed to carry any weapon at all," Munton said. "James was not afraid, and he didn't say a lot. Once you've been what he went through ... "
"I don't think it concerned him all that much, but I knew this was a dangerous job and it concerned me greatly. It's just terrible."
The company, G4S, has a local office in Creve Coeur and headquarters in Palm Beach County, Florida. A spokesperson for G4S, in an email to the Post-Dispatch, called Cook an "exemplary employee" who was respected and well liked by his peers. He began working for G4S last year. The company said it was "deeply saddened," was cooperating with investigators and would be providing support to Cook's family.
Munton said the family hadn't heard a word of condolence from Cook's employer until someone with the firm left a voicemail late Monday morning.
As a Marine, Cook worked supplies for special forces, Munton said. In addition to Afghanistan, he was deployed to Africa. After he was honorably discharged from the Marines about four years ago, Cook worked other jobs in law enforcement. One of those jobs was as a jailer for the Crawford County sheriff. 
He enjoyed hunting and was active in the Sullivan Christian Church. He also was "a very talented artist in woodworking," Munton said. "And, I tell ya, the boy could draw like a professional."
He drew murals on his daughters' bedroom walls, including painting their names in different colors.
A GoFundMe has been set up by his church. The money is for funeral and family expenses. Cook had no life insurance, Munton said.
Meanwhile, CrimeStoppers increased its reward in the case. The reward is up to $25,000 for information leading to the killer's arrest. The CrimeStoppers tips line is 866-371-8477. Tipsters can also call the St. Louis Police Department's homicide investigators directly at 314-444-5371.
Cook was shot at 10:03 a.m. Sunday in the 700 block of Hodiamont Avenue. Police said the killer may have had contact with Cook earlier Sunday morning while on a MetroLink train. Police had an unconfirmed report that Cook contacted the man about sleeping on the train.
At the crime scene Sunday, a video camera was positioned above where Cook's body was found, and another camera was to the west, perhaps 30 feet away. Cook was in uniform, a yellow Metro public safety jacket. He was found face down in a pool of blood at the top of steps that lead down to the station platform. 
Police released a surveillance photo of the suspected killer. He is described as a black man in his 40s who is 6-foot tall to 6-foot-3 and weighs 150 to 160 pounds.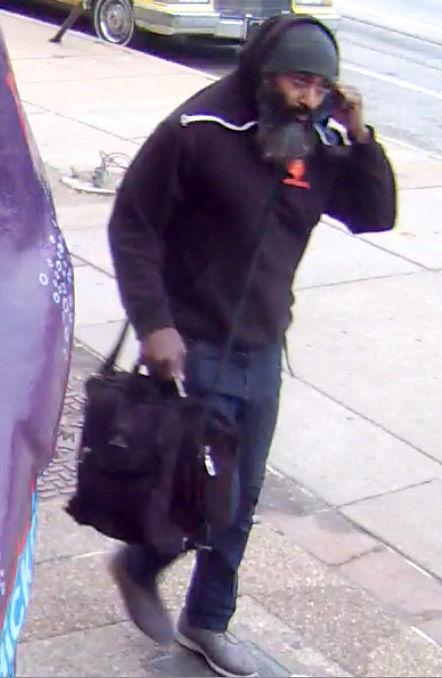 The man has a graying beard and mustache, and his grayish hair protruded from a stocking cap Sunday. He who wore a black hooded sweatshirt with orange lettering that included the word "football." He also wore a black coat and a dark blue gaiter-style face mask, and a stocking cap with orange lettering. He carried a black computer-type bag with straps.
Robert Cohen of the Post-Dispatch contributed to this report.
James Cook, 30, who worked for a private security firm hired by MetroLink, died after being shot in the face Sunday.