MASCOUTAH — Three conversations were going at once at David Jung's kitchen table, where old friends gathered this fall to catch up.
They laughed about years-old Easter candy left in a freezer. They mused about the rituals of the homecoming parade.
The chatter ceased and all eyes turned to Ed Morrison when the topic turned, inevitably, to murder.
Morrison has ties with everyone at the table over the murders 50 years ago of his older brother, Mike, and his brother's prom date, Debbie Means.
There's Mary Kay Webb, his childhood neighbor and good friend who helped Ed find the couple's abandoned car the day after prom.
There's Jung, the traffic cop first to reach the bodies and who dressed as a woman to try to snare a killer.
And Robert Moll, classmate and funeral-home director's son who, at the age of 16, accompanied his father to the crime scene and kept grisly details to himself.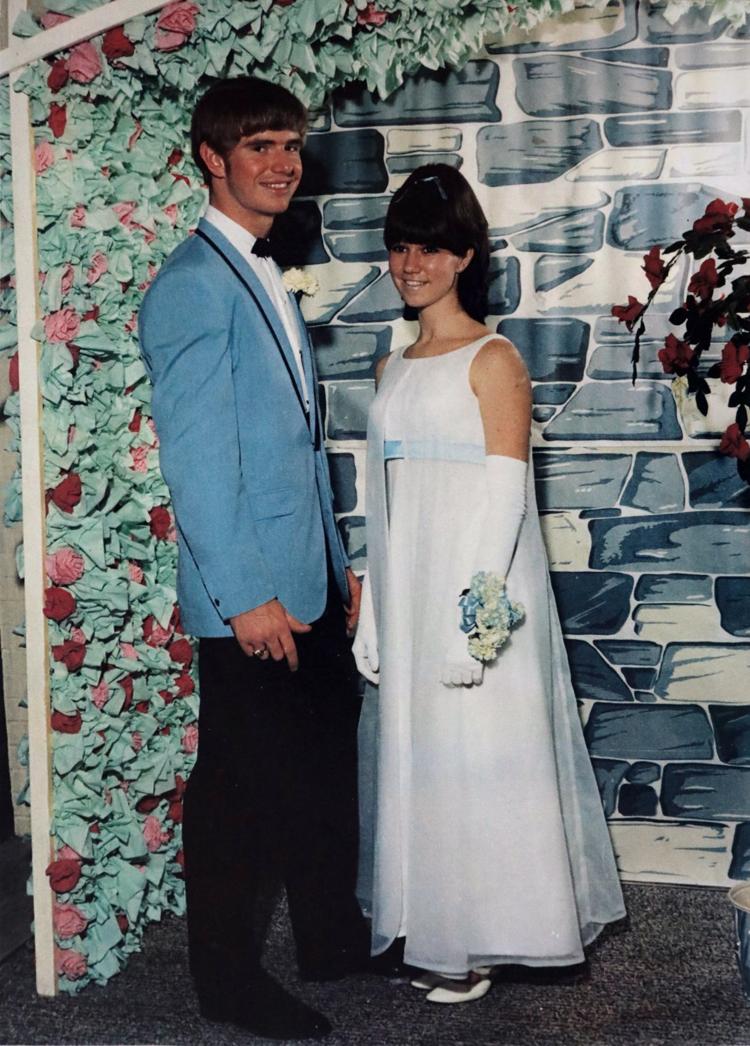 Morrison worked diligently over the years to piece together what happened in 1969. An Illinois prosecutor dropped charges against the presumed killer so there never was a trial where facts and accusations could flow in open court. Morrison this year self-published his findings in a book, "Bad Moon Rising."
"I think it's helped heal the town of Mascoutah," he said.
Morrison, 67, now lives in Harrisonburg, Virginia, but returned to Mascoutah in October to speak with students at a high school assembly about the crime and its aftermath.
Webb, Jung and Moll welcome Morrison's visits to town and his curiosity that unearthed answers about the double murder. Morrison and a few friends visit the cemetery yearly to toast the couple who never made it home from prom.
This was, after all, the crime that marred their childhoods — and the town — a half century ago.
"We used to have our windows open and doors open at night," Webb said.  "Not after that."
Prom night murders
Mascoutah was a town of barely 5,000 people in 1969. Mascoutah Community High School hosted prom on a Saturday night, May 3, 1969. Mike Morrison, 18, a senior and honor student, invited Means, who was his girlfriend and a 15-year-old sophomore. Her family lived at Scott Air Force Base.
After prom, they went to dinner, then to a friend's home. Later, they met classmates for a party at an abandoned strip coal mining operation. They left after about 2 a.m. Sunday and never made it home. Their bodies were found the next day at the edge of the mining operation, six miles southwest of Mascoutah.
According to a Post-Dispatch account, "Young Morrison had been shot in the head at least twice. He was wearing tuxedo trousers and white shirt. His feet were lying in a small stream."
At the bottom of an incline was Means' body, nude and bruised. Her hands and feet were bound with clothesline that was tied tightly around her neck, the Post-Dispatch reported. She'd been strangled. Part of her undergarments were used to gag her.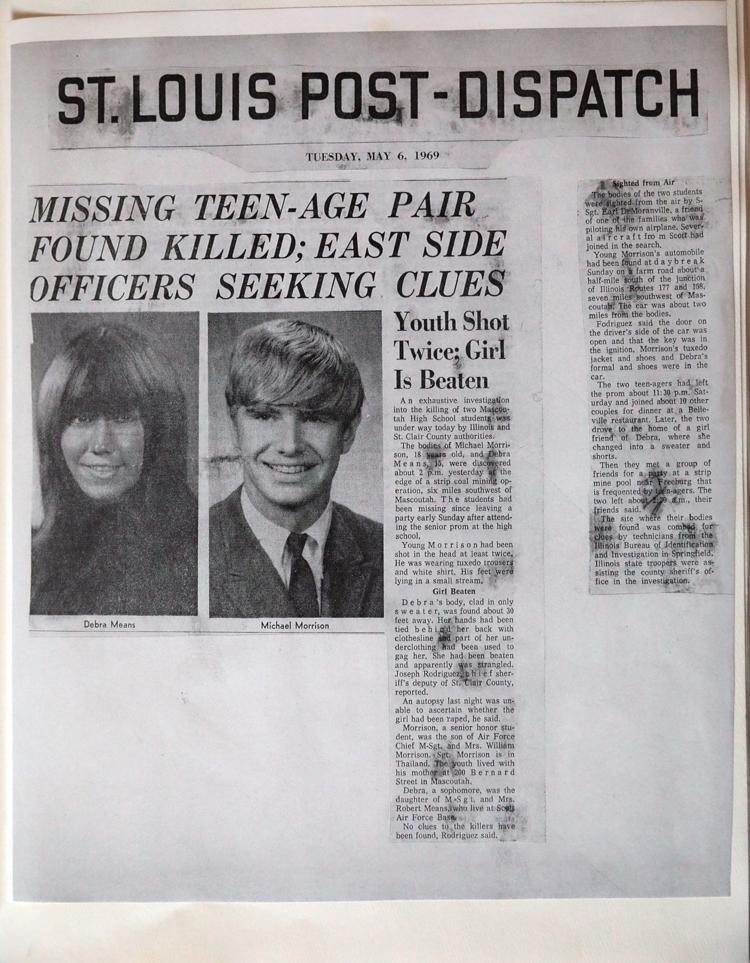 A few days later, an itinerant mechanic who repaired mobile homes in St. Clair County stopped coming to work at Scott Mobile Home Sales. His boss grew suspicious. Police found blood in his Shiloh trailer, according to a newspaper account, and the mechanic became the prime suspect.
By the end of May, police nabbed that suspect, 39-year-old Marshall Wayne Stauffer (who used an alias of William Raymond Nickerson), in Sacramento, California. Police said he had undeveloped camera film linking him to other crimes.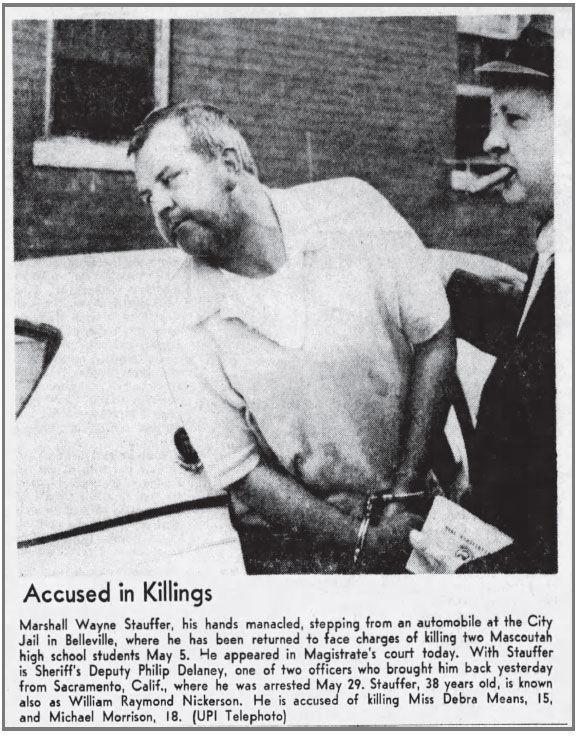 Extradited to Illinois, Stauffer pleaded guilty in Clinton County of robbing a Belleville boy and girl and also raping the girl near Breese on the night of April 25, days before the Mascoutah prom. He was sentenced to two terms of 50 to 52 years in prison.
As part of a plea deal in the Clinton County case, St. Clair County state's attorney Robert Rice dismissed the Mascoutah murder case. Rice said one reason he dropped the charges was that Means' family had been transferred by the Air Force to Germany; returning them to St. Clair County for trial would have involved considerable difficulty, according to a Sept. 10, 1969, Post-Dispatch story.
Morrison is still furious, not only with Rice's decision but also that Rice didn't inform the Morrison family. His parents found out from a television newscast, he said.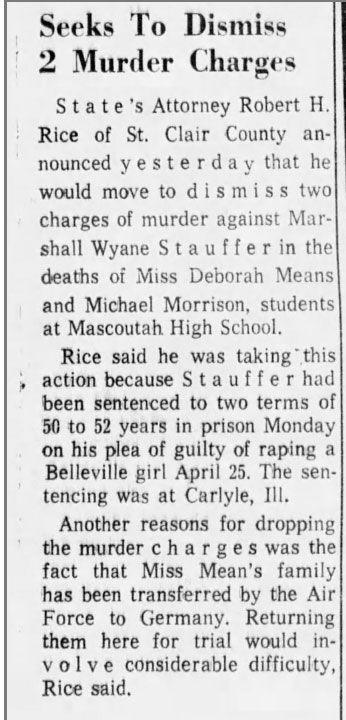 After an uproar in the community, Rice agreed to meet with Mascoutah residents to explain his decision. Before more than 300 people in the school gymnasium, Rice said there was insufficient evidence. Morrison watched from the back of the gym. He saw that people were angry, pointing fingers, yelling at Rice. "Our kids are not safe," someone shouted.
Jung was among the troopers guarding Rice. "The people started heading for the stage," Jung said. "They wanted a piece of him. We grabbed him by the arm and we got him out the side door."
Stauffer served 21 years for the Clinton County crimes. He was later arrested for kidnapping and raping girls in Idaho, Oregon and Nevada, and given a life sentence. Stauffer died in 2002 in an Idaho prison at the age of 71, according to the Idaho Department of Correction.
The drink line
Morrison, who was 17 when his brother died, distanced himself from Mascoutah after the murders.
"My parents would walk into a restaurant in Mascoutah for a casual dinner, there'd be a hush, fingers point at them. Not to be rude. But they were always, 'The parents of the boy.' They would never get away from that," Morrison said.
His family — including Morrison's other siblings, a 10-year-old brother and a college-aged sister — moved in 1971 to Bowie, Maryland. Morrison graduated from Southern Illinois University in Carbondale and worked at a bank in Du Quoin, Illinois. He moved to Germany and Virginia, where he worked as a financial planner.
Morrison returned to Mascoutah periodically, including for his 30th class reunion, where he waited in the drink line behind Moll. The former classmates hadn't spoken in a decade. Out of the blue, Morrison turned to Moll. "Weren't you and your dad there when they retrieved the bodies?" Morrison asked. Moll said he was, and Morrison asked if he'd mind describing what he saw.
"Eddie," Moll replied, "I've been waiting for 30 years to tell you."
Moll knew that, as a funeral director, a trade he learned from his father, certain topics weren't discussed. But Moll reasoned, "It's his brother and he wants to know." So Moll divulged specifics he'd long kept from his friend. One detail he shared was the image of Mike's hands gripping the grass, even in death.
"When my dad and I turned Mike over, his hands were down and he had grass in his hands, and the roots came out. His hands were still clenched like this," Moll said. "Something vivid. I never forgot."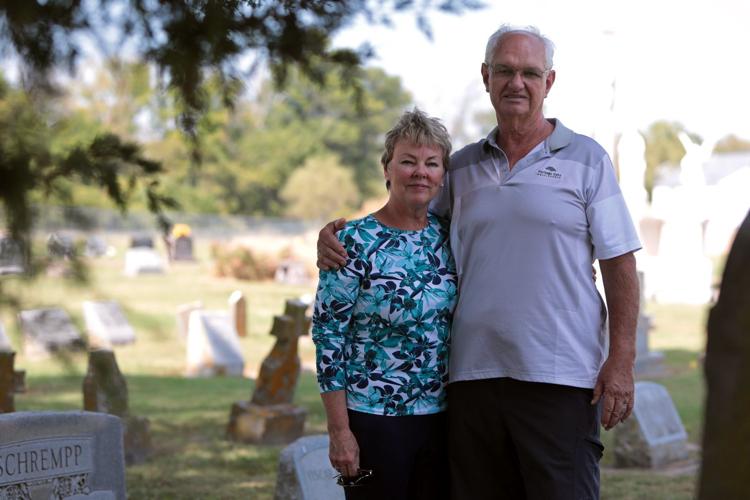 Morrison was taken by surprise, realizing that perhaps his brother hadn't died instantly as he'd thought. As Moll and Morrison spoke in a corner at the reunion, Morrison summoned his wife Mindy to hear Moll's account. Others at the reunion gathered around.
"They wanted to hear that, too," he said.
It was the first time people outside Morrison's group of friends talked openly with him about the murders.
Morrison wrote a 12-page story about the crimes, for family posterity. As more information poured in, his focus ballooned into a book, which he co-wrote with Mindy, a retired teacher. In research, he telephoned friends to tap recollections. He read newspaper clippings and tracked down investigators. He lodged a request for Illinois State Police files. He followed a paper trail to document Stauffer's other crimes and, finally, his death in prison — facts neither Morrison nor many in town knew.
Decoy in a blonde wig
A key investigator Morrison turned to for background was Jung. In 1969, when Jung was 25 years old, his duties with the state police were mainly as a traffic cop. The day after prom, when the couple hadn't come home, Jung heard a deputy quip: "Don't worry about it, they're out shacked up someplace."
Once the couple's abandoned car turned up, "the town was terrified," Jung said. The police chief asked Jung and Jung's patrol partner, Trooper Charlie Graul, to search every farmhouse, ditch and culvert near the strip mine.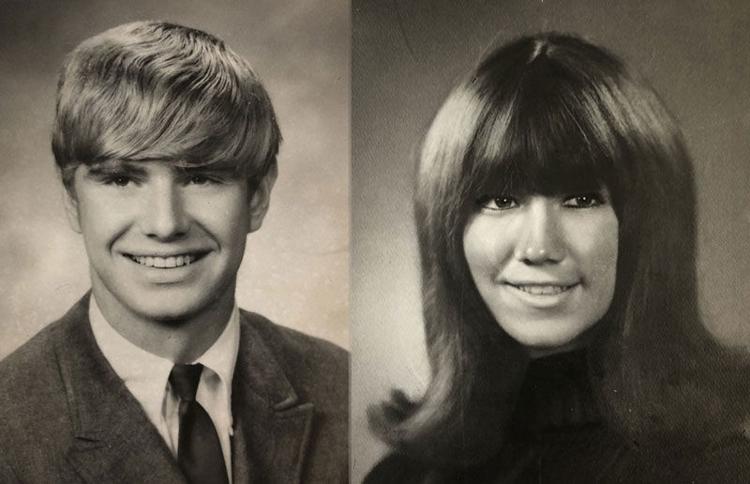 Two days after prom, an airman in a plane spotted Mike's white shirt. Jung and Graul were the first officers on the ground to reach the bodies.
On the theory that the killer confronted the couple in a car, Jung and Graul acted as decoys. Jung wore a blonde wig from the city clerk. The police chief was a clown in the Shriners, so Jung borrowed his bra and the "rubber bazoombas," as Jung jokingly called them. He tucked his gun into a purse. The "couple" parked at night for a week. They were spooked a few times when cars pulled up, but no one ever approached.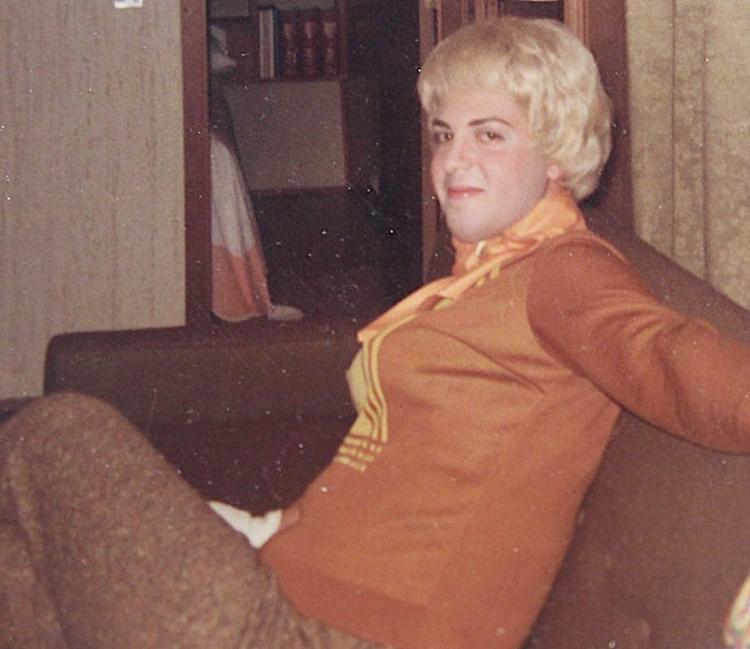 It turns out, the killer had left town and put a letter in the mail addressed to Means' mother, containing the contents of Mike's wallet. Jung's next task: Find where the letter had been mailed. Only a single "k" in the postmark was clear. Jung consulted a road map and drove to towns with K in the name. That didn't materialize either.
In all, Jung logged 331.5 hours over 23 days working on the case.
"After this was all over with," Jung said, "we were back on the road doing traffic."
Morrison always believed his brother was killed first, but decided it is more likely that Means was the first to die. He wishes the state's attorney were still alive so he could get an explanation for the plea deal. He wrote to the prosecutor's son but never heard back.
Ed and Mindy Morrison have two sons. As a parent, "Ed's nerves were on edge" whenever a prom rolled around, Mindy said. Researching and telling the story has been cathartic for her husband, Mindy added. "Ed was still stuck in the moment as a 17-year-old kid trying to make sense of what happened," she said.
After the murders, Jung added something to his patrol routine. He made it a point to stop and talk with couples parked on a lover's lane, asking the girls if they were alright and urging them to stay safe.
Mascoutah, Jung said, was forever changed.
"It wasn't the nice peaceful small town anymore," Jung said, "where nothing bad ever happened."