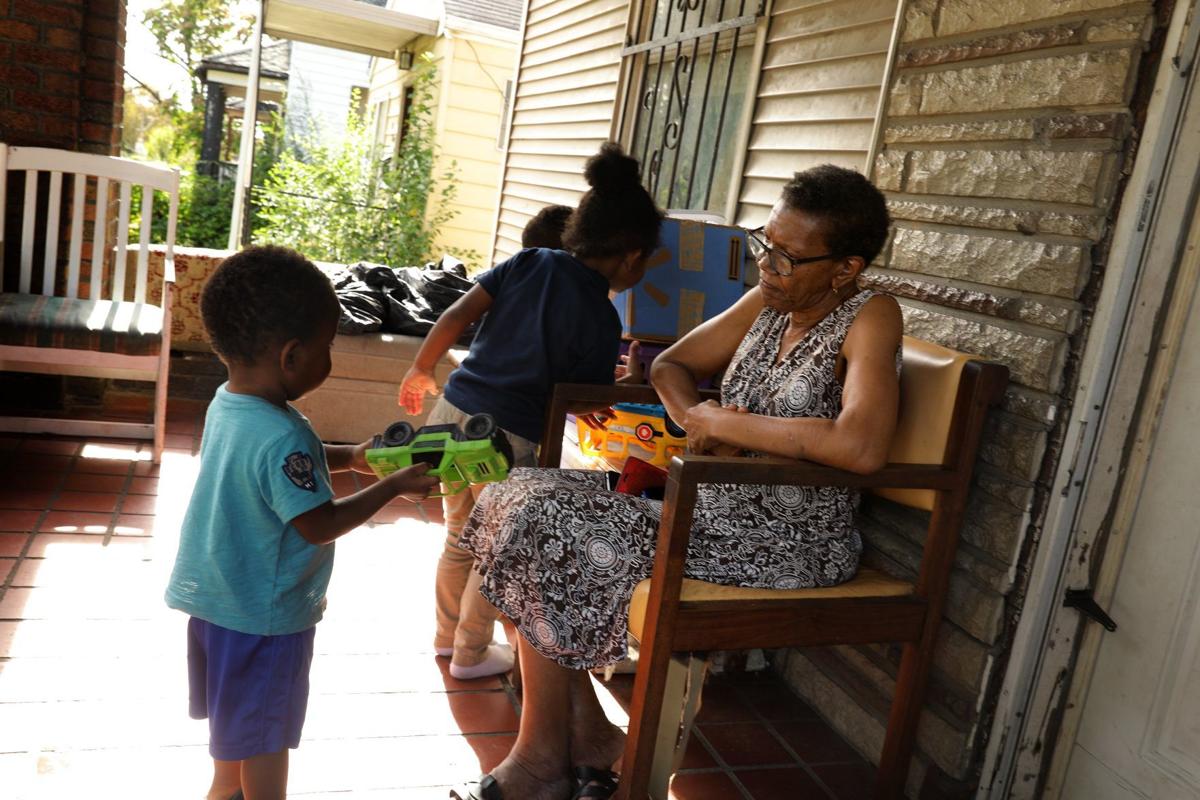 ST. LOUIS — On a recent morning, Emma Harrington answered the door of a one-story brick bungalow with barred windows where she's lived for 43 years. A curious 3-year-old boy poked out from behind her legs.
Yes, the 71-year-old said, she knew Aaron Harrington. 
She bowed her head for a moment: "He was my grandbaby."
Twelve children 17 and younger have been killed in homicides here this year, prompting calls for action from St. Louis politicians and drawing national media attention. But the problem — as Emma Harrington knows all too well — didn't start this year.
Children in this city have been killed at 10 times the national rate for decades, according to a Post-Dispatch analysis of FBI homicide data. And St. Louis' child homicide rate towers over that of similar cities: Quadruple over Indianapolis and Kansas City, triple over Milwaukee and double that of Baltimore.
Since 1990, 584 kids were killed in the city, with 418 of those in north St. Louis alone, St. Louis police data shows.
"Even if not another bullet went into someone's body in St. Louis, nobody else gets hurt, our children have collectively experienced enough violence for a lifetime," said Washington University trauma surgeon Dr. Laurie Punch, an expert on gun violence. "If we just look at what is in front of us right now, we've got a lifetime of work."
Zoom in to Harrington's neighborhood, Walnut Park East: 27 children have died from violence in the half square mile. Focus even closer: Eight children were killed in the two blocks around Harrington's home.
Two of those 584 kids, murdered 17 years apart in 1991 and 2008, called Harrington "granny." 
A brother
Even before Emma Harrington lost children, violence was part of her life: Gunfire took her brother first.
It was the Fourth of July, 1980. Lewis Barton, 26, who worked as a driver taking kids with physical disabilities to school, was killed three blocks from Harrington's home. Two men pulled up in a gray Cadillac and began shooting.
Nobody has been convicted of the crime, and Harrington said she never found out exactly why her brother was killed.
Harrington grew up one of nine siblings in the Pruitt-Igoe public housing complex. The 33 11-story buildings  just north of Downtown West housed thousands of low-income families beginning in the 1950s, but was soon overtaken by crime, vandalism and poverty, and was torn down in 1972.
She moved to Walnut Park in 1973 where she would raise five daughters while working as a lab technician and, later, a bus driver. After a few years in the neighborhood, she found a home on Davison Avenue that she paid off in monthly installments of $73.
The neighborhood changed quickly after Harrington arrived, hit hard by white flight,  when middle-class families fled to the suburbs and reduced property values. The population went from just over 50% white in 1970 to 96% black 10 years later. 
And in the years after her brother was killed, Harrington watched the crime problems get worse. There were more crack houses every year; dealers stopped pedestrians on sidewalks and cars at stop signs to offer a sale.
By the early 1990s, 43% of 16- to 19-year-olds from Walnut Park had dropped out of high school. Teens were drawn into gangs and drugs, while a large group in the neighborhood, including Harrington, were fighting for their community.
"We marched. We chanted. We did it all," she said. "We didn't fear the people in the community back then. We thought: We all live here and they need to remember that."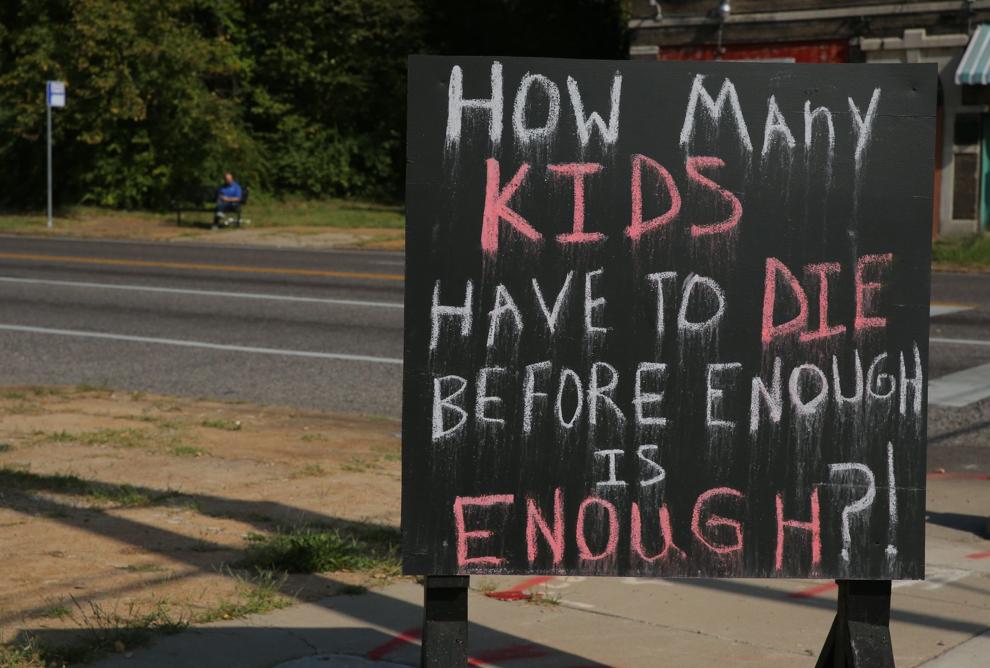 Harrington got involved in a community organization, Walbridge Caring Communities, which formed in 1989 based out of Walbridge Elementary School, across the street from Harrington's home. The group offered programs like after-school child care, counseling and financial advice for parents. It also organized biweekly protests outside neighborhood drug houses.
By 1991, Harrington's house was full of kids. Two of her daughters and six of their children lived there, including her 7-year-old grandson, Aaron. 
Aaron was a slight boy, who always brought home school papers with 100s on the top from his second grade class at Walbridge.
In October of that year, he carved a small jack-o'-lantern with a rectangle mouth, the best he'd ever done, for Halloween. He was looking forward to a Nintendo for Christmas.
Harrington helped make sure he went to Caring Communities programs, including a march that month with the message: Make Walnut Park safer for the kids.
A grandson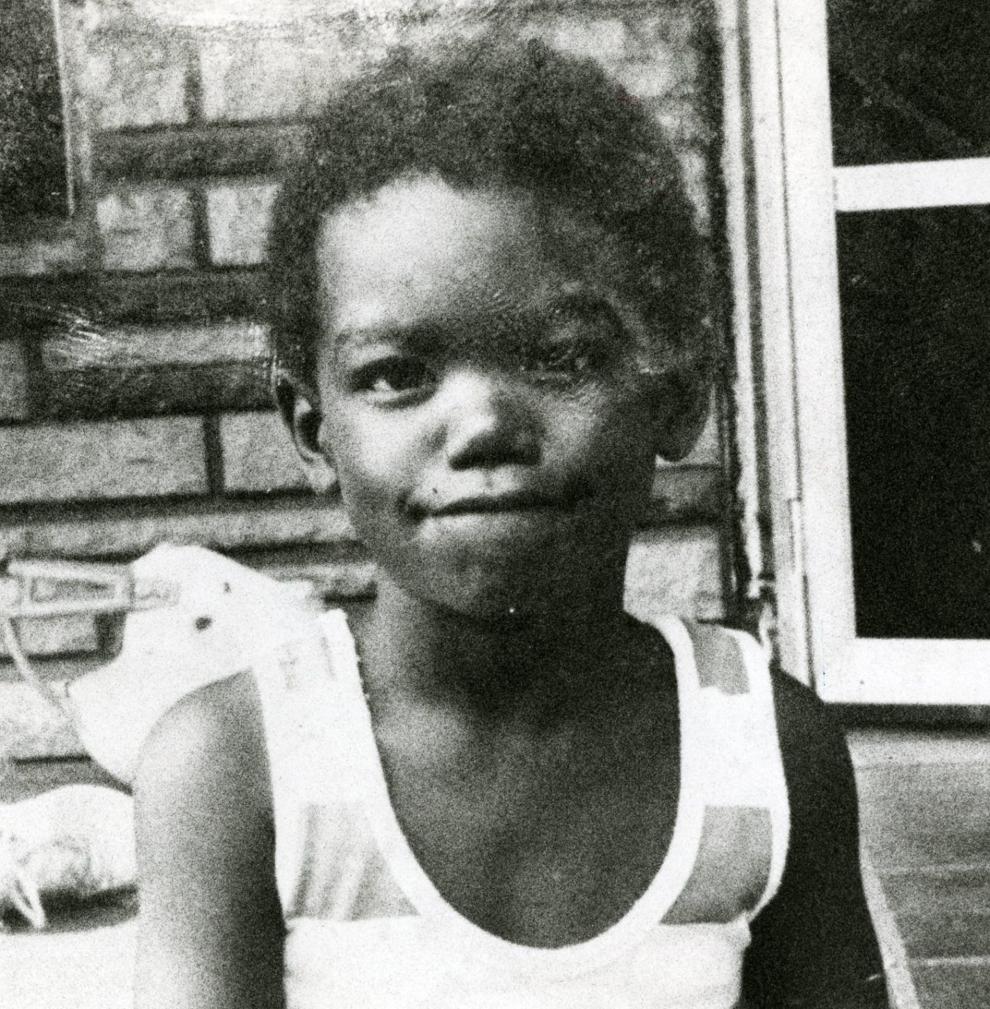 The bullet came through an open door. 
It was about 6:13 p.m. on a rainy evening just before Halloween. Inside the house, Aaron played with four other kids in the front room. His mother was in the kitchen cooking pork chops.
Harrington's 17-year-old stepson and his 19-year-old friend were walking back to her house from a corner store. As they climbed the stairs, the teens heard an engine rev and saw a sedan pull out from a nearby alley, according to statements made to police. Then someone yelled: "What's up, Blood?"
Gunfire burst through the front door, hitting the 19-year-old in the leg. Another round hit Aaron in the heart.
"I got shot! I got shot!" the little boy yelled before collapsing. His mom ran to him, bent over him and begged him to wake up.
Harrington was at church choir practice when her sister came in. They rushed to St. Louis Children's Hospital, but Aaron was already dead.  
The next few weeks were a blur of solemn visits and home-cooked meals left at the Harrington home. One woman on their block bought a suit for Aaron to wear when he was buried in St. Peter's Cemetery.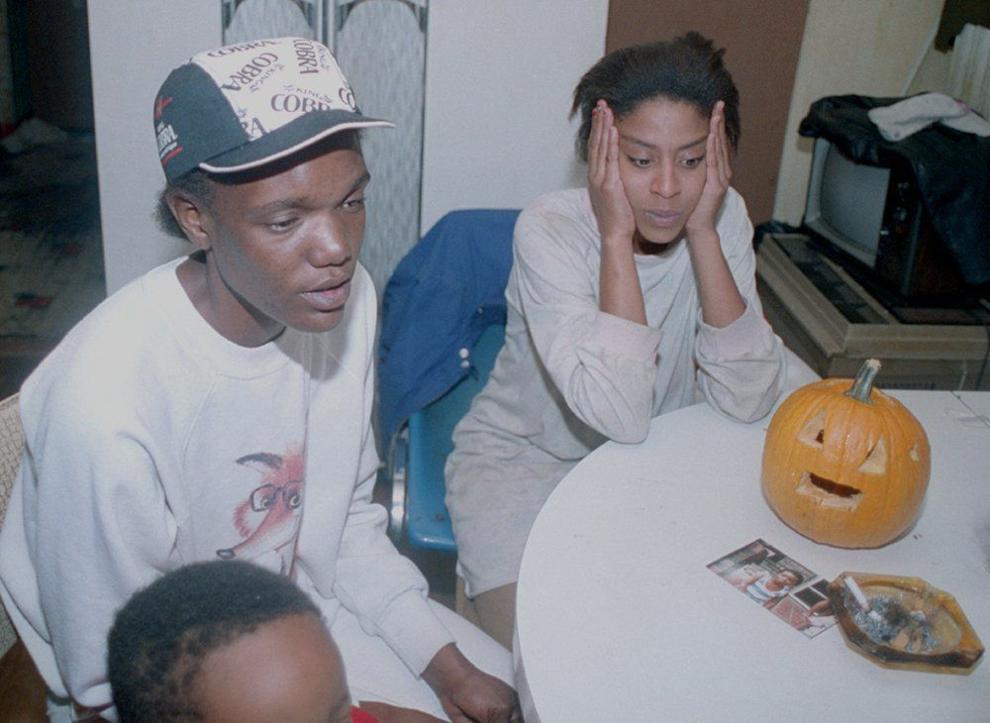 More than 100 people gathered for his memorial service inside the Walbridge gym. 
"Only God knows what Aaron's potential was, had he been given the chance," said Khatib Waheed, the director of Caring Communities at the time, who gave Aaron's eulogy.
The name Aaron Harrington soon became a rallying cry for Caring Communities, prompting more attention to drugs, and the gangs that came with them. 
 Aaron was one of 45 children and teens killed in St. Louis that year, and one of five in Walnut Park East.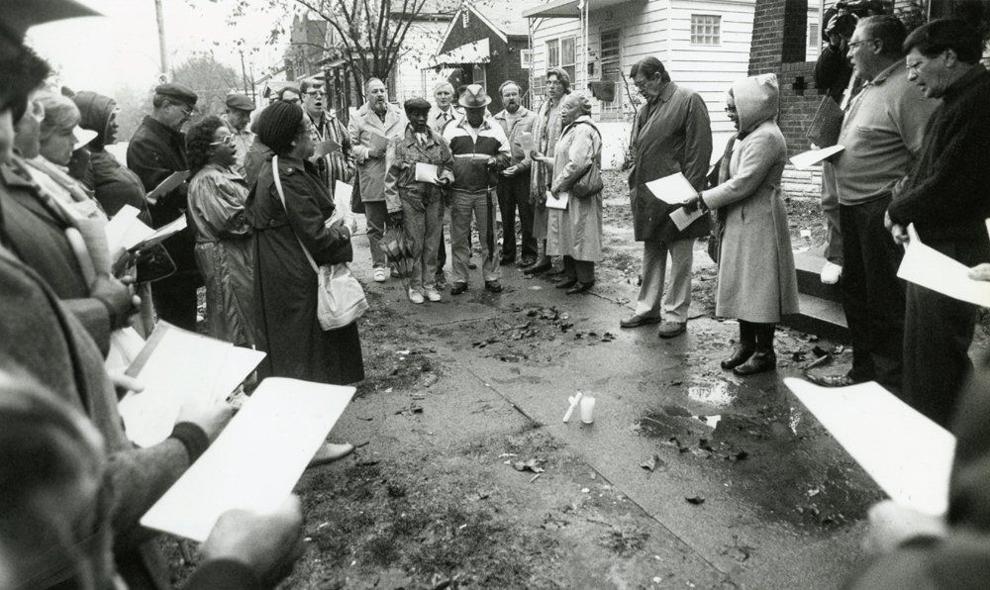 Within days of Aaron's death, police made three arrests and had a theory about what happened, according to the 1991 police report.
Witnesses told detectives the shooting stemmed from an ongoing feud between two factions of the Bloods gang — the Inglewood Family Gangster Bloods and the Crenshaw Mafia Gangster Bloods — over territorial rights to the corner of Lillian and Davison avenues in the neighborhood. One witness told police the turf war led to at least a dozen shootings that year, though Aaron was the first to die. 
The '90s crack epidemic contributed to the worst child homicide years in the city's history; 52 kids were killed in 1993 and 1995.
At least 28 child and teen deaths in the '90s were directly connected to gang violence, according to FBI data; stories in the Post-Dispatch attribute even more to gangs. 
In Aaron's case, Ronnie Cole, who was 17 at the time and a former Walbridge student, told the detectives he was riding in the car at the time of the shooting, though he said he didn't actually fire any shots. He pleaded guilty to second-degree murder in 1992 and was sentenced to 20 years in prison.
A 15-year-old who, police believed, fired the shots was tried for murder in the case, but was acquitted by a jury in 1993. The case rested on an eyewitness, a member of a rival gang. Prosecutors dropped the case against a third teen, a 16-year-old.
Now in his 40s, that man still lives around the corner from Harrington, less than a four-minute walk away. 
"He still says 'Hi Miss Emma Gene' when he sees me," Harrington said.
Harrington thought about moving out of Walnut Park after Aaron was killed, but never saw much of a choice.  
"Where am I going?" she said. "When you're poor you're not going anywhere."
A son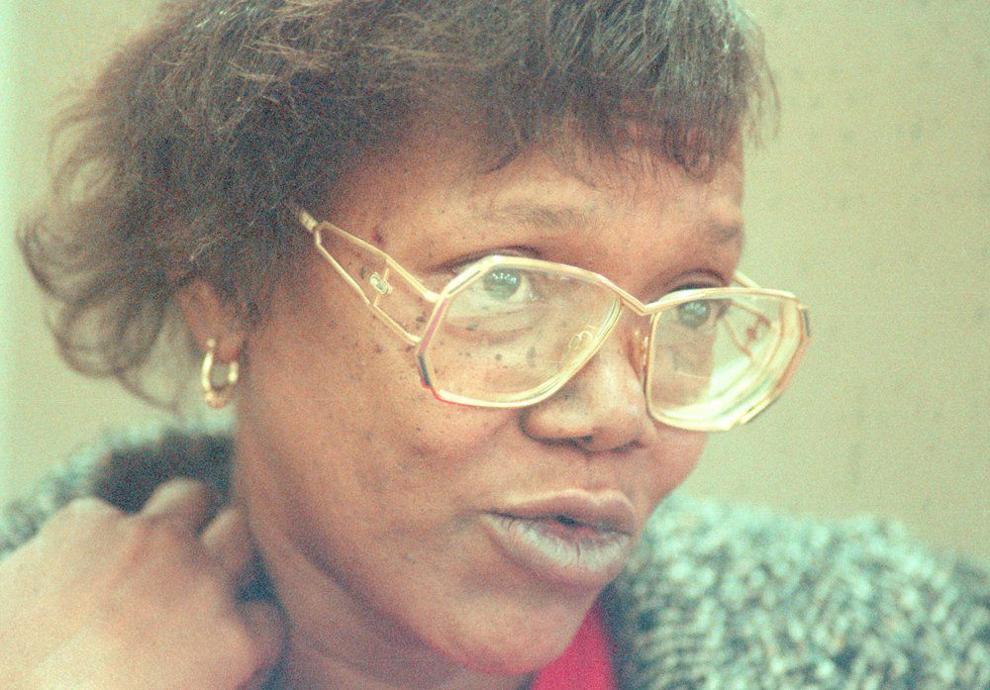 Within a couple years of Aaron's death, Harrington was raising 10 children in her six-room home.
She took in nine grandchildren along with Derrion Williams, the child of her daughter's friend who was born while his mother was in prison. Harrington didn't want the child to end up in foster care. 
Harrington picked him up from the prison five hours after he was born, and raised him as her son. He called her granny.
Derrion spent stints with his mother when she was out of prison, but lived most of his life with Harrington. He always told her when he grew up he would become an engineer to take care of her. 
On Sept. 27, 2008, 17 years after Aaron's death, Derrion, then 16, was riding in a car with two other teens when a car pulled up next to them in a gas station lot in Walnut Park West.
Someone called Harrington and said: They just shot at Derrion. 
Harrington jumped in her minivan and drove to the scene, weaving through streets. After a few minutes, she saw police and paramedics. She watched them load Derrion into the back of the ambulance. They wouldn't let her ride with him.
Derrion was one of 16 children and teens killed in St. Louis that year.
"After he died I did ask myself," Harrington said. "Would he have been better off if I had never took him in?"
Still raising eight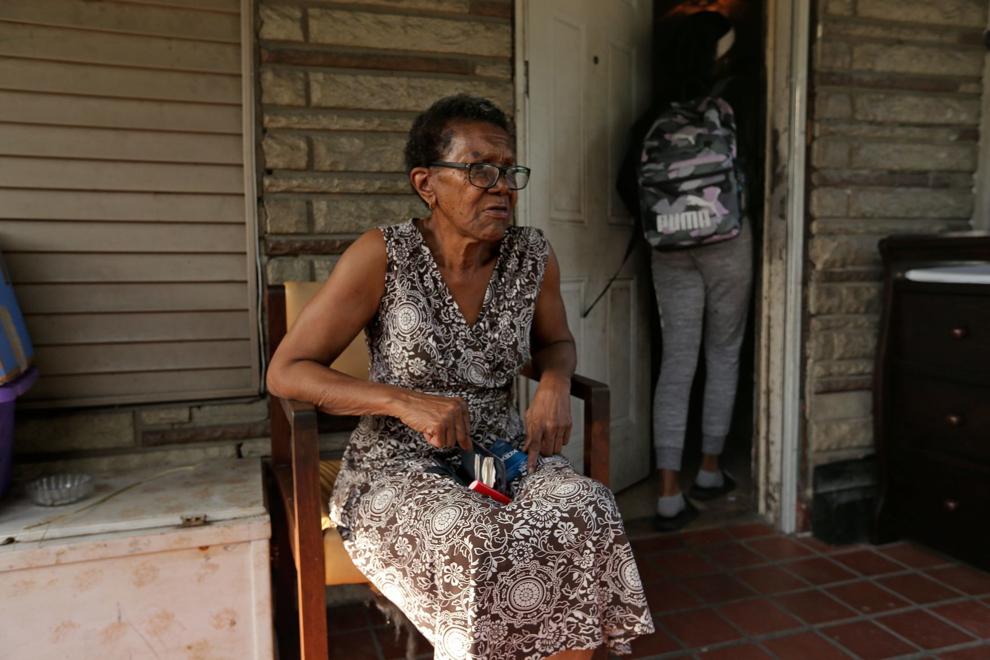 Harrington stood on her brick porch a few weeks ago next to a wooden baby-changing table as five little kids in school-uniform polos walked over from Walbridge Elementary across the street.
"How y'all doing? You have a good day?" Harrington asked as they filed into the house.
At 71, Harrington is still raising eight great-grandchildren between the ages of 4 and 16 in her home — the children of two of Harrington's granddaughters who were both there when Aaron was killed. One was 8 years old and hid behind a refrigerator for cover. Now in her 30s, the woman faces problems that Harrington didn't want to describe, but she said she believes they are in many ways connected to the violence witnessed that day in October 1991. 
"It has a terrible effect on a child," Harrington said. "It's a detrimental effect on their whole life: their education, their lifestyle. I think that she don't really connect the dots like that — but I do."
Harrington paused a long moment. 
"It wrecked us," she said. "It really did. Something like that destroys a family on down the line."
Another of  Harrington's granddaughters, Aaron's younger sister Sharon , said Aaron's death affected the home for years. 
"I think it really took a toll on my mom. She got on drugs really bad right after," the now-30-year-old said in a recent interview. "When we were little we used to have to always tell her, 'Just because your son is gone doesn't mean you don't have two other little kids to care about.'
"Me and my little sister went through hell as kids."
Still standing on her porch as school continued to let out, Harrington waved at a young man walking his child home across the street.
"You walking mighty slow today!" she called. The man, she said, got shot in the foot awhile back.
That morning, Harrington heard on the news about the city's efforts to curb the shootings with more than $5 million allotted to launch Cure Violence, a crime intervention program already running in 11 U.S. cities including Milwaukee, Chicago and Baltimore. 
But Harrington wasn't impressed with the money.
"Children need people in their life to stand for what's right," she said. "To be there and spend time with them, love them and show them how to live right."
Harrington has tried to fill that role for as many kids as she can. 
"I always say: God know where you at," she said. "See, we all have a purpose, and this is my assignment in life to be here raising these kids."
Still, she worries about the kids dying in her city this year, including: Eddie Hill IV, 10, killed in July by a stray bullet from a drive-by shooting while sitting on a porch with his dad; Jurnee Thompson, 8, the unintended target of a shooting outside a Chop Suey restaurant after a high school football game; Xavier Usanga, 7, hit by a stray bullet as he was walking home.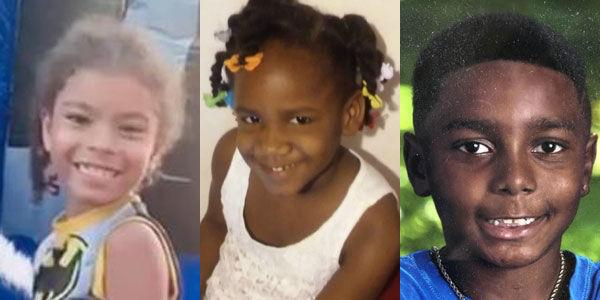 After a couple of hours on her porch that day, Harrington turned to see a little girl peeking out of the house.
"Can you make us sandwiches, please?" she said to her granny.
"Sure, baby," said Harrington and soon walked back through the front door. 
Compiling the statistics involved data from several sources.