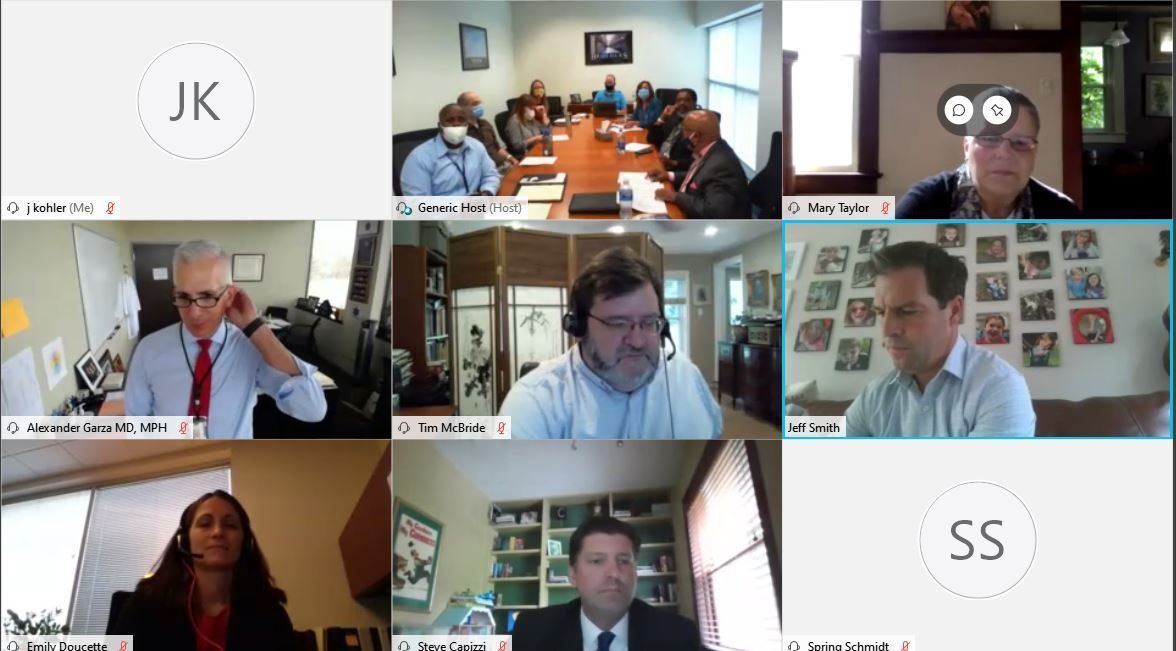 CLAYTON — Members of an advisory board pressing for changes at the St. Louis County Jail said Friday they were frustrated by the lack of progress on a promised independent investigation of the troubled facility.
County Executive Sam Page on Aug. 28 announced that his office would hold an outside review of jail operations and meet the advisory board to get members input.
On Friday, advisory board members were told the County Counselor's office needs to finish an internal personnel investigation before the outside review can start.
Mary Zabawa Taylor, a member of the Justice Services Advisory Board, said that was news to her.
"I sit here today eight weeks out about something we thought was pretty urgent, without the board hearing anything about our recommendation," Taylor said during the board's regular monthly meeting.
Taylor is one of seven people Page appointed to the board in mid-2019 to help reform the jail after a series of inmate deaths at the troubled facility. But the board has complained that it has had to fight for information and a larger role in reforms.
Taylor said Friday the board did not hear anything from the Page administration about its request to be involved in the outside review since meeting in early September.
County Counselor Beth Orwick told the board Friday that Page asked her to inform them that her office needed to finish its personnel investigation before proceeding with its request.
"He does expect to take a deeper dive, it's just not the appropriate time right now as that first investigation is ongoing," Orwick said.
Doug Moore, a spokesman for Page, said after the meeting that the internal investigation is meant to survey employees about issues they've identified within the jail, but that it would also help and inform the scope of an outside review.
The county hired Vera Causa Group, a consulting firm whose principals are former St. Louis Circuit Attorney Jennifer M. Joyce and communications consultant Susan C. Ryan, to survey jail employees for Orwick's office.
"When that personnel-based investigation is complete the advisory board and the public will be notified and we can discuss next steps," Moore said.
Still, the jail advisory board approved a motion by Taylor to formally request Page's office give the board a detailed report at its next monthly meeting. Board members Jeff Smith and Tim McBride echoed Taylor's criticism. They voted with Taylor and board members Spring Schmidt and the Rev. Phillip Duvall to approve the motion. Two other board members were not present for the virtual meeting.
"If there is going to be an investigation, there is going to need to be someone that we'll need to talk to," Taylor said.
In other action Friday, the advisory board agreed to appoint a new chair in November to replace Duvall, who stepped down in late September because of health concerns.
For two months, staff have been required to work overtime to fill in the gaps, said Valerie Nelson, chief operating officer for medical services at the jail.
"It's really at a point that it cannot continue like that anymore," Nelson said.
Shake off your afternoon slump with the oft-shared and offbeat news of the day, hand-brewed by our online news editor, Mandy St. Amand.