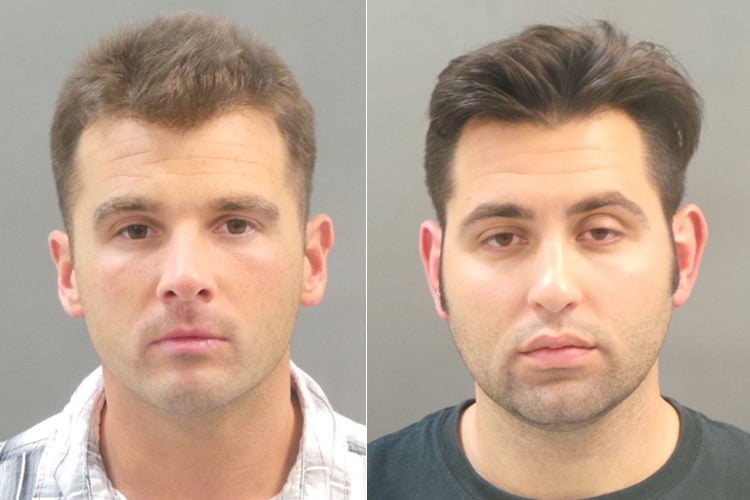 ST. LOUIS • Two Jefferson County men charged with allegedly throwing eggs and shouting racial slurs at a woman waiting at a bus stop were employed at an area ministry operation for people recently released from prison.
The men were driving a van from a church where one of the men had worked, a church employee said.
Jesse Reed, 30, of the 4500 block of Meadow Drive, and David Ragain, 30, of the 1000 block of Lon Vera Drive, both resigned from their positions at Mission Gate Prison Ministry, a Christian organization that provides a home for recently released prisoners and connects them with resources for employment.
The organization's focus is to use faith to reduce the likelihood of former inmates landing back behind bars, according to the organization's website.
The two men were arrested Friday after shouting slurs and throwing eggs at an African-American woman waiting at a bus stop on South Grand Boulevard near Chippewa Street around 11 p.m., according to police. Charging documents for both men say other African-Americans waiting at bus stops along the same route reported being hit by eggs within minutes of the woman.
Authorities found a white minivan involved in the crime by using video surveillance and license plate scanners. They found Ragain and Reed in the van, police say. The men face charges of "assault motivated by discrimination," a third-degree felony.
The defendants could not be reached for comment.
Mission Gate Prison Ministry co-founder Trish Mathes said Reed called her after he and Ragain posted their $20,000 bail, and told her what happened. Reed was St. Louis program director for the ministry and Ragain was a program assistant.
"I, of course, was in shock, but my husband immediately said, 'We need to let them go,'" Mathes said. Her husband, Rick Mathes, co-founded the prison ministry. "They resigned first."
Trish Mathes said Reed and Ragain were the only two employees who had that level of responsibility, managing volunteers and other staff members. The St. Louis ministry works with 23 men and 10 women who recently were released from prison.
"I was very sad and shocked because they, up to that point, did such a fantastic job," Mathes said about her former employees. "Everybody who knows them is in shock. Nobody would ever have expected this from them."
Reed worked for the ministry since December 2012, and Ragain since January 2014. Both were full-time employees.
Reed had also been employed at a New Hope Fellowship Church, 5919 Antire Road in High Ridge. An employee at the church confirmed that Reed is no longer employed there, and his biographical information has been removed from the website. The employee wouldn't say what his role was within the church, but an archived version of Reed's Twitter account identifies him as an associate pastor. His account has since been changed, with mention of the church and prison ministry removed.
A statement from New Hope Fellowship Church said Reed was not employed there at the time of the alleged crimes but said the two men were using a church van for the prison ministry program.
"The staff and congregation of New Hope Fellowship were shocked to learn that these individuals may have been involved in the reprehensible and inexcusable behavior that is being reported, and we wish to express our deepest sympathies to the victim," the statement said.