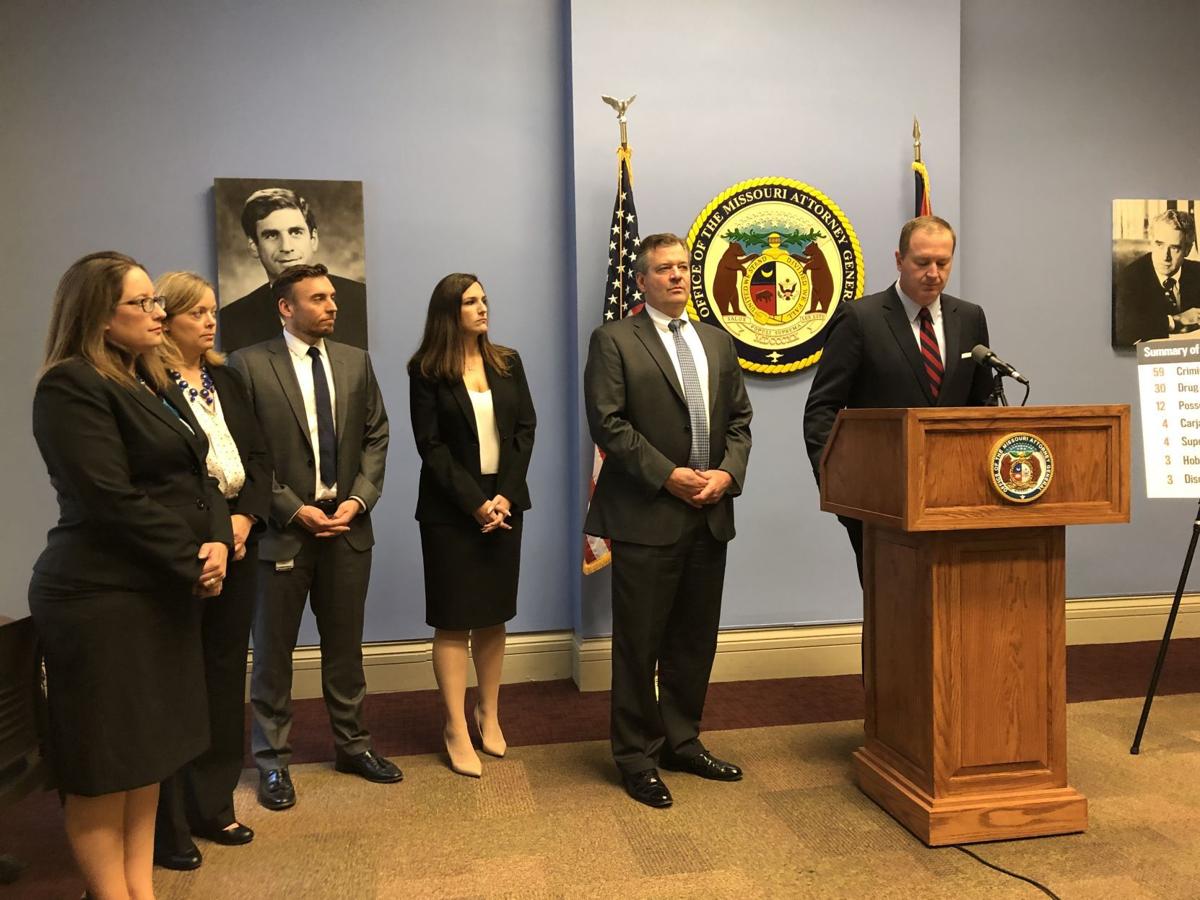 ST. LOUIS — Missouri Attorney General Eric Schmitt and U.S. Attorney Jeff Jensen on Tuesday said that a joint initiative to increase the number of prosecutors able to handle violent crime was getting criminals off the street more quickly and keeping them in prison longer.
Jensen and Schmitt announced the Safer Streets Initiative in January. Four of Schmitt's prosecutors were sworn in as special assistant U.S. attorneys in April, and filed their first criminal cases in June.
Since then, 58 people have been charged with more than 100 federal crimes. The bulk are gun and drug crimes, as well as three robberies, three charges of use or discharge of a firearm during a crime and four carjacking charges, including some that were fatal.
The goal, they said, was 200 to 300 cases a year.
"We will find the bad guys, prosecute the criminals and get them off the streets," Schmitt vowed.
Schmitt said that taking cases federal meant that prosecutors could avail themselves of tougher laws and more resources, including a well-regarded probation office with resources to train people and find them jobs upon their release from prison.
Jensen said that many federal defendants accused of violent crimes are held in jail until trial, meaning, "We're getting people off the street quickly." He said they stay off the street, thanks to a 95% conviction rate. Only 7.5% of defendants are re-arrested five years after their release from prison, Jensen said.
Jensen said that having extra prosecutors meant that cases were being charged more quickly, with some extra cases being handled.
But he allowed that the effect on crime and safety was "impossible to measure" at this point.
The initiative was begun in St. Louis and has since expanded to Springfield and Kansas City. Schmitt said that the offer to assist St. Louis city and county prosecutors, "still stands."
The initiative comes at a time of increased focus on violent crime in St. Louis. Last week, the St. Louis Board of Aldermen voted 26-0 to approve $5 million more for the Cure Violence violence-prevention program. Jensen and Schmitt said their jobs, as prosecutors, was to prosecute criminal cases, and their efforts would supplement those by other people and organizations, like the community development group Better Family Life.
Federal prosecutors had already been increasing their focus on such crimes, and federal gun cases roughly doubled last year.