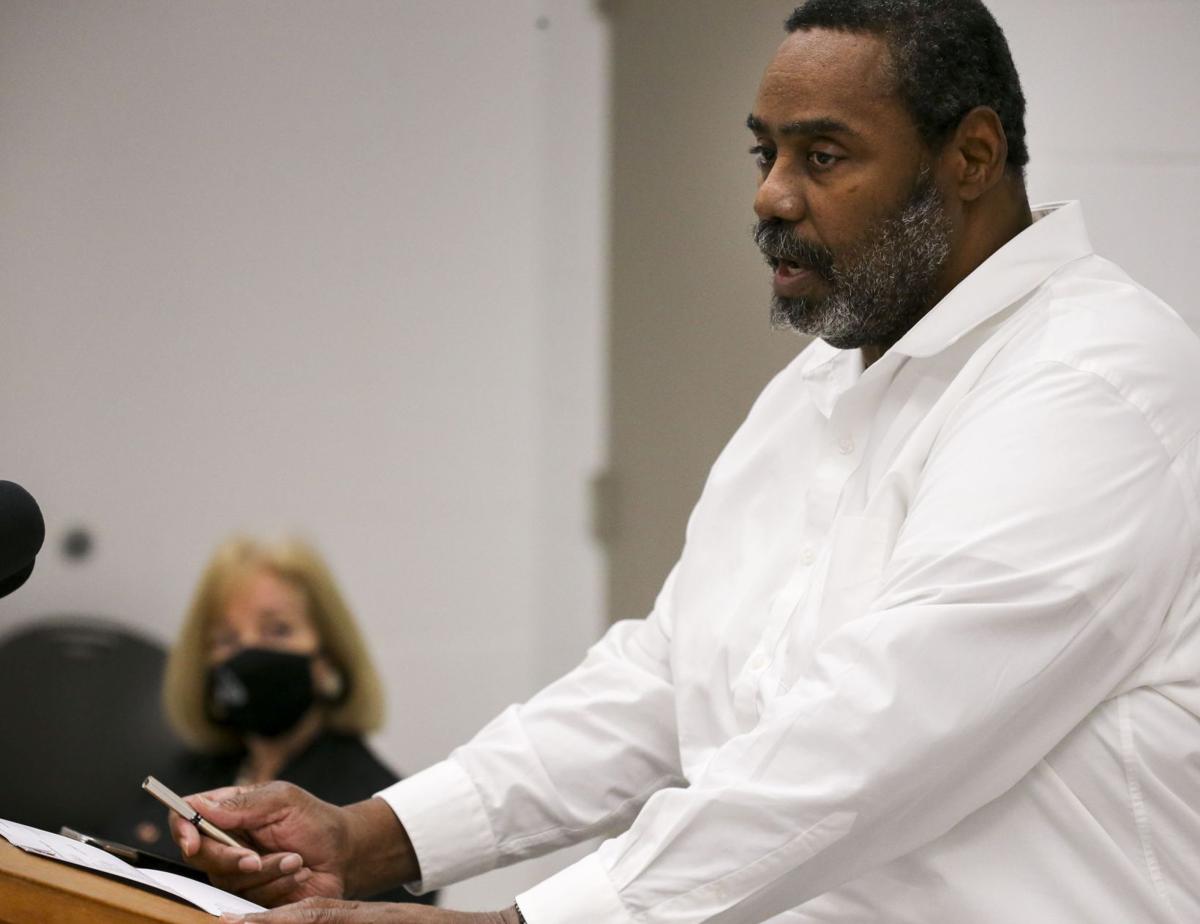 ST. LOUIS — Mayor Tishaura O. Jones on Wednesday announced the impending departure of Corrections Commissioner Dale Glass and pledged an upgrade from "failed leadership" she says has left the city "with a huge mess to clean up" at its two jails.
Glass pushed back later in the day, saying, "I'm disappointed people don't care about the truth."
He disputed allegations by the new mayor and others of inhumane conditions at the city's Medium Security Institution, also known as the workhouse.
Glass, who worked in the Missouri prison system 28 years before taking over St. Louis' jails in 2012, added that, "I've never treated an inmate inhumanely in my life."
"What they said about me is not true. It's not who I am. It's not the jail(s) we have."
Jones said Glass has resigned effective June 1, while Glass, 67, said he is retiring. But both said he wasn't asked by Jones to step down.
Jones, in her statement, also complained about "failing locks" at the city's main jail downtown and "lackluster maintenance and subhuman conditions for the detainees under our care."
She said it "only further justifies" her promise to close the workhouse, on Hall Street in north St. Louis, in her first 100 days in office.
Glass told the Post-Dispatch he is retiring because "the things I wanted to accomplish do not align with the current administration. Therefore, it's the best thing for both of us to move along."
Glass over the past year has said the only way to close the workhouse quickly would be to overcrowd the main jail downtown and to contract with prisons far from St. Louis to house the overflow.
Asked Wednesday whether Jones' plan to shut down the facility by late July is doable, he said, "I don't want to speculate. I did try to tell them the reason you can't find space (in other facilities) is the pandemic."
He said that's because prisoners have to be kept at a greater than usual distance to try to avoid spreading COVID-19.
He reiterated that he had found only two jails in rural Missouri and one in Kentucky that were interested in taking St. Louis detainees.
Jones administration officials say they won't contract with any facility farther than 50 miles away and that some pretrial detainees might be released or moved to mental health or drug treatment facilities.
Activist Darryl Gray, who served as the chairman for the Corrections Task Force assembled in response to several riots at the downtown jail in recent months, said he had called for Glass' ouster since completing the task force investigation of jail conditions.
"It was obvious to me that the commissioner was not doing his job," Gray said Wednesday. "I saw the broken locks. They hadn't been broken for days or weeks, but for years. The commissioner was putting inmates and staff in physical jeopardy, and that was enough for me."
Glass said there had been occasional problems for years that were fixed as they happened but "there was nothing to indicate it was a widespread occurrence" until recently.
However, he asserted that his office as far back as 2014 had tried unsuccessfully to get funds for a complete overhaul of the locking system on the third and fourth floors of the City Justice Center downtown. That is now taking place.
Jones, in her statement, didn't say who would replace Glass. She said "we look forward to bringing effective leadership into the corrections division" and raising standards on effectively running the main jail downtown.
Jones, who was sworn in April 20, has made changing the corrections system and policing a key initiative during her first weeks in office. Five days into her tenure, the mayor, U.S. Rep. Cori Bush and others toured the two jails.
Jones' statement Wednesday referred to hearing detainees during the tour tell them about inedible food, a lack of running water, rodents and cockroaches, "lackluster COVID protocols" and "a fear of violent retaliation" from corrections staffers.
Since her tour, Jones' office said, the total population of the two jails has been reduced and the mayor and her staff are scheduling sessions with corrections workers to hear their concerns about management.
Daily reports are now required regarding delivery of meals to prisoners and the status of units and cells with locks that needed repairs. In addition, the city's oversight board that monitors police has begun collecting corrections-related complaints as far back as 2017.
Several aldermen came to the workhouse Wednesday morning to take a tour of the facility to see conditions for themselves. Members of the media were not allowed inside but some aldermen cast doubt on the claims of inhumane conditions.
Alderman Brandon Bosley, 3rd Ward, said he did see some rusting pipes and repairs that needed to be made, but he also saw upgraded shower facilities, clean floors and no mold.
"We just put millions of dollars into it," Bosley said. "I would not say that it is inhumane."
Glass said he will be on leave until his employment with the city is over at the end of this month.
Glass said the workhouse population gradually has decreased during his tenure, in part because he allowed access to the facility for a nonprofit organization that covers bail for some detainees.
"I did it in a way that the staff would be safe and the community would be safe," he said.
The former deputy warden of the state prison in Pacific, Glas was hired in 2012 by then-Mayor Francis Slay's administration as acting corrections commissioner and won the job a few months later over five other finalists. He continued in the job under Slay's successor as mayor, Lyda Krewson.
When Glass was hired, he took over a troubled department that had weathered several jailbreaks, millions of dollars in unbudgeted overtime expenses and an aldermanic investigation.
Rachel Rice of the Post-Dispatch contributed to this report.
Jones and Bush were accompanied by leaders from across the region at the jails Saturday. 
Officials must fix security concerns at the city's other jail, find additional cells elsewhere and address other issues prior to workhouse's closure.
A spokesman for Mayor Tishaura Jones said the idea to house some of the inmates in the county jail was one option among several.