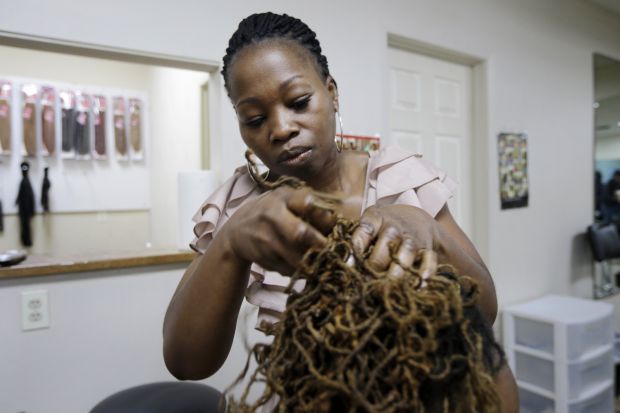 A federal judge upheld Missouri's licensing requirements for African-style hair braiders, despite claims from braiders that the process is irrelevant to what they do, unnecessary and expensive.
U.S. Magistrate Judge John M. Bodenhausen issued the ruling Tuesday. Attorneys for two St. Louis-area hair braiders, Joba Niang and Tameka Stigers, said Wednesday that they will appeal.
African-style hair braiders in other states also have challenged licensing requirements with help from the Virginia-based Institute for Justice's "Braiding Freedom Initiative," which has won legal battles in some states, lost in others.
Licensing coursework in Missouri covers sanitation, chemical use and other aspects of the beauty industry, but excludes any preparation in traditional African braiding techniques its practitioners say date back thousands of years. They consider it both an art form and a means of cultural expression.
Niang, a native of Senegal, has offered braiding services since 2001. "I cannot afford to spend thousands of dollars and thousands of hours to go back to school to learn about irrelevant techniques and dangerous chemicals that I do not use at my shop," she said in a statement.
Stigers has been braiding hair for about a decade. She has called Missouri's requirements "unfair and unnecessary."
The ruling noted that much of the traditional education and training for cosmetologists "is not directly relevant" to hair braiding, but still sided with the state.
Institute for Justice attorney Dan Alban said in a statement that the licensing requirement is unconstitutional because it violates the right "to earn an honest living free from arbitrary and irrational government regulations like these."
The lawsuit named the six members of the state Board of Cosmetology and Barber Examiners, along with its executive director. A spokeswoman for the Missouri attorney general's office, which defended the state and its agency, declined comment. A message left with the Board of Cosmetology and Barber Examiners was not immediately returned.