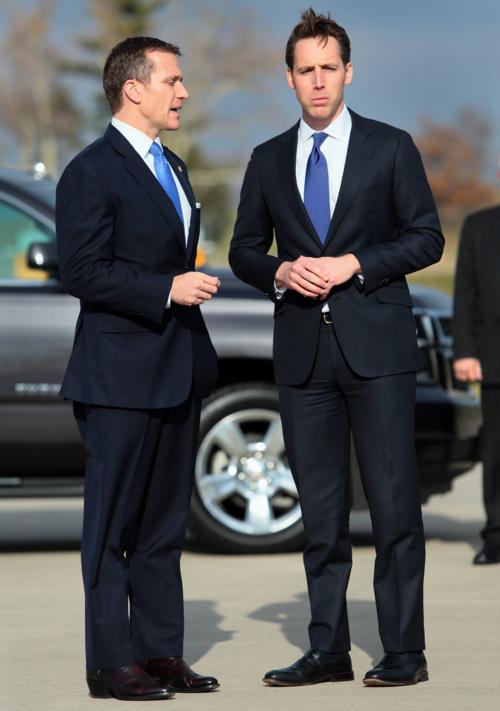 JEFFERSON CITY • A Cole County judge has doused an attempt by Gov. Eric Greitens' legal team to prevent Attorney General Josh Hawley from investigating him.
Circuit Judge Jon E. Beetem, in a ruling released Friday, denied a request for a restraining order by Greitens' legal team, saying he had no authority to put the brakes on an ongoing investigation by Hawley. Beetem also said he could not appoint a special prosecutor.
James Bennett, one of Greitens' attorneys, on Thursday argued that Hawley could not credibly investigate Greitens because of Hawley's U.S. Senate campaign and public statements that were critical of the scandal-plagued governor. 
Greitens' team pointed to Missouri court rules which bar prosecutors from "making extrajudicial comments that have a substantial likelihood of heightening public condemnation of the accused" in criminal cases.
But Beetem noted in his two-page ruling that the governor's team had no grounds to challenge Hawley's statements because there was no pending criminal case.
Beetem said the rule "expressly applies only to criminal prosecutions and not to investigations which might reveal evidence of criminal conduct. Nothing before the Court indicates that the Respondent Attorney General is currently prosecuting a criminal case against Petitioner, let alone one in before this Court."
He also said he could not appoint a special prosecutor, because Greitens was not currently being prosecuted in Cole County.
Solicitor General John Sauer, representing Hawley's office on Thursday, argued that Beetem couldn't stop the attorney general's investigation because there was no pending criminal case.
He also said Hawley's criticisms of Greitens were within the bounds of what is allowed by prosecutors.
Bennett did not immediately respond to a request for comment.
"We are pleased with the judge's order," said Mary Compton, spokeswoman for the attorney general's office.
Hawley launched an investigation of Greitens in February after a Post-Dispatch report revealed that Greitens' former charity, The Mission Continues, may have coordinated with Greitens' campaign by authorizing use of a charity donor list for campaign fundraising purposes.
The charity has denied this. St. Louis Circuit Attorney Kim Gardner charged Greitens this month with felony computer tampering for allegedly taking the list without the charity's permission.
On Friday, the Kansas City Star reported, citing an unnamed source, that the attorney general's office had shared evidence with Cole County prosecutor Mark Richardson that Greitens purposefully had filed a false campaign report, which is a Class A misdemeanor.
"The Attorney General's Office continues its investigation and continues to refer evidence when appropriate to the House Investigative Committee and the relevant prosecutors with jurisdiction," Compton said in a statement Friday.
Richardson has not returned repeated requests for comment.
Shake off your afternoon slump with the oft-shared and offbeat news of the day, hand-brewed by our online news editor, Mandy St. Amand.