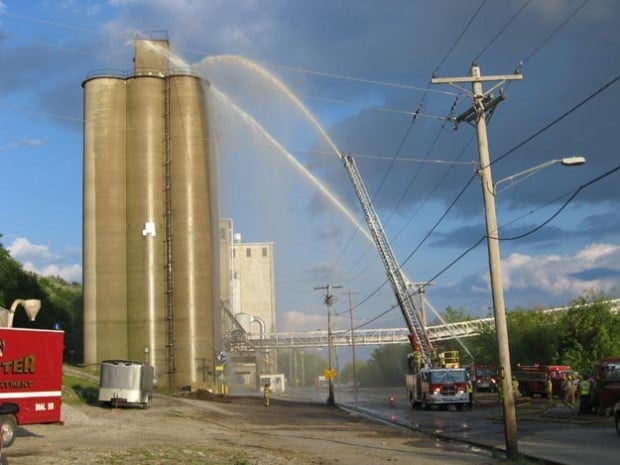 EAST ST. LOUIS • A federal jury on Thursday awarded nearly $179 million to three workers burned in a grain elevator explosion in 2010, plaintiffs lawyers said.
The verdicts, which included $101 million in punitive damages, came after a one-month trial during which lawyers for the three men claimed that the elevator had not been properly cleaned in 20 years and that the proper precautions were not taken to protect workers when the temperature of the grain started rising and smoke and a strange odor were noticed.
The silo, located by the Mississippi River in Chester, Ill., blew up on April 27, 2010, injuring four workers, three of them seriously, authorities said at the time.
Lawyers for ConAgra, which owned the elevator, could not be immediately reached for comment.
The company released a statement Friday: "Clearly, this accident was tragic. However, we do not agree with the verdict or the damages. Specifically, we do not believe our actions caused the injuries, and we will appeal this outcome. Safety has been and continues to be absolute first priority for ConAgra Foods. While we have insurance policies that we believe cover the full amount of this judgment, we will further defend our actions and practices as this case continues."
Lawyer Marc Taxman, who represented one of the workers, said ConAgra's statement was "the first time that they acknowledged any remorse for the situation."
Lawyer Robert Clifford, who represented two other workers, said in a prepared statement that, "Mr. Jentz and the workers on the scene were not properly instructed as to what was going on in the hot bin. Company officials knew the seriousness of what was happening and never conveyed that information to their workers or provide them with the proper precautions so that they would avoid injury. The jury's verdict in compensatory and punitive damages speaks for itself."
According to plaintiffs' lawyers, John W. Jentz, of St. Peter, Minn., got a total of $75.5 million, including $34.3 million in punitive damages.
Jentz suffered burns over 70 to 75 percent of his body. He suffered "disabling injuries" and had undergone "numerous" surgeries and skin grafts, his lawyers said.
Another worker, Justin Becker, received $66.9 million, including $33.3 million in punitive damages, said Taxman. Becker's wife Amanda Becker received $237,500.
Jurors awarded Robert Schmidt, of Hutchinson, Minn., $36.2 million, including $33.3 million in punitive damages.
Jurors returned Friday morning and awarded ConAgra $3 million from West Side in a claim of property damage, Taxman said.
The verdicts came in a series of suits and counter suits against ConAgra, West Side Salvage Inc. and A&J Bin Cleaning Inc. ConAgra hired West Side to clean out the silo after the pelletized wheat middlings began decomposing and heating up, Taxman said. West Side hired A&J because the company owns a special piece of machinery, like a household string trimmer, that cleans out silos.
Taxman said that the middlings began heating up on March 12.
Taxman said that the companies should have removed the middlings immediately. But ConAgra delayed while trying to get a better price, he said. They also refused to douse the smoldering wheat to avoid destroying it, he said.
As the middlings heated, up, they began smoking and melted rubber gaskets on the silo, Taxman said.
A first explosion knocked grain dust off the silo, which triggered a second explosion, Taxman said.