ST. LOUIS — A jury found a former St. Louis police officer guilty Tuesday of giving two handcuffed prisoners a "rough ride" last year during a trip to a city police station.
After a two-day trial, the jury found Lori Wozniak, 48, guilty of two misdemeanor counts of assault.
Sentencing for Wozniak is set for Dec. 13 before Associate Circuit Judge Lynne R. Perkins. Wozniak faces up to a year in jail on each count.
Prosecutors said that on Aug. 2, 2018, Wozniak, while driving the men to the South Patrol station on Sublette Avenue, slammed on the brakes of a police van, causing them to slide forward into a metal barrier. One of them suffered a cut above his eye.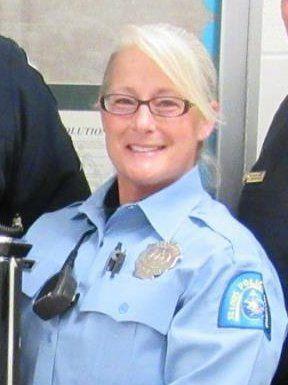 Wozniak was driving the men, Timothy Sanders, then 19, and Matthew Sarich, then 21, to the station after officers arrested them at the Kingshighway Baptist Church at 5401 South Kingshighway on suspicion of peace disturbance and property damage. The men were arrested after allegedly kicking in the plastic glass covering the church's marquee and were fighting.
Sanders and Sarich testified Tuesday to drinking Jagermeister before a Cardinals baseball game, several beers during the game and numerous "Irish car bombs" (a shot of Bailey's Irish Cream dropped into a glass of Guinness) at a bar afterward. They said they didn't remember specifics about what vulgar comments they made to Wozniak during their arrest. Sanders acknowledged he was "pretty drunk," and that they were being "loud and obnoxious" but said he couldn't remember details; Sarich said he had no memory of what they said.
Sanders had a knot on his forehead but couldn't remember much afterward; Sarich suffered a cut above one of his eyes that required stitches and a broken collarbone. According to a recording of Sarich's police interview played at trial, Sarich told police his collarbone injury may have been from wrestling with Sanders the night of their arrest.
Authorities said Wozniak lied about the incident by claiming a dog crossed the road in front of her, but in-car cameras contradicted that claim.
Defense lawyer Brian Millikan declined to comment after Tuesday's verdict. A man walking with Wozniak outside the courtroom after the verdict told a Post-Dispatch reporter to "get the (expletive) away" from them and to "check your (expletive) facts."
A statement from the Circuit Attorney's Office said in part: "Several brave St. Louis Metropolitan Police Department officers provided testimony that proved instrumental in securing the verdict rendered by the jury."
Wozniak left the police department Oct 30, 2018, a spokeswoman said Monday. Her departure followed an internal affairs investigation of alleged misconduct. She is still a licensed police officer in Missouri but is not employed by a law enforcement agency, according to a state Department of Public Safety spokesman.
The term "rough ride" refers to the practice of intentionally injuring prisoners by driving erratically while they are handcuffed in police vehicles.
The practice gained notoriety in April 2015 when officers in Baltimore were accused, but not convicted, of giving a prisoner, Freddie Gray, a "rough ride" that resulted in his death.