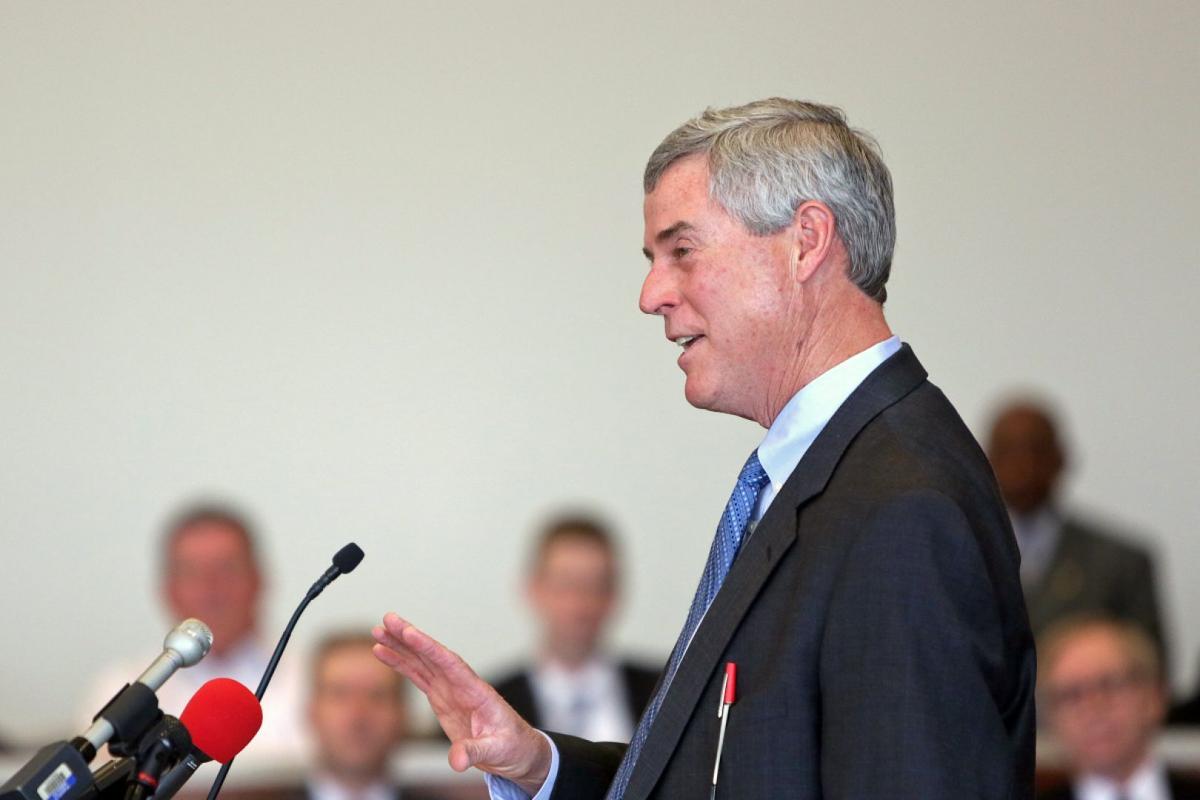 ST. LOUIS • Their crimes are among the worst of the worst.
An elderly man beaten, then suffocated in a freezer in his Maplewood home in 1985. A 15-year-old girl strangled with a speaker wire in 1993 at the doughnut shop in Spanish Lake where she worked. In St. Louis, a security guard killed in 1990, then a police officer slain in 2007.
They are the types of callous, premeditated acts that send killers away for life without any chance of release. And in each of those cases, that's exactly what happened.
Tommy L. Thomas, Tony W. Jones, Edward Anderson and Antonio Andrews were all convicted of first-degree murder, and sentenced to forever behind bars.
But there's a twist: Each was a kid when he committed his crime.
In a changing legal landscape, that factor now could mean their eventual release — along with that of dozens of others — in Missouri, a leading state for sending juveniles away for life.
The U.S. Supreme Court has over the past decade moved away from the harshest sentences for youths, recognizing the undeveloped state of a young criminal's mind and the opportunities for rehabilitation. In 2005, Roper v. Simmons eliminated the death penalty for juveniles. In 2010, Graham v. Florida did away with life sentences for youths convicted of non-homicides.
Now the court will decide whether older sentences should benefit from its 2012 ruling in Miller v. Alabama, which said life sentences for young killers can no longer be automatic. In that case, the court did not outright ban the life sentences for juveniles but said certain individualized factors relative to youth must be considered first.
The case at issue involves Henry Montgomery, then 17, sentenced in the 1963 killing of an East Baton Rouge, La., police officer. Oral arguments in Montgomery v. Louisiana were heard Tuesday; a ruling will come later.
Hanging in the balance are 1,300 to 2,300 cases nationally and at least 81 cases in Missouri (there is no official count and disagreement among groups tracking the issue).
If Montgomery wins, the impact here would be big.
Missouri is one of just nine states, including Illinois, that account for 82 percent of juvenile sentences of life without parole, according to a recent study by the Phillips Black Project, a public interest law firm that represents inmates facing severe sentences.
The city of St. Louis, according to the study, has the fifth-highest concentration of juveniles serving life sentences in the country, with as many as 41 cases (in eight, the Department of Corrections did not track the offense date, but they were counted because of the ages at sentencing).
But unlike some other states with large juvenile lifer populations, Missouri has yet to conclusively decide how to handle the Miller decision — let alone the dozens of existing sentences that would need to be addressed if Miller is deemed retroactive.
Prosecutors fear a decision in Montgomery will catch the state flat-footed, leaving them with no good option for those who have committed the most egregious offenses.
GOING AFTER 'SUPERPREDATORS'
In the 1990s, juvenile crime loomed large. The media reported a spike in crime by teens, and there was an atmosphere of fear, punctuated by terms like "thugs" and "superpredators" and "wildings."
A nationwide crackdown followed. According to the Phillips Black study, 45 states adopted laws expanding adult courts' jurisdiction over juveniles from 1992 to 1999.
It found that the overwhelming majority of juvenile sentences of life without parole were handed down in the 1990s, with a nearly tenfold increase in its rate of use. The sentencings kept pace even as the crime levels dipped midway through the decade.
Black teens were twice as likely to receive the maximum sentence as white counterparts.
A Post-Dispatch analysis of statewide data from the Department of Corrections shows that 56 of the 85 confirmed juvenile sentences of life without parole in Missouri were in the 1990s. There were only 11 in the past 10 years, six of those in the city of St. Louis.
Nationally, the study found, there's been a turnabout since the Miller ruling. Fifteen states have abolished juvenile life without parole, nine of them after Miller. Fourteen states have, either through legislation or their courts, granted new sentencing hearings.
Even states with the highest concentrations of such sentences have applied limits. California, for example, has restricted juvenile life without parole just to killings involving torture or with law enforcement victims. And one already serving such a sentence can petition for a new sentencing hearing.
Missouri, however, remains in limbo.
Lawmakers have made several attempts to align state law with Miller, without success.
Last year, the state Senate passed a bill to allow a killer under 16 to receive a sentence of at least 35 years, or life without parole, and someone 16 or 17 to be sentenced to 50 years, or life without parole. A House version offered an alternate sentence of 25 to 40 years for murderers under 18, but it never reached the floor for debate. The differences were never reconciled.
The bill's sponsor, Sen. Bob Dixon, R-Springfield, thinks there may have been a resolution — and a bill on the governor's desk — if the Senate hadn't shut down after Republican leaders forced a vote on the "right to work" bill, prompting Democrats to filibuster nearly everything in the final days of the session.
Dixon, who is running for governor in 2016, said he plans to sponsor the measure again and expects that "cooler heads will prevail."
The state prosecutors' association would support legislation that would retain life without parole with an option for possible parole after at least 30 years, St. Louis County prosecuting Attorney Robert McCulloch said. Thirty years is the maximum penalty for second-degree murder. McCulloch said the association also proposes allowing people already serving such sentences to petition a judge for review.
But he emphasized, "Life without parole absolutely has to be an option. These are some very, very dangerous people."
McCulloch cited the case of Louis "Jabar" Clark III, who at age 16 in 1995 fired 15 rounds into the car of a rival drug dealer, striking Morris Howell and his 2-year-old daughter. When the victims didn't die immediately, the prosecutor said, Clark approached and delivered a shot to each above their left ears, execution style.
"This is a guy who shouldn't ever, ever get out of prison," McCulloch said.
PROSECUTOR: 'IT'S FRUSTRATING'
Missouri law says the penalty for first-degree murder must be either death or life in prison without parole. The Roper decision outlaws executing juveniles, and Miller doesn't allow an automatic life sentence for one. That creates the bind.
There are six defendants in St. Louis facing first-degree murder charges for offenses committed as juveniles since the Miller decision. Four of them were charged this year after allegedly using hammers to kill a Bosnian immigrant last year in the Bevo Mill neighborhood.
Circuit Attorney Jennifer Joyce's chief trial assistant, Beth Orwick, said it's "business as usual" when it comes to filing charges, despite the uncertainty. But the open question of what to do at sentencing "is frustrating for us. I'm not going to lie — it's frustrating."
None of the six has reached the trial stage. But the court already has gotten a look at the complexities of a post-Miller world without a legislative fix.
In 2013, the Missouri Supreme Court sent two St. Louis murder cases back for new sentencing hearings because the juvenile offenders, although convicted, still had unresolved appeals at the time of the Miller decision. (The Missouri Supreme Court has not yet decided whether older cases in which appeals are exhausted should get the same treatment.)
The first involved Ledale Nathan Jr., who was 16 when he and an accomplice stormed into a home in the LaSalle Park neighborhood on Oct. 5, 2009, killing Gina Stallis, 34, and wounding an off-duty city police officer and off-duty firefighter.
New jurors heard about his childhood abuse, diminished mental state, homelessness and relatives' drug habits. The state presented victim impact statements.
But at the end, the jury was deadlocked, so a judge reduced the conviction to second-degree murder, and Nathan ended up with a series of 30-year terms. He may get out in 75 years.
In September, Laron Hart of St. Louis waived his resentencing hearing, and prosecutors amended his charge to second-degree murder for a 30-year term.
Two other resentencings locally were prompted by unique procedural issues. Both also resulted in a switch to second-degree murder convictions. As a result, Anthony Williams of St. Louis is free after serving 20 years. Javon Adair of St. Louis County saw his term of life without parole reduced to 25 years.
McCulloch said the few juvenile first-degree murder cases filed in the county since the Miller decision have resolved themselves with second-degree murder pleas or verdicts, before the court had to face the dilemma.
The state public defender's office is handling eight cases across five counties, including three of those pending in St. Louis. Karen Kraft, a division director, said none of those has reached trial stage, although one is set for January.
She said the uncertainty is causing delays of trials "because they didn't know what to do about the punishment," including some cases in which a juvenile may have a significant defense.
An added wrinkle: In Missouri, offenders as young as 17 are considered adults; the Miller decision regards anyone under 18 as a juvenile.
If the U.S. Supreme Court decides in the Montgomery case that Miller should be applied retroactively, things will only grow more convoluted — on that much, everyone agrees. McCulloch said that's why a legislative solution is so important.
"If it is determined to be retroactive across the country, I don't know where that leaves us," McCulloch said. "This is the exact type of situation we've been trying to avoid since Miller was decided."
He added, "It's a truly frightening thought that some of these guys might be back on the street. That's why we'd like the Legislature to address this."
Alex Stuckey of the Post-Dispatch contributed to this report. 
Five counties account for 21.9% of juvenile life sentences
The 41 cases listed for St. Louis include eight instances where the state department of corrections did not track the offense date, but they are included based on the offender's age at the time of sentencing
| Jurisdiction | Sentences | Percentage of U.S. population | Percentage of national total JLWOP |
| --- | --- | --- | --- |
| Philadelphia, Pa. | 214 | 0.5% | 9.3% |
| Los Angeles | 112 | 3.1% | 4.9% |
| Orleans, La. | 72 | 0.1% | 3.1% |
| Cook County, Ill. | 65 | 1.6% | 2.8% |
| St. Louis city | 41 | 0.1% | 1.8% |