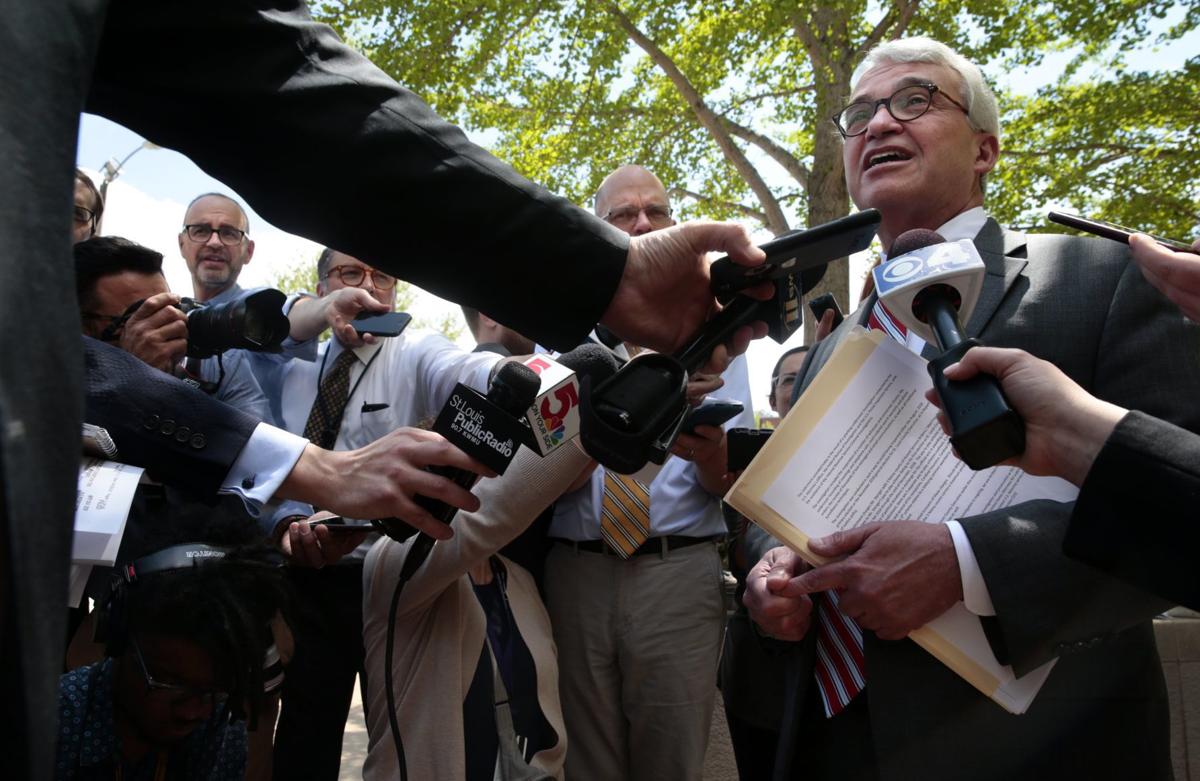 The following is a timeline of events detailed in the federal indictment of St. Louis County Executive Steve Stenger and supplemented with previous Post-Dispatch reporting.
Oct. 23, 2014 • Insurance company owner John Rallo is introduced to Stenger by a close friend, "SW." Sorkis J. Webbe Jr. confirmed Monday that he set up the meeting. Webbe is a former St. Louis alderman who was sentenced in 1986 on charges relating to the award of a cable television franchise. Rallo makes his first $5,000 campaign donation to Stenger with the understanding that Stenger would help him get insurance contracts if he won the general election for county executive.
Nov. 4, 2014 • Stenger defeats Republican Rick Stream in the general election for St. Louis County executive. After his victory, Stenger visits Rallo's Clayton office and asks that Rallo recruit other political donors to Stenger's campaign. Rallo agrees and asks Stenger to help his Cardinal Insurance get a county contract for employee voluntary benefits insurance. Stenger agrees.
Summer 2015 • Though Rallo continues to make political donations and Stenger assures him he will get the insurance contract, St. Louis County pulls its request for proposals and remains with the incumbent insurance provider. Rallo and Stenger instead turn their attention to a potential consulting contract, which Rallo says could make up for the "insurance mishap." Stenger tells Rallo that the St. Louis County Port Authority, overseen by staff at the St. Louis Economic Development Partnership, has money that could be used for a consulting contract.
October 2015 • Rallo meets with Sweeney about a consulting contract through the Port Authority. Webbe attends. He and Rallo had discussed sharing some of the contract's proceeds as "payback" for Webbe introducing Rallo to Stenger. Rallo eventually pays Webbe $12,000 .
April 2016 • Rallo recruits a business partner to become a "trustee" political donor to Stenger. The business partner is not named in the indictment but is Corey Christanell, according to Post-Dispatch reporting. The next month, Christanell would give a $10,000 donation to Stenger. In all, the two would donate approximately $50,000 to Stenger's campaign.
May 2016 • At Stenger's direction, Sweeney has the Port Authority award a $100,000 marketing contract to Rallo's Cardinal Creative Consulting, despite Rallo's lack of marketing experience. Other firms submitted lower bids and had marketing experience, as previously reported by the Post-Dispatch.
June 2016 • Sweeney increases the Cardinal Creative contract to $130,000 without telling the Port Authority board and tells Rallo to pay the extra $30,000 to "JC," who is identified as a "close associate of a public official who had helped Stenger get out the vote in the November 2014" election. "JC" is political consultant John Cross, multiple sources tell the Post-Dispatch.
Sept. 15, 2016 • Sweeney meets with Rallo and a business partner to discuss buying two Wellston industrial parks owned by the St. Louis County Land Clearance for Redevelopment Authority, which is staffed by the Partnership. Sweeney begins providing information to Rallo and his group about the properties and gives advice to the group on its bid, as previously reported by the Post-Dispatch. The LCRA would go on to award the group both bids for the real estate.
May and June 2018 • Stenger tells Rallo not to talk to the Post-Dispatch about the contracts, saying the county will respond to the reporter: "Our goal is not to give him anything. This is just a rehash of what he already has."
November 2018 • St. Louis Economic Development Partnership issues request for proposals for a lobbying firm to represent it in the Missouri capital. Company One, which the Post-Dispatch has identified as John Bardgett & Associates, had been a lobbyist for the county's economic development arm for many years. Since Stenger's 2014 election, John Bardgett & Associates "and its principal owner" contributed approximately $59,000 to Stenger. Stenger and his staff pressure Sweeney to renew the firm's lobbying contract.
December 2018 • At Sweeney's direction, the Partnership awards a three-year contract to John Bardgett & Associates worth $149,000 in 2019, $151,000 in 2020 and $153,000 in 2021.
April 29, 2019 • Stenger resigns after he is indicted.
St. Louis County Executive Steve Stenger's fall: Some background reading
Here's a collection of Post-Dispatch stories looking at some of the controversies surrounding former St. Louis County Executive Steve Stenger.
Shake off your afternoon slump with the oft-shared and offbeat news of the day, hand-brewed by our online news editor, Mandy St. Amand.