CHESTERFIELD  •   An eastbound tractor-trailer slammed into another truck that was parked on the shoulder of Highway 40 (Interstate 64) Tuesday morning, killing one trucker and igniting a fire that burned for more than two hours.
The 4:30 a.m. crash, between Boone's Crossing and Chesterfield Parkway West, closed all of the highway's eastbound lanes for about 12 hours Tuesday. All lanes reopened just before 5 p.m.
The trucker who died was in the moving truck, a 2019 Freightliner. He was identified Tuesday afternoon as Darrell A. Stewart, 29, of Greensboro, N.C.
The Freightliner struck another tractor-trailer whose driver had pulled onto the shoulder after having mechanical issues, authorities said. That vehicle was a 2015 Volvo.
The driver of the disabled truck was identified as Jermaine Johnson, 34, of the St. Louis area.
"He had his triangles out, his flashers on, all of the equipment he was supposed to be using," to alert other motorists he had pulled over, Trooper Dallas Thompson of the Missouri Highway Patrol said.
The second tractor-trailer hit the first vehicle "at a high rate of speed," said Chief Cary Spiegel of the Monarch Fire Protection District.
Upon impact, the moving tractor-trailer burst into flames. The trailer portion of the parked truck caught fire.
The driver of the disabled truck was inside the truck when it was rear-ended.
"He was able to get out on his own and get to safety," Thompson said.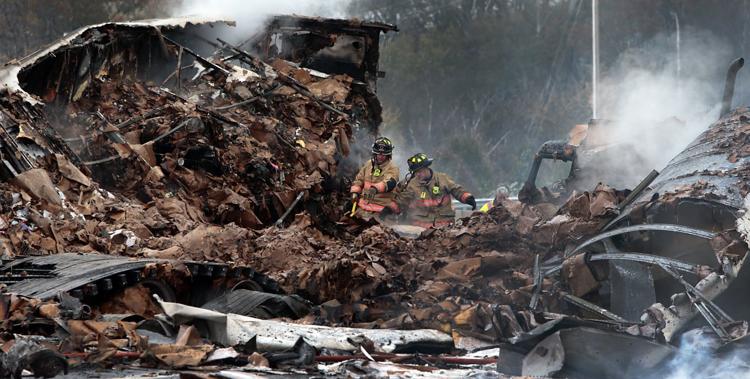 Firefighters arrived to find heavy flames. It took them about two hours to bring the blaze under control, Spiegel said. Because the trucks were engulfed in flames, it was impossible for firefighters to see if the trucks had any placards warning of hazardous materials.
Spiegel said it appears both trucks were carrying cardboard products and nothing hazardous.
Eastbound lanes were closed while the patrol's accident-reconstruction team investigated the crash, and for MoDOT to inspect the highway to see if the intense heat of the fire had damaged the roadway.
Andrew Gates, a spokesman for MoDOT, said Wednesday that most of the damage was to the surface and didn't need immediate attention. As soon as weather allows, he said, crews will remove the damaged driving surface and replace it.
Shake off your afternoon slump with the oft-shared and offbeat news of the day, hand-brewed by our online news editor, Mandy St. Amand.