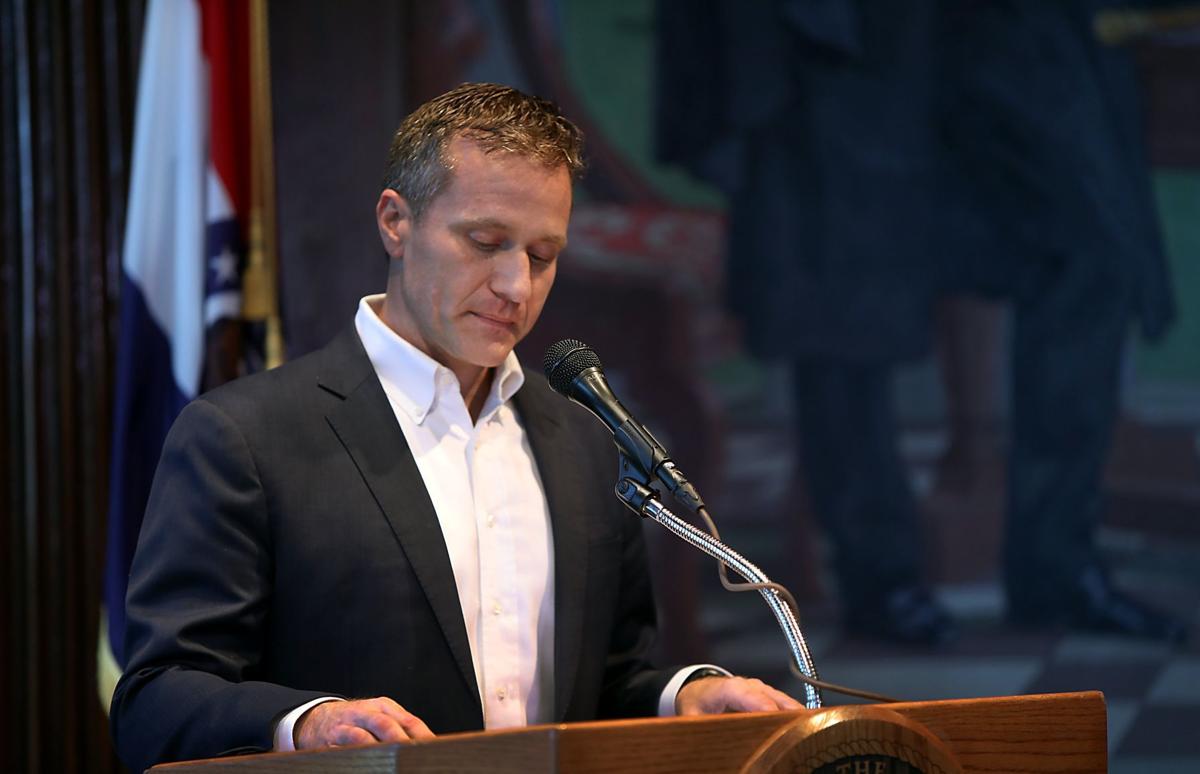 JEFFERSON CITY • A panel of lawmakers investigating former Gov. Eric Greitens has dropped its attempt to secure records showing who secretly contributed money to the ousted chief executive.
An attorney for the special House committee that had been deliberating on whether to recommend Greitens be impeached withdrew a request Wednesday seeking records from the ex-governor's campaign committee and a dark money nonprofit called A New Missouri.
The withdrawal notes that the panel may again seek the records. At issue is the wording of the committee's purpose, which is to investigate issues related to Greitens.
"The Special Committee on Oversight believes the requested records are relevant to its charge and should be produced for the committee and all Missourians to see. However, the committee has determined to withdraw its pending request as it reviews its options," attorney Mark Kempton wrote in a document obtained by the Post-Dispatch.
Now that Greitens isn't governor, it is unclear whether the committee has the power to subpoena those particular documents.
On Friday, the same day Greitens formally resigned from office under the cloud of an ongoing scandal, Cole County Circuit Judge Jon Beetem granted a reprieve from an order requiring the two organizations to turn over a list of donors.
As part of the investigation, the nonprofit and the campaign committee had been facing a Friday deadline to disclose the evidence, but Beetem allowed for a delay because of the extraordinary circumstances of Greitens' abrupt departure.
Attorney Catherine Hanaway, a former House speaker who is representing the two campaign organizations on behalf of Greitens, argued that the House panel created to investigate the governor no longer has the authority to demand the documents because of Greitens' resignation.
In a statement Wednesday, Hanaway said, "Our motion to reconsider was so persuasive the House dismissed its case."
A New Missouri is overseen by Greitens' former campaign manager and has been active in supporting his causes and rallying against opponents who disagreed with him during his 17-month tenure.
Because of its nonprofit status, the group doesn't have to publicly reveal its financial and other information the way a regular PAC would. That has led to criticism that Greitens, a Republican, and his allies were using the nonprofit to hide their political donations and activities from public view.
The future of the committee could be decided as early as Monday when lawmakers convene to hear a joint address by new Gov. Mike Parson, who stepped into the post when Greitens left.
House Speaker Todd Richardson, R-Poplar Bluff, could remake the panel and charge them with continuing to probe Greitens.
Or, the committee could compile the evidence it already has collected into a final report.