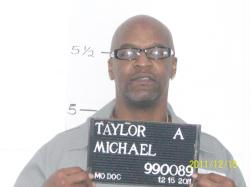 Lawyers for Missouri death row inmate Michael Taylor have sued a compounding pharmacy in Tulsa, Okla., to stop the pharmacy from producing Missouri's execution drug, pentobarbital.
Taylor is scheduled to be executed by lethal injection Feb. 26 at the Eastern Reception, Diagnostic and Correctional Center in Bonne Terre. Taylor, 47, pleaded guilty in the 1989 abduction, rape and murder of a 15-year-old Kansas City girl, Ann Harrison.
The lawsuit, filed in the U.S. District Court Northern District of Oklahoma, alleges that Taylor's civil rights would be violated because the pharmacy alleged to be producing the drug is not regulated by the federal government and therefore could make mistakes that result in an excruciating or unnecessarily drawn out death.
The suit also alleges that the pharmacy violates federal law by providing the drug to a customer in Missouri, where it is not licensed to do business.
The owner of the pharmacy could not be reached for comment.
Also on Wednesday, a federal judge ordered the pharmacy not to sell the execution drug to Missouri until a hearing on Tuesday.
Taylor abducted 15-year-old Ann Harrison as she waited for a school bus near her home in Kansas City. She was raped, bound, stabbed and left in the trunk of a car.
Taylor was hours away from being executed in 2006 when the procedure was halted. The U.S. Supreme Court stopped his execution and said the state's three-drug lethal injection mixture could constitute a cruel and unusual punishment if used incorrectly.
A co-defendant, Roderick Nunley, now 48, also remains imprisoned on a death sentence.