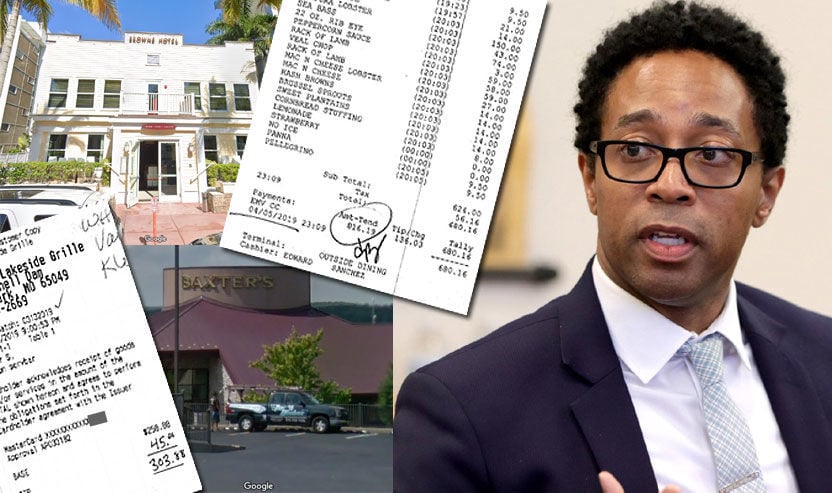 CLAYTON — In April, St. Louis County Prosecuting Attorney Wesley Bell treated himself and six staffers to a night out during a Miami business trip.
The team's order included a $74 ribeye, two $59 racks of lamb, a $58 veal chop and a $150 plate of tempura lobster, plus sides and beverages.
The bill came to $816.19 with tip.
Bell put it on his county credit card.
An analysis of Bell's expense records during his first nine months in office reveals his appetite for dining out and traveling on the taxpayer dime: Bell and his staff have spent more than $30,000 through Sept. 30 on travel and food alone, about two-thirds more than his predecessor, 28-year prosecutor Robert McCulloch, spent over the same period last year.
Bell has dined out with local officials or purchased food for his staff some 40 times — averaging once a week — at a total cost of about $4,300.
In an interview with the Post-Dispatch, he defended his spending this year, saying that as a first-term prosecutor, he needed to spend more upfront to build relationships with community organizations and law enforcement.
"I think it's very reasonable to expect an increase in activity when a new administration comes in after a 30-year incumbent," he told the Post-Dispatch this month.
He also acknowledged a "learning curve" on expenses permitted by county policy.
Bell paid back some of the expenses — including the $816 Miami dinner — after the Post-Dispatch asked for expense records. In a Facebook post Saturday, Bell said he reimbursed St. Louis County for the meal "immediately." His reimbursement check for the April 5 dinner was dated June 28.
"It just didn't sit right, so I paid them," Bell said.
Wesley Bell wrote a personal check for $816.19, dated June 28, 2019, for the April 5 meal with staffers at Prime 112, a Miami restaurant. Bell…
Critics still worry the new prosecutor isn't spending responsibly.
"When I hear people buying expensive dinners with tax dollars, what I think about is, who needs that money more?" said County Councilman Tim Fitch, R-3rd District.
Already, he said, his efforts have helped reduce St. Louis County's jail population by at least 20%. Bell said he hopes savings projected from housing fewer inmates can be reallocated to diversion programs, the hallmark of his campaign platform.
"If we can get those low-level people who don't need to see the inside of the jail, keep them out of the jail, not only do we help them reduce recidivism, we also save the county money," Bell told the St. Louis County Charter Commission in August.
Promised transparency
But when the Post-Dispatch asked for all records of Bell's travel expenses and credit card charges under the Missouri Sunshine Law, his office took three months to deliver them and charged the paper $146.50.
Moreover, his custodian of records omitted nearly $2,100 of charges to his card, including the $816 dinner in Miami, several staff meals at St. Louis-area restaurants and Uber rides while traveling on business.
The Post-Dispatch later received complete records of Bell's expenses from St. Louis County's Fiscal Management office — without delay or fees.
Those records revealed that Bell had written a dozen personal checks reimbursing St. Louis County for $2,083.66 in staff meals, a hotel visit and Uber rides.
Half of his reimbursement checks were dated after the Post-Dispatch's records request. The St. Louis County treasurer received five of the 12 checks on July 18, one day before Bell's office released redacted records to the newspaper.
Bell said he didn't violate county policy or try to hide expenses; he said he wasn't aware of the newspaper's request until shortly before releasing the records. And, because he reimbursed the county for certain expenses, he argued that the county shouldn't have released them.
"Trust me, if it's allowable and by the rules," Bell said of his credit card spending, "I'd rather keep the money. I'm not a rich man."
Jean Maneke, counsel for the Missouri Press Association, said Bell's three-month delay in releasing the records was "unreasonable" and suggests he may have tried to conceal personal expenses on his county credit card.
"If it was a valid county business expense, it shouldn't have been paid back," Maneke said.
Other restaurant meals Bell reimbursed include a $129 dinner in February at Tani Sushi in Clayton with his chief of staff, Sam Alton, and an intern; a $137 dinner in February at Red Lobster in Maplewood with Alton, Tim Swope, operations chief, and Clay Farmer, Bell's security guard and community engagement liaison; and an $88.55 lunch in January with two staffers at the Galleria's Nordstrom Café Bistro.
Bell has sought to hold law enforcement to higher standards, said Fitch, the county councilman and a former St. Louis County police chief. Withholding some expenses from public release sends the wrong message, he said.
"Doing something like hiding expenses from the taxpayers doesn't look like he's living up to that standard, even himself," Fitch said.
McCulloch's spending
St. Louis County's travel policy forbids personal expenses on county credit cards. The policy covers lodging for county employees for out-of-town business travel and provides a per diem of $51 to $64, depending on the destination.
Bell's salary is $160,000. Now eyeing the end of his first year in office, Bell has had a much busier travel schedule than McCulloch had during his final year in the job. Bell took staff to Miami in April to observe the Miami-Dade state attorney's office. They attended training seminars at the Lake of the Ozarks. And they went to several criminal justice or legislative events, including conferences hosted by the National Black Law Students Association in Chicago, the Pretrial Justice Institute in Houston, and the National District Attorneys Association in Washington.
McCulloch loosened the purse strings in his last four months in office, spending about $15,000 on staff airfare and hotel stays. He overnighted several days in downtown St. Louis for the National District Attorneys Association board of directors meeting in September, and he spent a week in Marco Island, Florida, for the association's executive conference in November.
The majority of expenditures for staff travel for both McCulloch and Bell appear on the credit card of an office manager, who arranges trips for the office. McCulloch and Bell used their cards mostly for meals, fuel and transportation costs.
Some of the meals Bell has not reimbursed include a $304 dinner in March for Bell and five assistants at Baxter's Lakeside Grille, a steakhouse in Lake Ozark, Missouri, during the Missouri Association of Prosecuting Attorneys conference at the Margaritaville Lake Resort; a $146 meal for four at Bonefish Grill in Brentwood in March; and at least four meals for a combined $627 at C.J. Muggs in Clayton with top aides, investigators, police and city officials.
In addition to meals, Bell's office spent $6,000 for 18 new iPhone XRs; about $4,700 for office furniture; $2,500 on Venetian blinds for the office; $290 to tint the windows on his and Swope's take-home vehicles; $180 on a Nespresso Pixie espresso machine; and $875 for professional photography at Bell's inauguration party, swearing-in ceremony and at one of his first news conferences.
Bell said he has stopped charging his office as frequently for the outings and regularly covers lunch and dinner meetings from his own pocket.
Still, he added, all those meals are already paying dividends: Law enforcement relationships are growing. He's connecting with municipal leaders. And he's building rapport with his staff.
Janelle O'Dea of the Post-Dispatch contributed to this report.
Editor's note: Half of Bell's reimbursement checks were dated after the Post-Dispatch's records request. An earlier version of this story contained incorrect information.