Ashley Kinnear scrutinized the face of each person stepping off buses at the stop near her Collinsville school.
Soon, it became obvious to the 12-year-old that her mother, Deanna Howland, wasn't coming as promised to see her star in her school's production of "How to Eat Fried Worms."
And she knew it meant — as her mother once told her — that she was either in jail or something worse had happened.
Kinnear didn't want to believe the latter.
And in the mind of a child, leaving the bus stop would mean acknowledging that it had.
Finally, her father warned her that if they lingered any longer, she would be late for her lead role.
Reluctantly, she hopped inside his car, without her mother, and headed to her performance.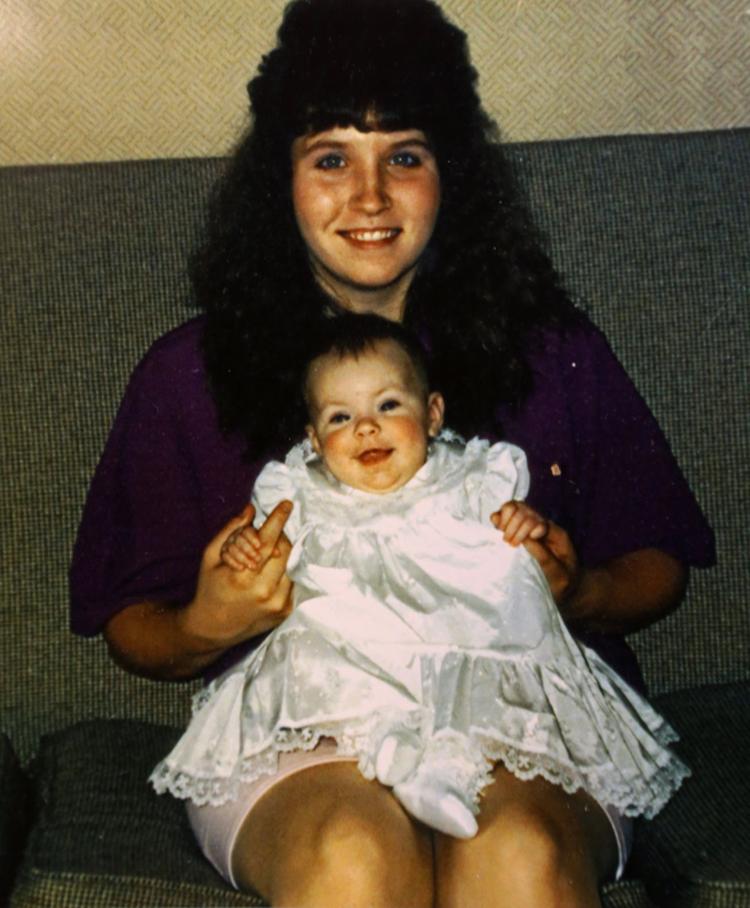 It wasn't the first time Kinnear's mother had broken her heart. A longtime drug addiction, often supported by prostitution, led to frequent letdowns for the little girl and her four siblings. She said most of them were born with drug addictions, and to different fathers.
But it marked the first time that Howland, then of Alton, failed to call her oldest daughter to explain why.
For 12 years, Kinnear waited for an answer.
Once it came, it revealed limitations for police about use of DNA in missing-person cases, reinforced Kinnear's dream of becoming a forensic scientist and put to rest a nagging fear that Howland had simply abandoned her children.
"She always told me she loved me and to tell my brothers and sisters that she loved them, so for me, finding her body would be the least heartache of everything, or finding out she had been held captive somewhere," said Kinnear, now 24, of Belleville.
She is realistic about her mother's lifestyle.
"Had she continued living like she was, she probably wouldn't be around now because she might have overdosed," the daughter explained. "But that would have been a much more deserving death than the one she got."
In March, investigators concluded that a headless torso found in 2004 at a rest stop in Wright City is that of Kinnear's mother.
For Warren County investigators, an examination of more than a decade of delays in identifying Howland as their baffling Jane Doe torso could have implications for missing-person cases everywhere, said Sheriff Kevin Harrison.
"This case has caused me to re-evaluate what I know about DNA evidence," he said.
And had a different series of unfortunate events not taken place within the family, Deanna Howland might never have been identified.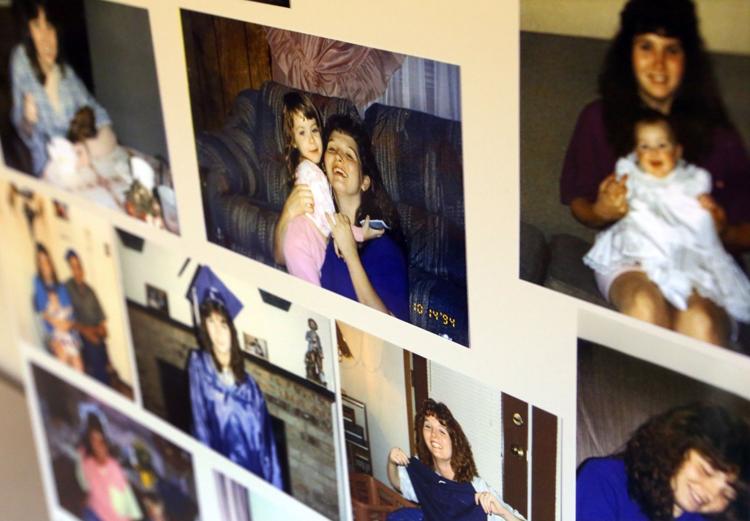 TROUBLED BEGINNINGS
Howland, whose maiden name was Barker, grew up in Collinsville and Edwardsville with her brother, Brian Barker.
Her mother, Lorraine Barker, was a banker. Her father, Dennis Barker, was a union leader at McDonnell Douglas/Boeing. She met her first love, Kevin Kinnear, at Collinsville High School. They both graduated in the late 1980s and got married soon after. He joined the military and was stationed at Scott Air Force base.
Baby Ashley arrived in 1992.
Years later, a TV show about a serial killer preying on prostitutes prompted a teenage Ashley Kinnear to ask her dad if her mother might have met the same fate.
In candid conversations, she said, he explained that her mother endured trauma in childhood, and that both of them experimented with drugs in high school.
"He told me he got out and she didn't," Kinnear said.
She said she was born addicted to crack, her mother's drug of choice.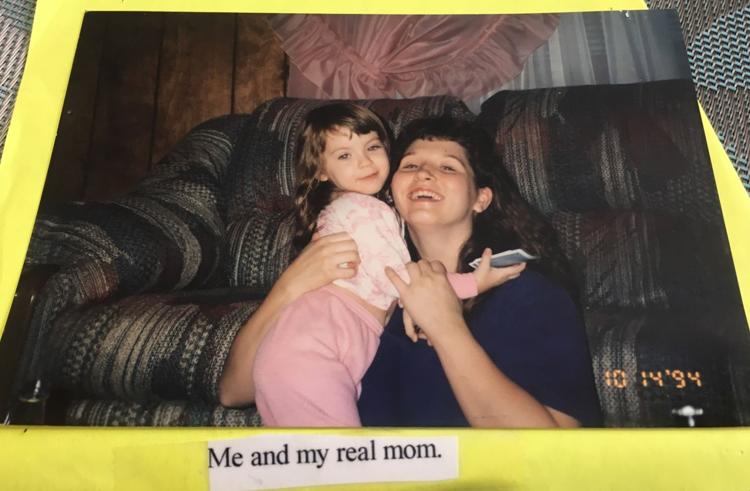 When her father filed for divorce, she said, her mother couldn't pass a drug test to keep custody of her children. By the time the divorce was final, Kinnear's mother was pregnant with another man's child. But Kinnear's dad never kept his daughter from her mother.
"He really never kept anything secret and let me stay with my mom a lot," Kinnear said. "Now that I'm older, I want to shake him and ask him, 'Why would you let me go with her?'
"But now, I'm the only child out of all of us to say I knew her."
By the time Kinnear met her little half brother, Nick McCoy, he was already walking and talking. Her mother married twice more that Kinnear is aware of, taking on the names Froehlich and finally Howland.
Aside from Nick McCoy, Kinnear said she has met two of three other half siblings: Katelyn and Austin Howland and Isaiah, whose last name she doesn't know.
In the last picture Kinnear took of Howland, her mother proudly displayed her swollen pregnant belly beneath a white T-shirt adorned with a dandelion.
Kinnear also remembers jail visits, explaining, "We did the whole talking-on-a-phone-through-the-glass thing."
But she treasures some tender mother-daughter memories, too: Her mom helping buy her first bra, watching movies together, rubbing the girl's back until she fell asleep.
Howland always sent cards on her daughter's birthday and Christmas.
And if she was high, her daughter could never tell.
"She was never twitchy or itchy," Kinnear said. "She never had track marks. To me, she just looked like my mom."
All of the children, except Kinnear, were born via cesarean sections. It's a detail that caught the attention of Howland's brother, Brian Barker, when an unidentified female torso was found dumped near an Interstate 70 rest stop, on June 28, 2004. Scars from C-sections and an appendectomy were the only identifying marks on a body clad only in a bra.
Warren County investigators entered a DNA sample from the remains into the Combined DNA Index System, or CODIS, a national databank that includes samples from many criminal defendants and convicts. There was no match to anyone on file.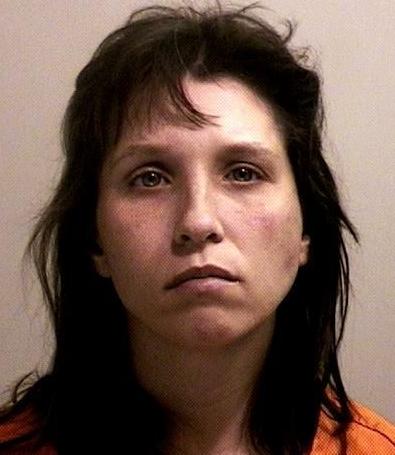 SHE HAD A NAME
Neither Brian Barker nor his parents filed a missing-person report.
Kinnear said police never took her seriously when, as a teenager, she tried to file one.
But it obviously was on Brian Barker's mind when, on April 25, 2006, he went to the Warren County Sheriff's Department to say he thought the torso was his sister, and provided his own DNA for comparison.
In a letter dated June 12, 2006, Missouri Highway Patrol lab experts wrote that Barker's sample was "found to be inconsistent with any of the previously developed DNA profiles."
It might have ended there except that in December 2014, Barker, then an Edwardsville police officer, was charged with multiple burglaries from businesses and homes in Edwardsville, as well as aggravated unlawful possession of stolen firearms. Charges of arson, burglary and money laundering followed in February 2015. Officials allege that he committed some of the crimes on duty, in uniform.
During interviews with Madison County sheriff's investigators, Barker brought up his sister and the DNA sample, Warren County sheriff's Lt. Matt Schmutz said.
"He said his mother was dying and he wanted her to have closure about her daughter before she died," Schmutz recalled.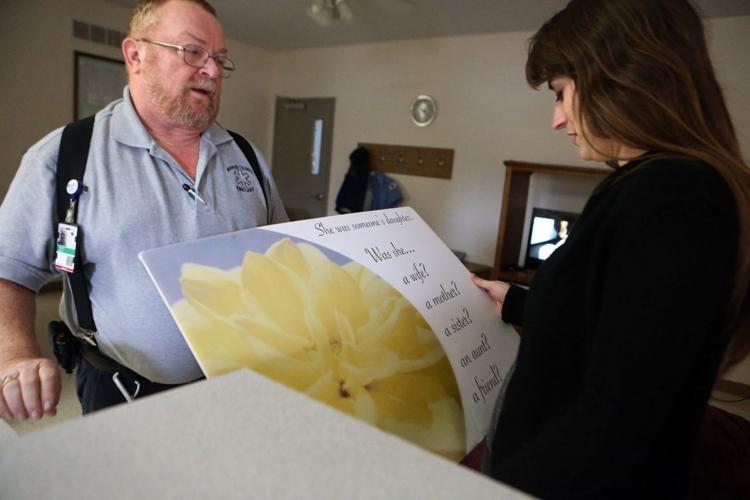 Given Barker's insistence, Illinois officers filed a missing-person report on Howland in September 2015. Had it been done initially, Warren County investigators periodically checking the national missing persons database for similarities to the torso might have connected them, Schmutz said.
Barker, out on bail awaiting trial, declined through family to be interviewed for this story. His father, Dennis Barker, did not respond to a phone call seeking comment.
Given the new missing-person report, Schmutz called the University of North Texas Health Science Center lab to enter Barker's DNA as a family member of Howland's, should she ever be found. He also asked for a second comparison to the torso, as scientists there can provide a deeper DNA analysis than the highway patrol.
In a reply Feb. 16, the center wrote, "This comparison did not yield a valid association between these samples."
Detectives on both sides of the river were stumped, caught between science and Barker's insistence.
Schmutz asked the Texas experts to take a closer look. They asked him for additional DNA information about the torso from the highway patrol and FBI.
When he called the highway patrol, an analyst reviewed the 2006 report and suggested collecting more samples from Howland's relatives.
Kinnear and two of her siblings obliged. This time, the highway patrol made the match.
In mid-March, Schmutz strode into Sheriff Harrison's office.
"He looked like a kid on Christmas morning," Harrison recalled. "This gives us a name and a place to start with, and that's huge."
The Major Case Squad joined the investigation and publicly announced March 22 that after 12 years, the mystery of the torso's identity was solved.
Kinnear said her aunt told her to turn on the news.
There was strange comfort in what she heard.
"Now I know why she didn't make it to my play that night ... because she couldn't."
The question lingers of who killed her, and why.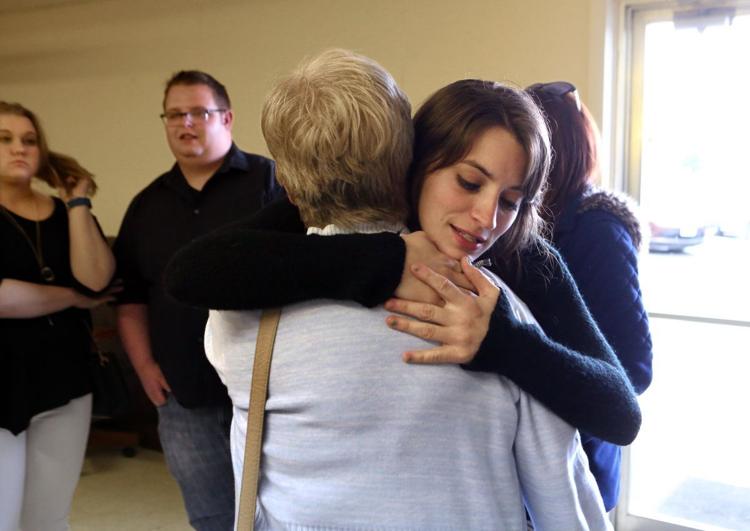 LESSONS LEARNED
The development reinvigorated a case that was stalled for 12 years, and Schmutz couldn't help but wonder why the earlier DNA tests failed. Howland had a criminal record, and presumably would be in the system. Her brother had provided his own genetic material.
Part of the answer was rooted in bureaucracy, part in scientific methodology.
In 2002, Illinois began requiring felons to provide DNA. But Deanna Howland was one of 50,000 whose DNA was not collected due to delays in implementing the law, Schmutz found. She was not in the system in 2004.
Moreover, DNA lab computers are programmed to look for similarities among at least 13 to 15 locations, called loci, in a genetic strand, explained Dixie Peters, of the Missing Persons Lab at the University of North Texas. It is possible that siblings may not share similarities at those spots. And it can get even more complicated if the tests involve half-siblings.
"It's kind of like a genetic lottery," Peters said.
Couple that with unidentified remains, which may not produce the 13 to 15 loci that most labs seek, and the chances of a match drop even more, she said.
Schmutz said that is why the sibling DNA didn't trigger a computer match in 2006 yet could be discerned by an analyst's eye upon closer inspection in 2016.
Peters said one lesson from the Howland case is that it is best for missing-person investigators to obtain and compare samples from as many relatives as possible.
Harrison said he cannot overlook Barker's role.
"Had the issue of cop-turned-criminal not happened, we might not have looked at it so closely," the sheriff said. "Nothing in the timeline gave us a reason to look back."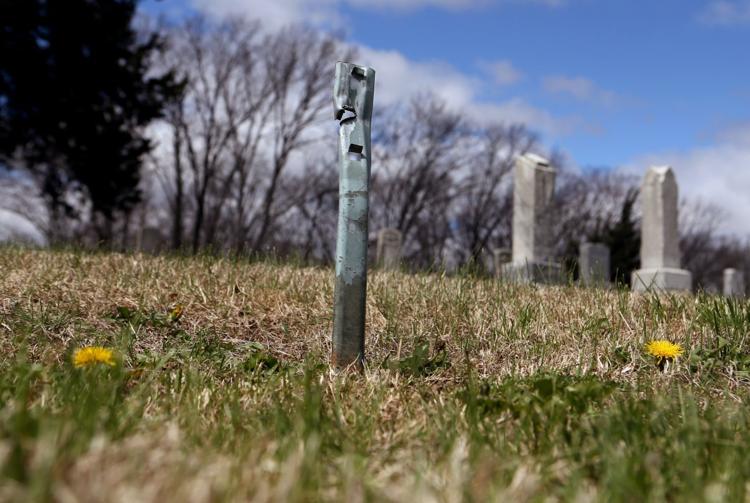 'A BEAUTIFUL FLOWER'
Kinnear learned that Roger Mauzy, a former Warren County coroner, buried her mother's remains at an undisclosed cemetery in 2004. Mauzy took Kinnear there after the identification. Only a weathered and rusted 12-inch stake remained from a temporary grave marker once labeled, "Faith Hope."
Three dandelions, reminiscent of the one on the last pictures Kinnear took of her pregnant mother long ago, sprouted from its base.
"I thought, 'Wow, God already placed flowers on her grave,'" Kinnear said.
She looked around the cemetery and couldn't find another dandelion.
"To some people, dandelions are just pesky weeds, and to some people that's all she was," Kinnear said. "But to some, it's a beautiful flower. It just depends on how you look at it."
Neither Howland's brother nor her father attended an informal memorial service April 1 in a church basement in Wright City. About 30 people did, including one of her sons, Nick McCoy, 22, of O'Fallon, Ill.
Kinnear's father died of a heart attack two years ago, at 44. But many of his relatives were there. Most lingered near photos of Deanna Howland's happy days — with her beaming smile, piercing green eyes and permed brown hair with feathered bangs.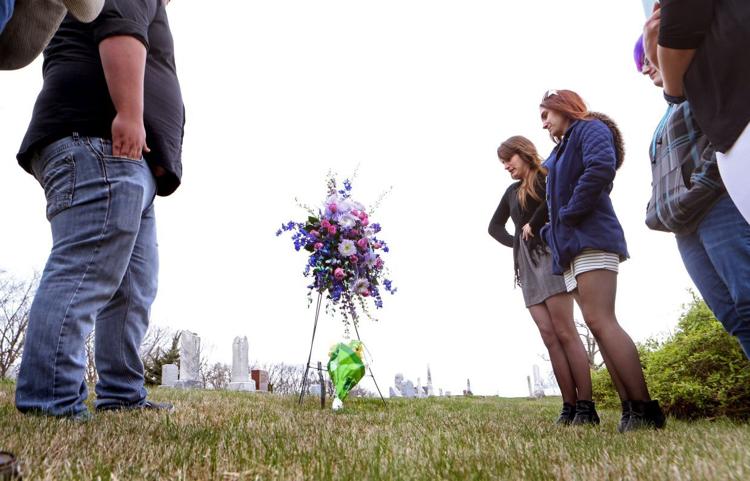 There were two hours of snacks and shared memories. Kinnear told of classes she is taking to become a forensic scientist to help other families find answers she never thought she would get.
Then Kinnear and McCoy led a small group to the private spot where their mother is buried. Some carried flowers bought with online donations prompted by news accounts that a name had been put with the body.
The rest of the money will buy a headstone.
As they knelt down, Kinnear noticed God's bouquet had grown to four dandelions, with a fifth about to bloom.