UPDATED at 2 p.m. Thursday with details from police on incident.
NORMANDY • St. Louis County police said Thursday that a Florissant man died of a single, self-inflicted gunshot wound under his chin after a shootout with police.
Police said Amonderez P. Green 18, of the first block of Lynn Meadows Lane in Florissant, was found with a .38-caliber, six-shot revolver that belonged to a relative. Green died about 4:30 a.m. Thursday at a St. Louis hospital after exchanging gunfire with officers Wednesday afternoon in Normandy and later shooting himself, according to police.
Relatives and people who said they witnessed the incident were quoted on social media challenging the police version of events. Some insisted he was shot by officers. Green's relatives declined to speak to a reporter Thursday.
The scene was near the Normandy-Ferguson city line, and the incident began when a Ferguson police lieutenant driving south in the 5800 block of Bermuda Drive was contacted at 1:53 p.m. by a resident who reported Green, who was walking in the area, to be possibly suicidal, police said.
Normandy and Ferguson officers followed Green into a neighborhood and tried talking to him in a front yard in the 7700 block of Ellington Drive, police said. Green was uncooperative, pulled a silver revolver from his waistband and began firing at the officers, authorities said.
A Normandy officer used a Taser on Green, but it wasn't effective, according to police. The Normandy officer fired three gunshots at Green but missed, police said. Green ran, fleeing through backyards into the 7700 block of Paddington Drive. Green fired an additional shot at officers while they were chasing after him. Officers lost sight of him and heard another gunshot, police said.
They found him on the ground and began giving first aid, according to Normandy police. Police recovered the revolver at the scene. Police said the gun contained four spent shell casings and two live rounds. Three nearby homes were hit by gunfire, and ballistic tests on one of the bullets that hit one of the homes matched the gun Green was carrying.
Police said none of the Normandy officer's shots hit Green. They did not say if they had matched the bullet that killed Green to his gun.
Ferguson Chief Andre Anderson referred questions about the incident to Normandy police, saying only that his officers were there to assist with first aid after Green was shot. A Ferguson city spokesperson said Ferguson officers did not fire shots at the man.
Deron Smith lives in the neighborhood and said he had seen part of the chase. Smith, who lives on Paddington, said he heard six to eight gunshots behind his home and went outside to investigate. He saw a man running from police officers. He said the man didn't appear to be holding a gun at that point because he was using both hands to climb over fences.
Several people were behind the police, screaming at the man to stop running from the officers, Smith said. He said he believed they were relatives.
Smith said he lost sight of the man as he ran between two homes, and he said he heard several more gunshots. He went out to the front of his home and saw the injured man face down on the ground near a tree.
He was taken to a hospital, where he died Thursday morning.
St. Louis County police were called in to help with the investigation. Authorities asked anyone with information about the shooting to call St. Louis County police at 314-889-2341.
The officer who fired at Green has been on the Normandy force 12 years, police said. The other officer is a 19-year veteran of the department. All Normandy officers are trained in crisis intervention, Sanders said.
Normandy officers do not have body cameras.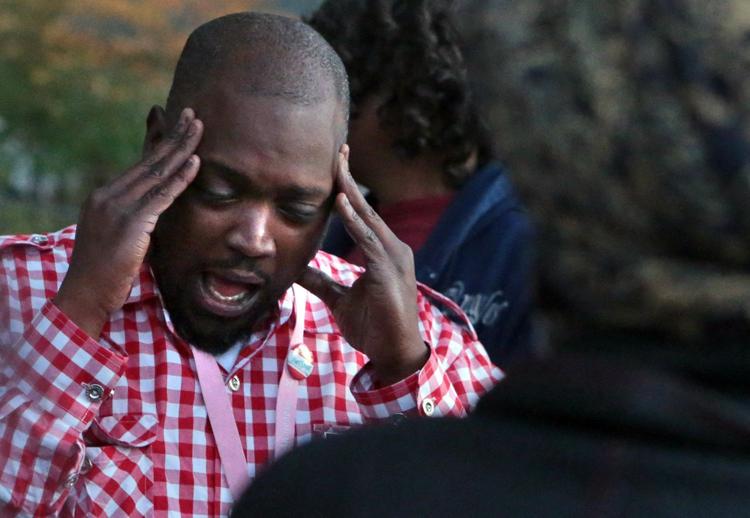 Relatives of Green showed up briefly later at the scene and challenged the police version of the incident.
"What they're saying is a total lie," said Green's father, Jermell Simpson.
He said his son had been upset before the shooting, but that he and other family members told an arriving police officer that that they "had it covered" before the confrontation began.
"I saw everything that happened," Simpson said, but wouldn't elaborate.
In addition, videos of unnamed witnesses posted on Twitter and Facebook included claims that Green was unarmed and that he was shot by police.
Christine Byers and Valerie Schremp Hahn of the Post-Dispatch contributed to this report.