ST. LOUIS — A St. Louis County man was sentenced to 20 years in prison Friday for running a drug ring linked to more than a dozen murders.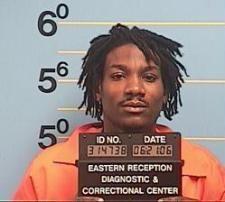 Adrian "AD" Lemont Lemons, 42, pleaded guilty to a cocaine distribution conspiracy charge in May 2019 and admitted involvement in a drug ring that brought at least 150 kilograms of cocaine from Mexico between 2012 and 2016.
In a statement announcing the sentence, U.S. Attorney Jeff Jensen called Lemons one of the area's "most prolific drug traffickers."
"The poison he peddled not only endangered this community, but it fueled unprecedented levels of drug-related violence and murders," Jensen said.
Lemons also admitted conspiring with others, including co-defendant Jose Alfredo Velazquez, who coordinated bulk cocaine shipments of at least 20 kilograms each through the Rio Grande Valley of south Texas to St. Louis. Lemons supplied that cocaine to "a large number of large-scale, mid-level and street-level drug dealers" who sold cocaine and crack in the St. Louis area, prosecutors said in court. Prosecutors have said the drug ring could have brought 450 kilos of cocaine or more to the area.
Investigators told the Post-Dispatch in 2016 that the conspiracy was believed to be responsible for as many as 17 area homicides in the previous five years. A total of 34 people were charged and authorities seized guns, over 64 kilograms of cocaine and more than $1.3 million.
Lemons was sentenced in U.S. District Court in St. Louis on Friday via a Zoom videoconference due to the coronavirus pandemic.
Prosecutors are also seeking the forfeiture of a BMW, jewelry and the house where Lemons lived, in the 11500 block of Poggemoeller Avenue in unincorporated St. Louis County near Spanish Lake, court documents say.
Among the others charged in the case is Anthony "TT" Jordan, who has been accused of killing nine people and playing a role in the deaths of two others since 2008. Federal prosecutors are seeking the death penalty against Jordan, who has pleaded not guilty.
Velazquez, a Texas resident, pleaded guilty in December 2018 and is scheduled to be sentenced in September. He could face at least 20 years in prison.
Shake off your afternoon slump with the oft-shared and offbeat news of the day, hand-brewed by our online news editor, Mandy St. Amand.