CLAYTON • A man on trial for murder in the fatal shooting of St. Louis County police Officer Blake Snyder in 2016 was suicidal, angry, often high on drugs and "obsessed" with getting a gun in the days before the fatal encounter.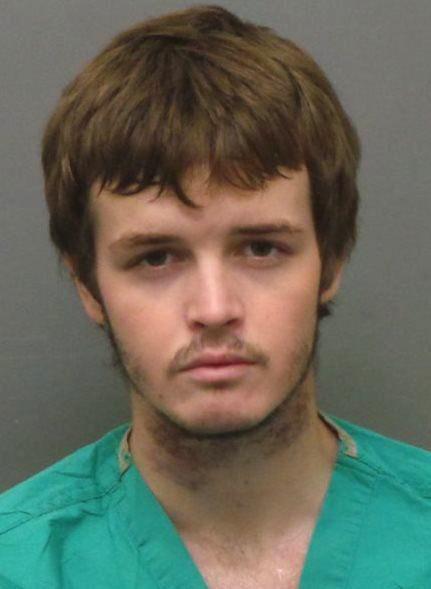 In opening statements Monday, a St. Louis County prosecutor and Trenton Forster's own defense attorney detailed his mental problems, drug use and anger before the Oct. 6, 2016, shootout that left Snyder dead and Forster injured. Public defender Stephen Reynolds conceded Forster's guilt, but essentially presented a "diminished capacity" defense that Forster was incapable of committing first-degree murder.
"You're going to find Trenton Forster guilty of murder, but I'm asking you not to find him guilty of murder in the first degree," Reynolds argued, suggesting second-degree murder as the appropriate charge.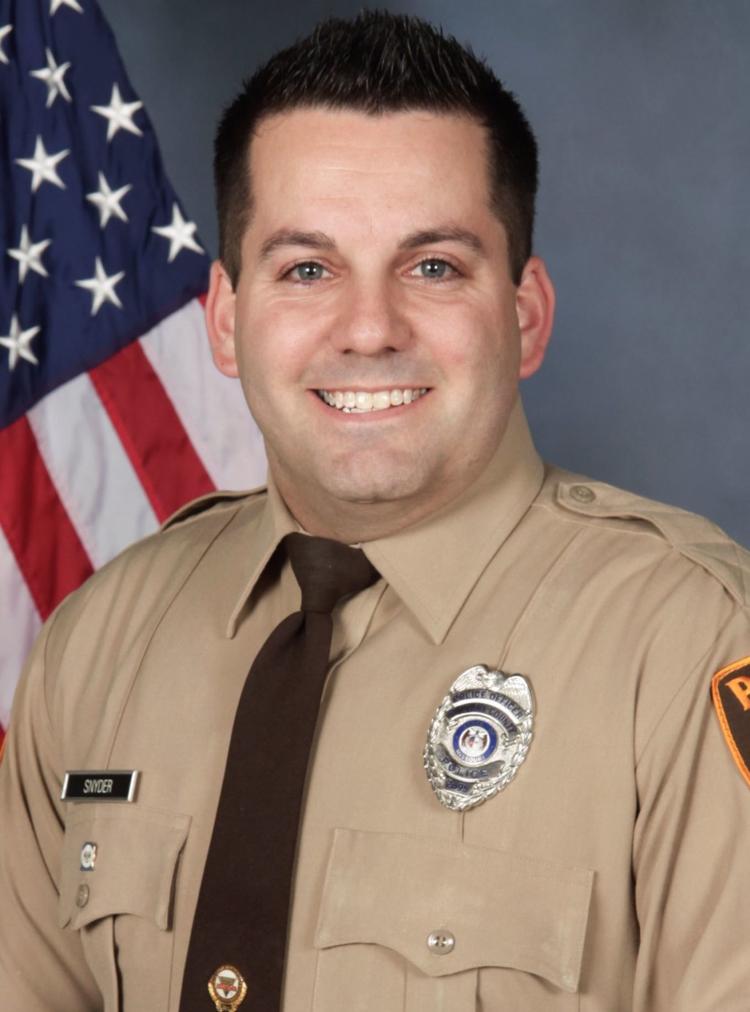 Snyder, 33, of Edwardsville, was killed while responding to a disturbance call in the 10700 block of Arno Drive in the Green Park area. When Snyder approached Forster, who by then was in a car parked on the residential street, Forster opened fire on Snyder, police said. Another officer shot and wounded Forster, then 18, during the incident.
Alan Key told the jury in his opening statement that prosecutors would present evidence Forster had talked on social media and in text messages of wanting to kill himself, or to die in a "suicide by cop" encounter with police. He had been using drugs and dealing them, police said.
In the week before the shooting, he tried multiple times to buy guns and ammunition at gun stores and pawn shops, but was turned away several times because he appeared to be high, Key said. Eventually someone he smoked marijuana with helped him make private transactions for a 9 mm pistol and a .22-caliber rifle on Oct. 1. A few days later he bought 50 rounds of 9 mm ammunition at Walmart, Key said. He used money from a settlement he received following a car crash.
'In a bad place'
The day before the shooting, Forster was hanging out with Billee Jean Haupt, then 18, at her home on Arno Drive. They smoked marijuana and Forster appeared "really high," Haupt testified.
He had been troubled in recent months and had texted her about killing himself with drugs, a gun or a bomb. She also said he would "show aggression" when police were mentioned, and said that if he ever engaged with police or got pulled over, it wasn't going to end well.
"Trenton was in a bad place," Haupt testified. "He didn't have a place to live. He was on drugs."
At some point, Haupt's mother, Trina Grooters, found them in the garage, where Forster could barely stand up. He waved what she thought was a fake or toy gun, Grooters testified. She told him he would end up in prison, she testified, and he replied that that wouldn't happen because he would shoot a cop first.
He left, but about 5 a.m. the next day began pounding on the door, demanding he be let in and swearing at the occupants. Grooters told Forster to leave and called police.
Officer John Becker was assigned the call, but Snyder heard the dispatch and volunteered to go because he was nearby, according to testimony. Forster was sitting in his car across the street from the house when Snyder pulled up behind him about 5 a.m. Becker pulled his car in front of Forster, boxing him in.
Snyder approached Forster's car, saying, "Hey, bud, let me see your hands," then, "Police, show me your hands!" according to testimony. Becker then heard a pop and saw Snyder fall. Forster had shot Snyder once in the chin, severing his carotid artery, Key said.
Becker said he took cover behind his patrol car and fired into the windshield of Forster's car, then moved across the street and behind a tree. He fired a total of 21 shots, reloading at one point, and hit Forster five times.
"(Expletive) it, shoot me, I have a gun," Forster allegedly told Becker. It wasn't clear how many shots Forster was able to fire. When examined after the shooting, his pistol was jammed.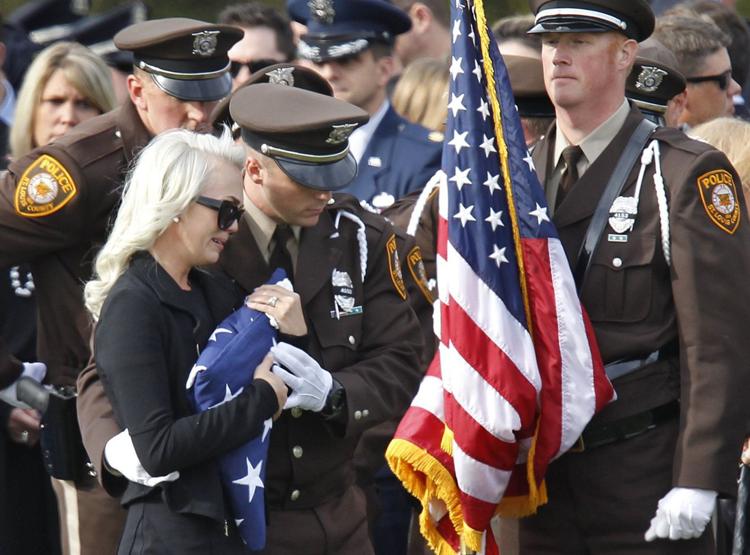 Another officer, Andrew Roades, testified he arrived at the scene to hear gunshots, then saw Snyder down and Forster leaning against the driver's side of his car. He cuffed Forster and performed CPR on Snyder.
Both Roades and Becker said they were familiar with Forster from previous calls in the precinct, including problems at the homes of relatives. Becker recalled that the night before the shooting, he learned at roll call that Forster's father had called police to say his son was drunk and high and driving around South County. He said the teen wasn't welcome at his home and wanted people warned about him, Becker said.
Snyder's widow, Elizabeth Snyder, was the first witness called by prosecutors Monday morning and testified briefly about her husband. She said they had been together since 2009 and married in 2013. They have a son, who was 2 at the time of his father's death. Her husband worked overnight shifts, and would usually come home around 5 or 6 a.m.
"He loved his job," she said.
But on that day, she got a call from her brother, also a police officer, telling her something had happened to Blake Snyder and that he would come pick her up. They headed to St. Anthony's Medical Center, now Mercy Hospital South. She said she learned her husband had died as they pulled into the hospital parking lot.
After her testimony, Elizabeth Snyder patted at her face with a tissue as prosecutors played a tape of Becker's call to dispatch reporting an officer down. In the afternoon, as prosecutors showed crime-scene photos of Blake Snyder's badge No. 218 and his blood-soaked shirt, pants and vest, his widow and parents sobbed and consoled one another.
'Obsessed with getting A gun'
In his opening statement to jurors, Reynolds, Forster's public defender, described a lengthy history of mental illness and drug use before the shooting, saying Forster's life had been unstable for years.
He had been anxious at a young age and developed issues that were made worse by his parents' divorce, Reynolds told the jury. He stayed with his father for a time, but Bill Forster called police in 2014 and 2015 over problems with his son, Reynolds said. Both times Trenton Forster was hospitalized for psychiatric evaluation, episodes that only made Forster paranoid and angry at police, Reynolds said.
"Bill Forster didn't know what to do," Reynolds told the jury. "He couldn't do anything to help Trenton."
Forster dropped out of school — it should have been his senior year at Affton High School, where he'd transferred from Lindbergh High School. He had been kicked out of various relatives' homes, Reynolds said. Forster was living in his car at the time of the shooting, the public defender said.
And, Reynolds conceded, "He was obsessed with getting a gun."
But the public defender said Forster's history of trauma, mental illness and drug use should lead the jury to find Forster guilty of the lesser crime of second-degree murder.
The trial is expected to run at least through Friday in St. Louis County Circuit Judge Kristine Kerr's courtroom. The jury of six men and six women was seated Friday.
Prosecutors assigned to Forster's case include assistants Key, Jason Denney and David Hasegawa. St. Louis County Prosecutor Wesley Bell attended parts of the first day of trial with top members of his staff.
Forster is represented by Reynolds, the county's district public defender, and Yashwanth Manjunath, an assistant pubic defender.
Forster also has a pending 2016 charge of drug possession. Charges say police went to a South County home where Forster was staying on Nov. 20, 2015, found Forster sleeping in the basement near three glass jars full of suspected marijuana, and "a large amount of U.S. currency" that Forster admitted was his from selling drugs. The officer who responded to Forster's home for the drug call was Becker, who would later accompany Snyder on the day Snyder was shot to death.
Snyder had served the police department for four years and was known for making DWI arrests. He also had relatives who served police departments in the region.
St. Louis County police officer shot 'almost immediately' while answering call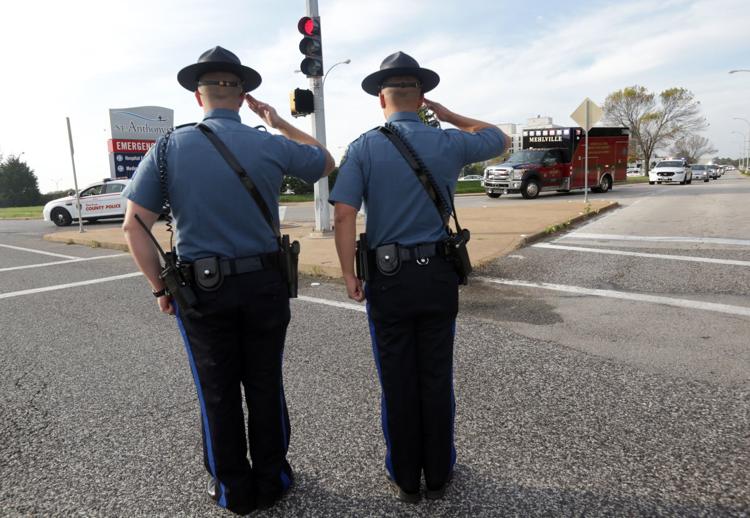 Blake Snyder as a teenager in 2002
County officer killed, suspect in critical condition in Green Park shooting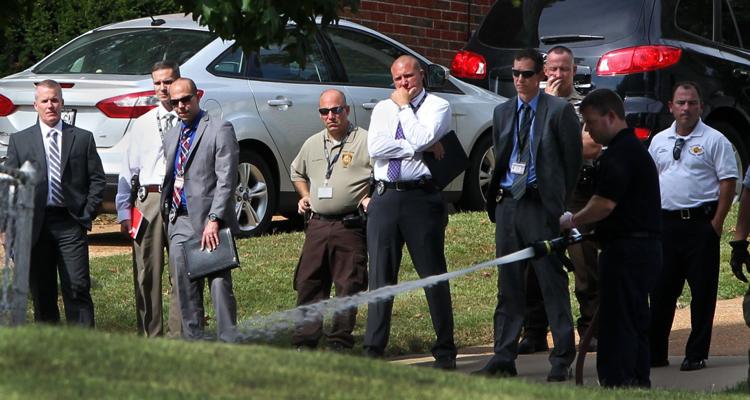 County officer killed, suspect in critical condition in Green Park shooting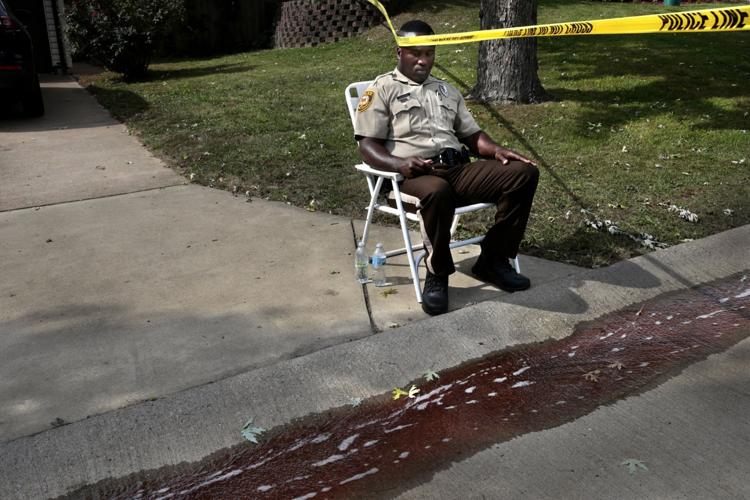 Memorial set up for slain county officer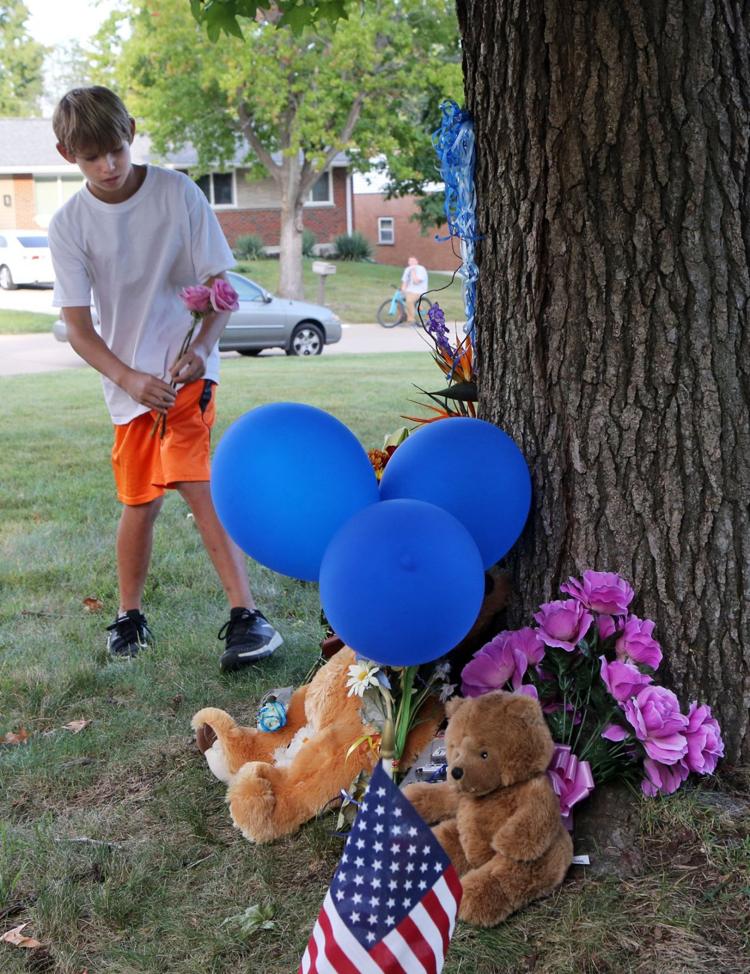 Memorial set up for slain county officer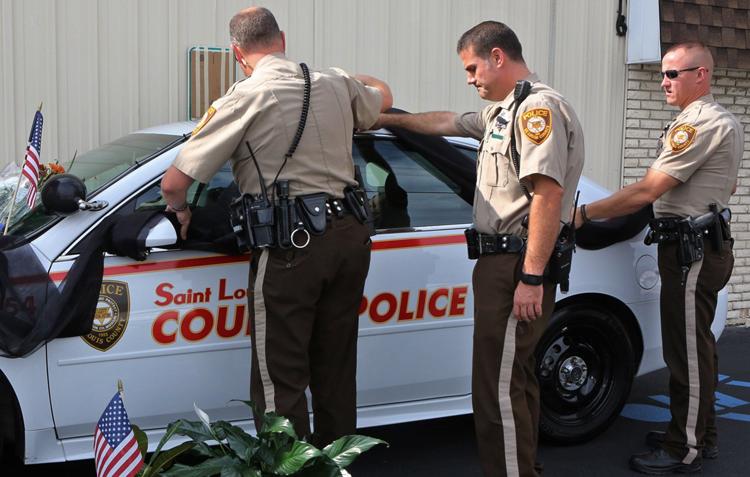 Blake Snyder vigil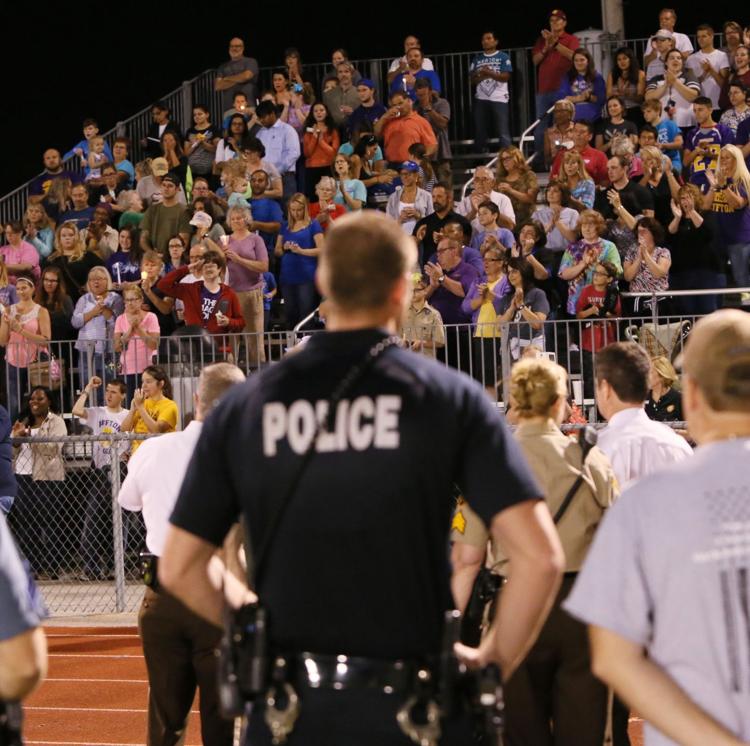 Blake Snyder vigil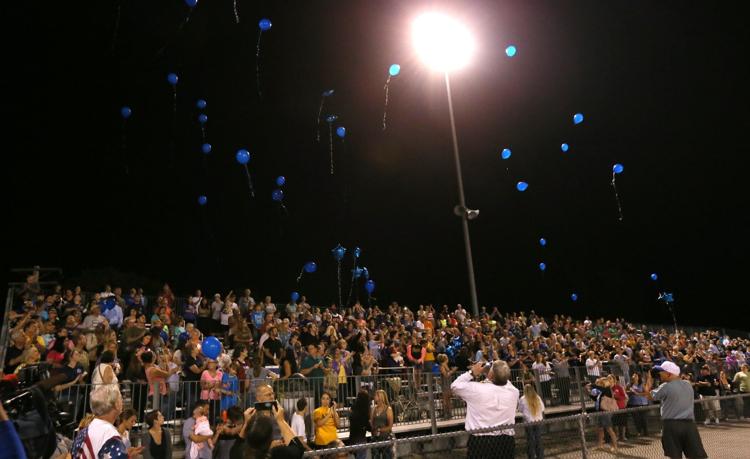 Blake Snyder vigil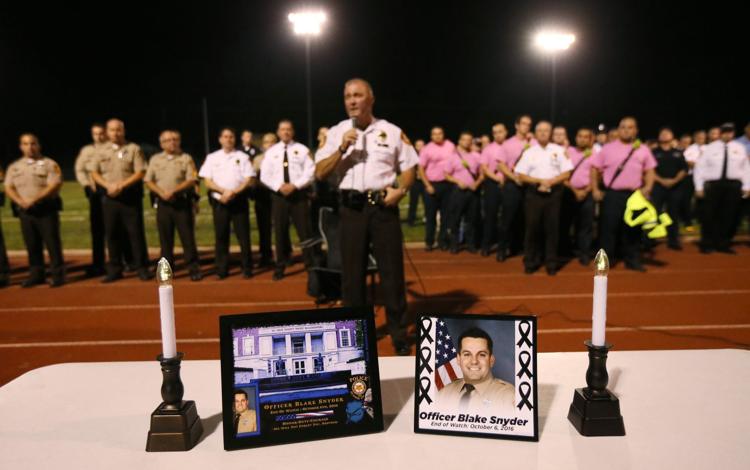 Blake Snyder vigil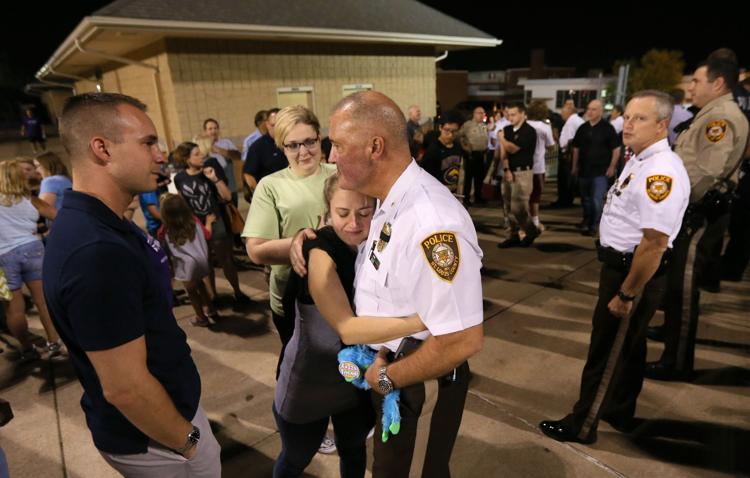 Memorial for officer Blake Snyder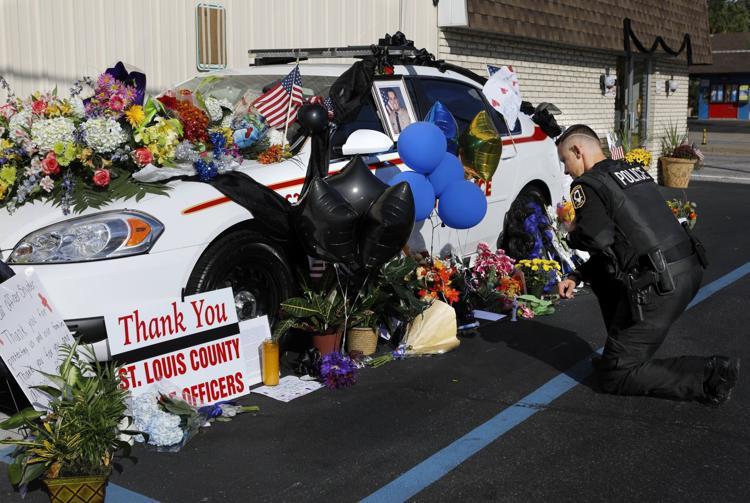 Memorial for officer Blake Snyder
Memorial for officer Blake Snyder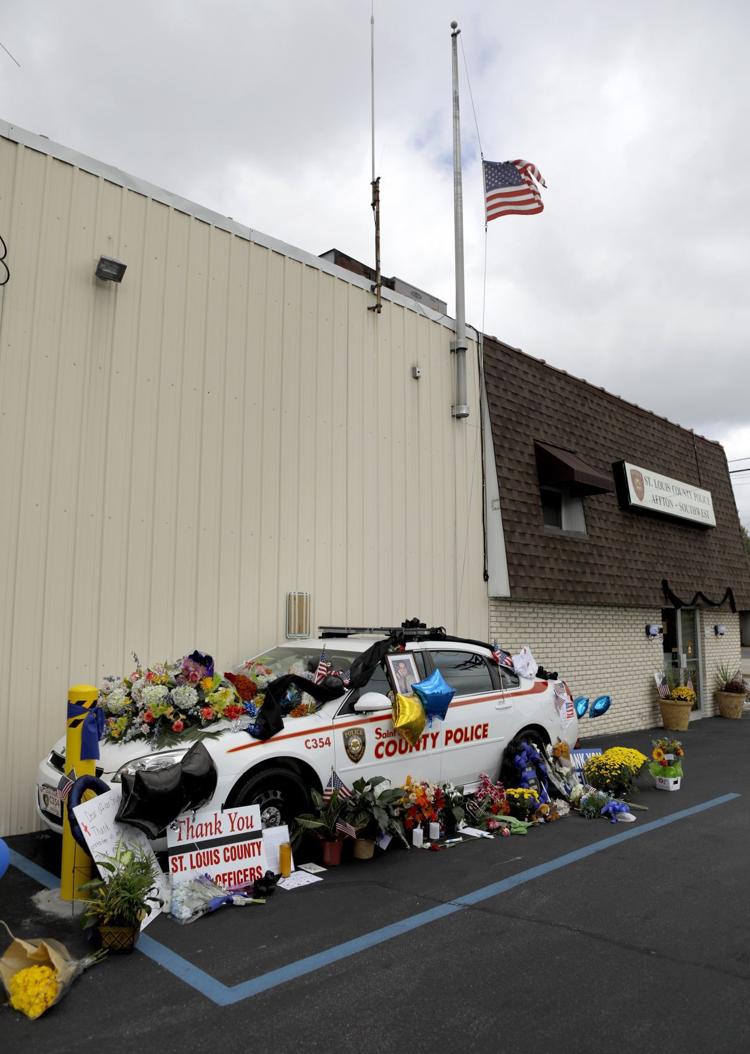 Memorial for officer Blake Snyder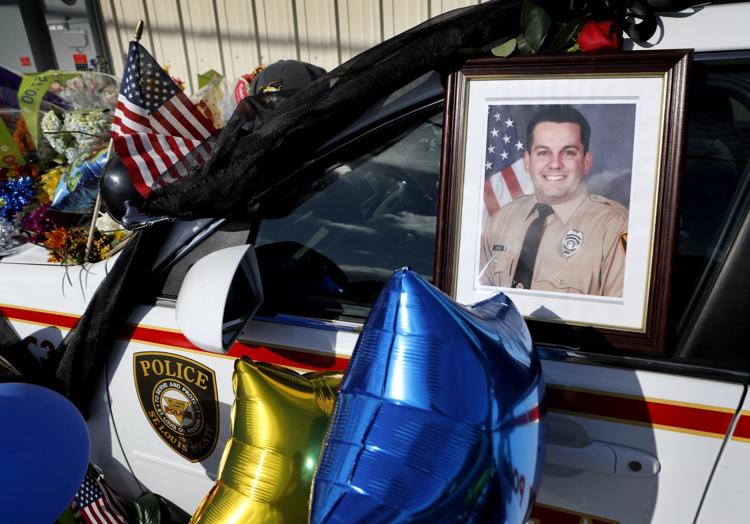 Memorial for officer Blake Snyder
Memorial for officer Blake Snyder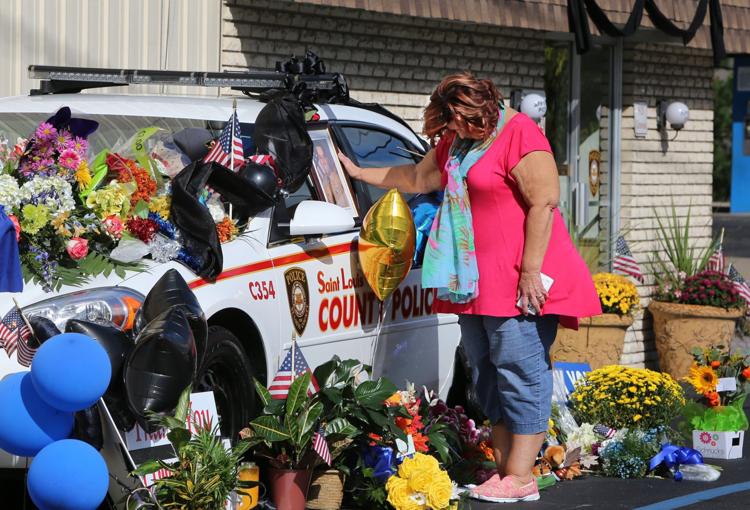 Memorial for officer Blake Snyder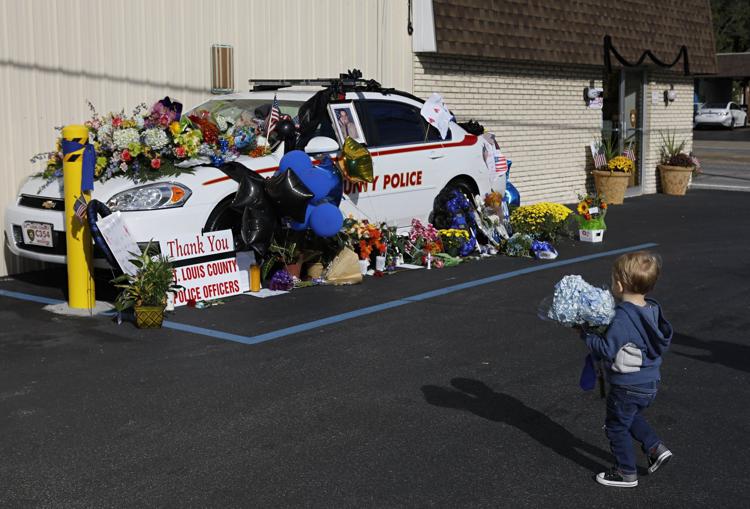 Memorial for officer Blake Snyder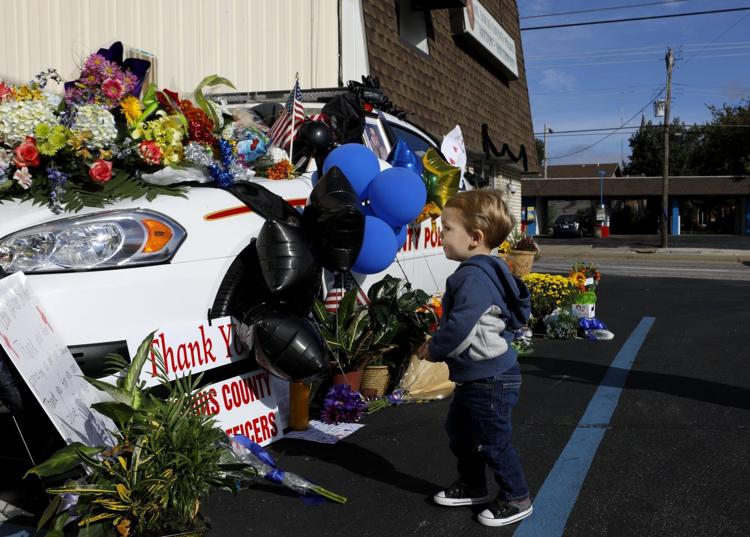 Memorial for officer Blake Snyder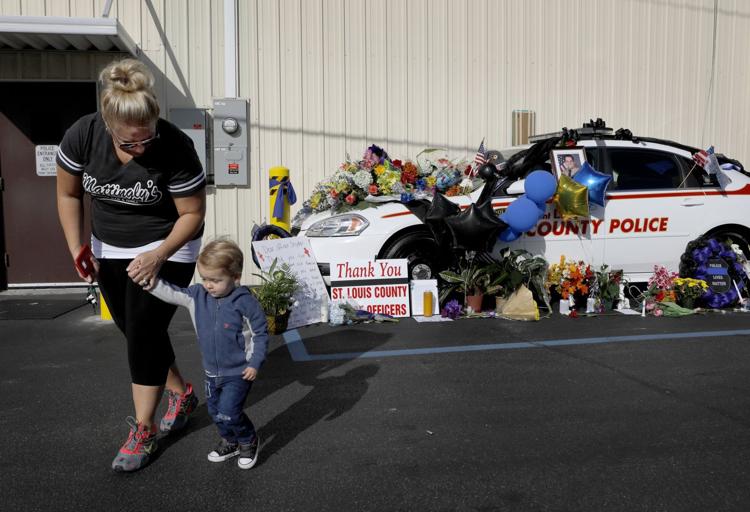 Memorial set up for slain county officer
Memorial set up for slain county officer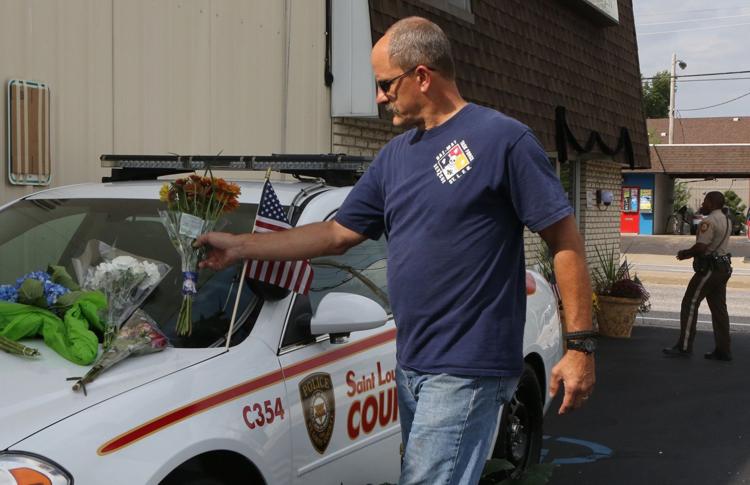 Memorial set up for slain county officer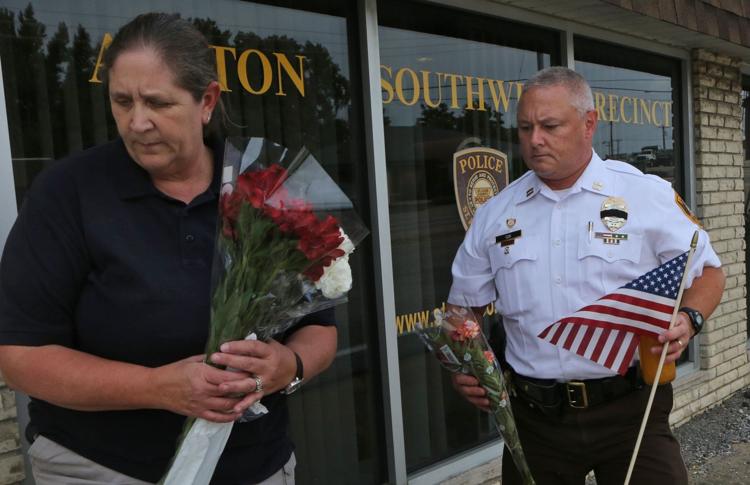 Teen charged with murder in morning shooting of St. Louis County police officer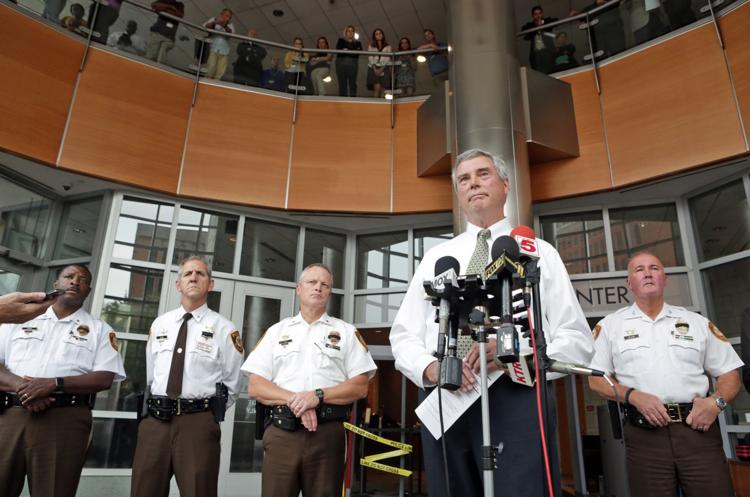 County officer killed, suspect in critical condition in Green Park shooting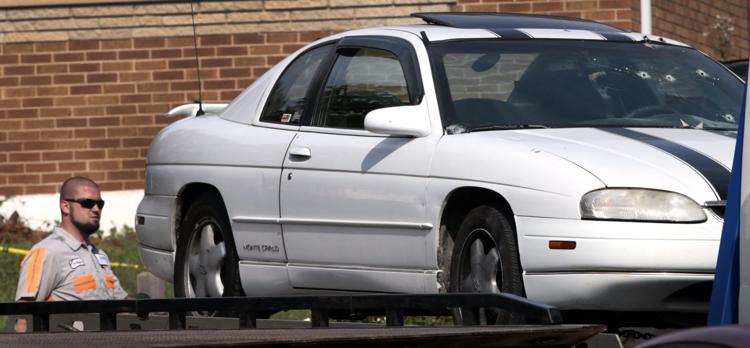 County officer killed, suspect in critical condition in Green Park shooting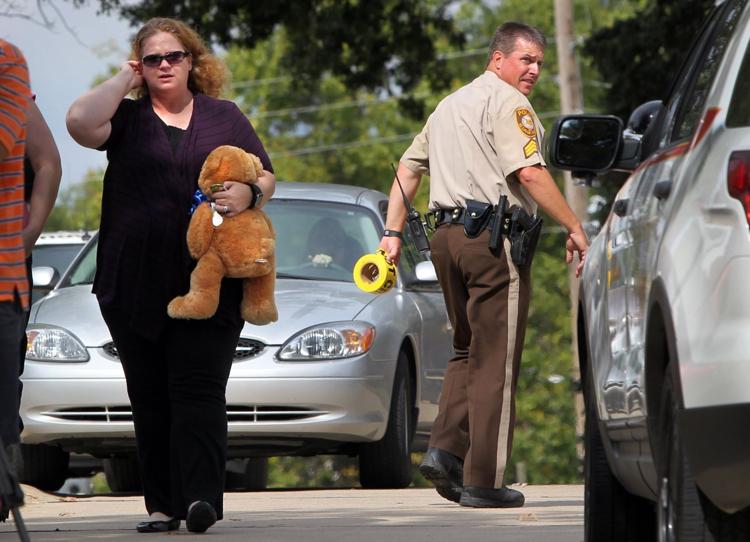 County officer shot in south St. Louis County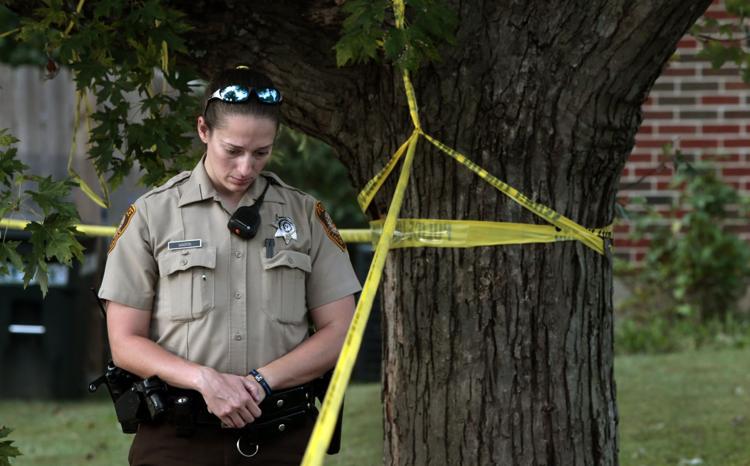 County officer shot in south St. Louis County