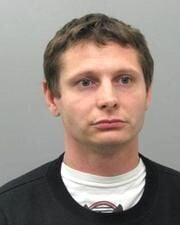 CLAYTON • The fact that a man would solicit someone online to sexually assault an 11-year-old relative didn't shock St. Louis County police detectives accustomed to investigating Internet predators.
But the fact that he actually showed up last week with the girl to meet a woman he thought was willing to sexually assault the girl did shock them, said St. Louis County Detective Mike Slaughter.
"It's just a lot of talk for most of these guys, but this guy actually brought (the girl) to the scene to go ahead with the next step of enacting it," said Slaughter, who handcuffed Anthony Brinkman, 32, of Cuba, Mo., at the Cracker Barrel restaurant in south St. Louis County on Friday. "If we hadn't gotten involved and someone bad had gotten in touch with him, something bad would have happened to that little girl."
St. Louis County prosecutors charged Brinkman, of the 100 block of East Street in Cuba, on Saturday with one count of attempted statutory sodomy. His bail has been set at $100,000, cash only.
Brinkman caught the attention of investigators after someone who saw Brinkman's online ad clicked a "report abuse" feature, which then triggered a tip to the Missouri Internet Crimes Against Children Task Force. An undercover officer posing as a 27-year-old woman then responded to Brinkman. He told her he wanted the woman to be his girlfriend as well as participate with him in sexually assaulting the child with sex toys, Slaughter said. He also said he wanted her to help find a boyfriend for the child, Slaughter said.
Slaughter said Brinkman sent undercover officers pictures of the girl as well as posted them online.
"Isn't your first thought, 'Am I going to get caught?' and 'Are people just going to sit by and say this is OK?'" Slaughter said. "But sometimes the Internet gives you a false sense of security."
Brinkman agreed to meet with the undercover officer at the restaurant and, if he liked her, they would go back to his home in Cuba to assault the girl, Slaughter said.
"From the time he posted that ad to the time we arrested him was less than 48 hours," Slaughter said.
Investigators do not believe the girl had been sexually assaulted by Brinkman in the past, Slaughter said, but authorities plan to talk more to the girl. Police have seized Brinkman's computers and are awaiting the results of a forensic analysis.
Slaughter said state caseworkers have been notified. Female police officers initially took the girl back to police headquarters until relatives arrived to take her home, Slaughter said.
Brinkman admitted to police that he set up the assault and acted remorseful, Slaughter said.
"He said he was sorry and that he was stupid," Slaughter. "But you don't let it go that far if you don't have intentions."