LADUE • Before firing as many as 10 bullets into his estranged wife outside a Schnucks store here Tuesday, Michael Hutson apparently had another plan.
A friend, Chris Maclin, says that one evening about two months ago, Hutson tried to recruit him as a lookout or getaway driver in an attack on his wife in south St. Louis.
According to Maclin, in an interview Wednesday, Hutson wanted them to go to a home off Loughborough Avenue near Carondelet Park.
"He was gonna hide in the bushes, and he was wanting me to be the getaway guy," Maclin said. "I said, 'No, no, no.' He was gonna knock on the door and beat the (expletive) out of her. I wanted no part of that."
Maclin didn't go to police. "I thought he was blowing smoke because he didn't do nothing afterward," said Maclin, who was Hutson's friend since 2000.
That conversation played back in Maclin's mind Wednesday — the day after Hutson shot and critically injured his wife, Kathleen "Kat" Hutson, before killing himself. Kat Hutson remains in a medically induced coma but is expected to survive, according to her close friend Kellye Glore.
Jeanie Bach, another friend of Michael Hutson's, heard him talking about wanting to hurt his wife in February when he attended a Super Bowl party at Bach's home in Arnold. His wife wasn't there, but Michael Hutson complained that she had ruined his life and caused him to lose jobs.
"He was talking some crazy stuff, saying he would hurt her," Bach said. "I thought he was just acting out."
Bach said Michael Hutson suffered from anxiety and perhaps other mental health issues.
Michael Hutson, 51, worked as a bouncer at a bar in Valley Park. He was living with his elderly mother in Jefferson County.
Before dawn on Tuesday, police say he shot Kat Hutson as she arrived at work at the Schnucks store at Clayton Road and Lindbergh Boulevard in Ladue. Ladue police Officer Austin Medlin heard the shots between 4:30 and 5 a.m. and rushed to the parking lot, where he found Kat Hutson on the ground near the entrance. Medlin saw a man speed off in a blue minivan.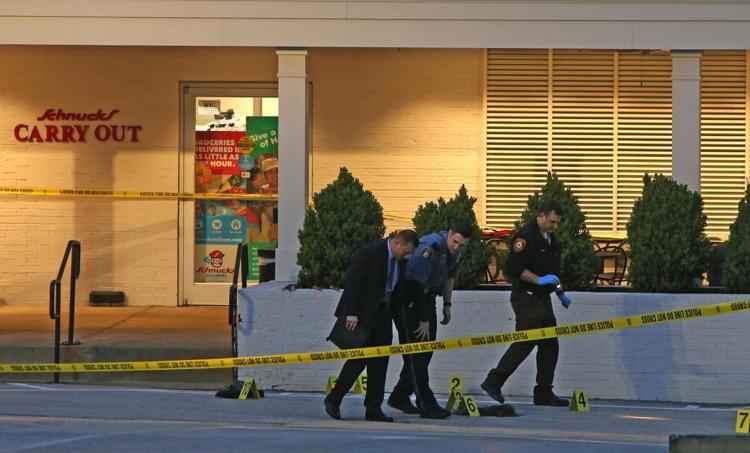 Michael Hutson was found dead in that minivan of a self-inflicted gunshot wound about 7 a.m. Tuesday in Richmond Heights. He was slumped over the wheel of the vehicle, which was parked on Woodland Drive near Dale Avenue. Inside the van, police recovered a weapon.
Despite Hutson's effort to recruit an accomplice once before, police say they believe he had no help Tuesday. "From all witness statements, he was alone at the time of the incident," Ladue Police Chief Richard Wooten said in an email.
Michael Hutson rented the minivan on Sunday or Monday, possibly to better hide his identity in the attack, according to Ladue police Lt. Ken Andreski. Police believe he parked on the Schnucks lot and waited for his wife to show up, shooting her when she got out of her car.
Kat Hutson, 50, remained in critical but stable condition Wednesday and had already undergone two surgeries. One of the bullets severed an artery in her shoulder. Another hit her upper thigh.
"Those were the two major injuries, at this point," Glore said. "The doctors say she was hit 10 times."
Other bullets hit her right side and abdomen, Glore said. Police would say only that she was shot multiple times.
Glore calls Michael Hutson "wacko." The Hutsons had separated almost a year ago and were trying get their divorce finalized, friends say. Kat left their home at the Lake of the Ozarks to return to St. Louis without him, Glore said.
"He found her somehow," Glore said. "He was threatening her life."
Glore said Kat Hutson escaped the abusive relationship and got a restraining order against her husband. Court records in Camden County confirm that a judge signed a full order of protection last June. However, officials were never able to serve him with the court order because they found the lake house empty.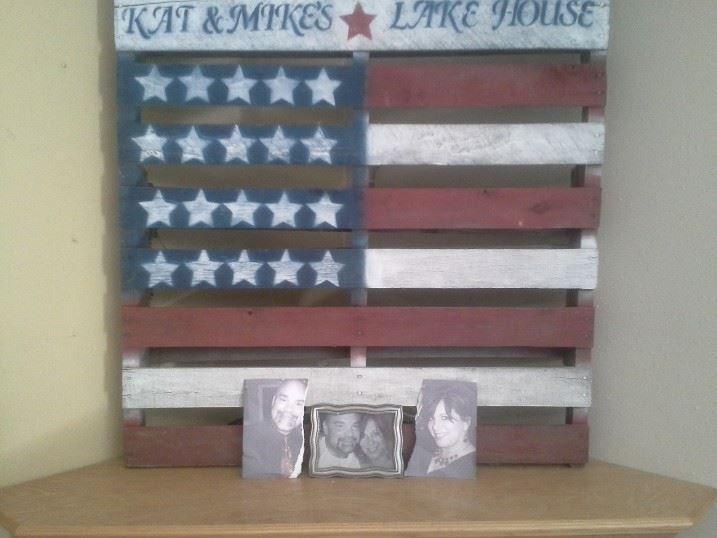 In a Facebook message last summer, Kat told Bach that Michael Hutson had punched her in the face, threatened her with a gun and held her against her will when she wanted to leave. Her actual petition in court where she spells out her allegations was sealed, court officials say.
Glore thought her friend had received a similar order in St. Louis, where she lived, but there is no record of one on file.
"They do no good," Glore said of such orders.
Glore has set up a GoFundMe account to help raise money for her friend's medical and living expenses.
"Kat is a loving and caring person who would always go the extra mile to help her friends, family or even a stranger who needed her help," Glore wrote on the fundraising page. "It's her turn now. She needs us all."
Ashley Lisenby of the Post-Dispatch contributed to this report.