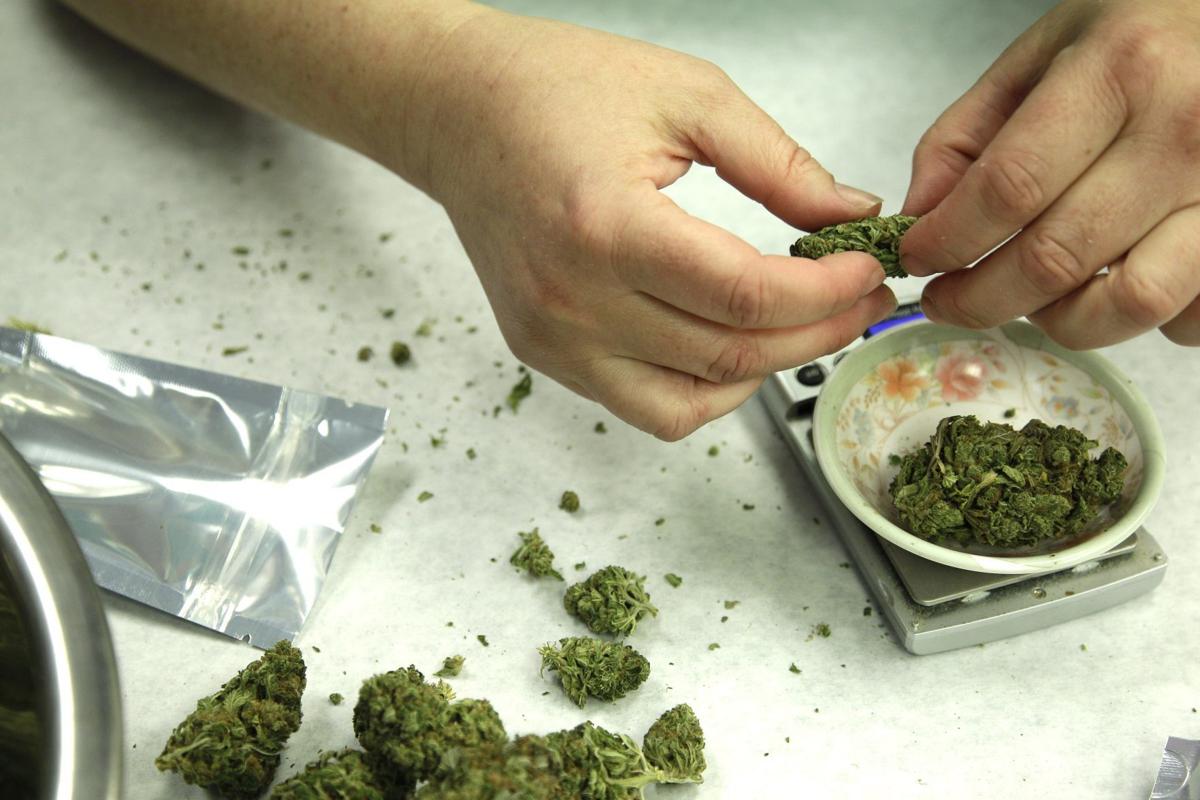 JEFFERSON CITY • For decades, conservative Missouri legislators doused attempts to loosen the state's marijuana laws. This year, marijuana reform activists are preparing for victory — at the ballot box.
Dan Viets, a Columbia lawyer who has worked on marijuana reform for 40 years, said the Legislature failed to act as more and more states made medical marijuana accessible. Missouri would be the 32nd state to allow medical marijuana if voters approve any of three questions on the subject on Nov. 6.
"I took a perverse joy — a pleasure in speaking the truth to legislative committees over the decades," Viets said. "But it's a good deal more fun when you actually have a chance of winning. And it's not in the General Assembly. It's at the ballot box. And we will win. We will prevail."
In Missouri, a coalition of marijuana activists have largely coalesced around Amendment 2, which if approved would enshrine the right to medicinal marijuana in the state constitution.
Amendment 3 and Proposition C also call for legalizing medical marijuana. All three measures have unique features.
Amendment 2 would impose a 4 percent tax on retail sales of medical marijuana and direct the proceeds, an estimated $20 million a year, to what would be the new Veterans' Health and Care Fund, which would be controlled by the Missouri Veterans Commission.
Amendment 2 is the only measure that allows patients to grow marijuana at home.
Qualifying conditions, which are roughly the same across the three measures, include: cancer, epilepsy, glaucoma, intractable migraines, psychiatric disorders, HIV/AIDS, chronic conditions and any terminal illness.
The Department of Health and Senior Services would oversee the implementation of Amendment 2.
Missourians will also consider Amendment 3. Dr. Brad Bradshaw, a Springfield physician and lawyer, has promoted this effort, largely self-funding the campaign, called "Find The Cures."
Amendment 3 would impose a 15 percent tax on retail sales and direct the proceeds, an estimated $66 million a year, to a cancer research institute run by Bradshaw, at least temporarily. Bradshaw's Biomedical Research and Drug Development Institute would carry out Amendment 3.
A third ballot question, Proposition C, will ask if voters want to change state statute to legalize medical marijuana. That statute would be subject to changes by lawmakers.
Proposition C would impose a 2 percent tax on retail sales. The estimated $10 million generated each year would be doled out to veterans' causes, early childhood education and other programs.
The state division of alcohol and tobacco within the Department of Public Safety would oversee Proposition C, along with DHSS. Under Proposition C, local governments would be able to regulate marijuana in ways they are not allowed to under Amendment 2.
Proposition C would only go into effect if it passes and the two amendments fail. If both constitutional amendments win, the one with the most votes takes effect.
The Missouri Medical Cannabis Trade Association sprouted in recent months to influence and guide policymakers, entrepreneurs, doctors and lawyers.
The group's leadership says it has no official ties with any of the three measures but is endorsing Amendment 2, said John Curtis, the co-chairman of the association.
"This is not going to be the kind of thing where you have a retail store on every corner because there's no regulation and people just do what they want," Curtis said. "This is a tightly controlled enterprise that's really dictated by the state. Amendment 2 is quite well-written in our opinion."
Viets' confidence heading into Election Day was bolstered by polling showing that Americans' attitudes toward the drug have shifted dramatically in recent years.
According to a Pew Research Center survey released this month, 62 percent of Americans think the government should legalize marijuana outright, not just for medical use.
One poll last year found 94 percent of Americans support legalizing pot for medicinal use. A Marist poll last year found that 52 percent of U.S. adults had tried marijuana at least once.
If Amendment 2 takes effect, Jack Cardetti, spokesman for the group backing the campaign, said to expect retail sales of medical marijuana in January 2020.
Shake off your afternoon slump with the oft-shared and offbeat news of the day, hand-brewed by our online news editor, Mandy St. Amand.