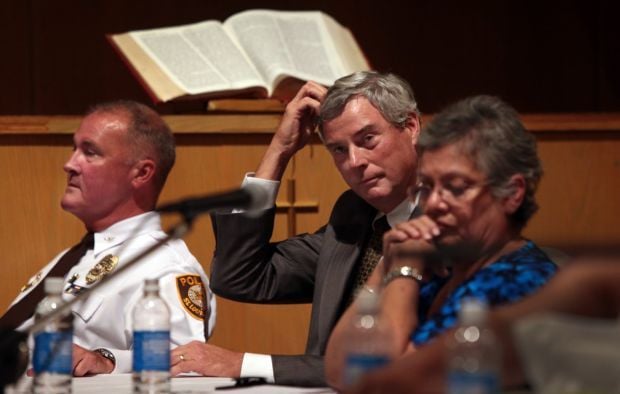 St. Louis County Prosecutor Robert P. McCulloch said it could be the middle of October before his office has presented all of the evidence in the Michael Brown killing to a grand jury.
Two assistant prosecutors on McCulloch's staff will begin presenting evidence later today to the grand jury in secret, as is protocol. But McCulloch said not all of the evidence is ready to be presented, and he said the grand jury's term that expires in September will likely be extended just for this case.
The grand jury will examine Brown's death and consider criminal charges. A Ferguson police officer fatally shot Brown, 18, on Aug. 9. How long will it take for the prosecutors to present the evidence to the grand jury?
"Our target date is hopefully by the middle of October," McCulloch said.
McCulloch shared this target date in a radio interview on KTRS-AM 550 and in interviews with the Post-Dispatch. He said he won't be rushed — and that he feels no pressure to do so despite the violence that has rocked Ferguson over the last 10 days by protesters calling for justice.
"I certainly understand the concern, but we won't rush it through," McCulloch said. "In the long run, people, at least a majority of people, will appreciate the thoroughness."
He added: "Some people say we are rushing to judgment and others say we are dragging it out. We will do this as expeditiously as possible but certainly not in any haphazard manner."
One of the things that will take time is that forensic evidence from both the county and the federal investigations will be presented to the grand jury at one time. It won't be done "piecemeal," McCulloch said.
Mid-October is only a target; there is no deadline, he said. "It could be longer than that, or shorter than that," he said. "I doubt any sooner than that." 
Once all the evidence is presented, it will be up to the grand jury to decide how long to deliberate and reach a decision.
McCulloch said he won't be presenting the case to the grand jury himself. That will be the job of two assistant prosecutors, Kathi Alizadeh and Sheila Whirley.  Alizadeh, who is white, is the homicide prosecutor on duty and has 27 years' experience. Whirley, who is black, has the grand jury assignment and has 18 years' experience.
McCulloch said the grand jury of 12 people is racially diverse with three African-Americans. It was selected by a judge for the term that began in May.
Because this is the day the grand jury will hear evidence in the Brown case, nearly a dozen Clayton police officers were standing outside the Justice Center where about 40 protesters had gathered by 10 a.m. Police riot gear is going unused, left on the floor of the main lobby. Reporters easily outnumbered the protesters.
In other highlights of the Post-Dispatch interview:
• McCulloch blasted Gov. Jay Nixon for "doublespeak" over the issue of whether McCulloch would recuse himself or whether Nixon would replace McCulloch with a special prosecutor on the case.
Nixon, in an interview with the Post-Dispatch this week, said he didn't plan to ask that McCulloch step down — but he presented that decision as a defense of the sanctity of the legal process, rather than any statement of support for the prosecutor himself. The governor also made it clear he wouldn't have any objections if McCulloch were to decide on his own to step down. "If he thinks that he wants to do that, certainly. That's his call."
• McCulloch said his office has not yet interviewed Officer Darren Wilson but McCulloch knows that county and federal investigators have. 
• McCulloch said the officer will be invited to talk to the grand jury, if he wants, but his attorney can't be in the room. That's part of the grand jury rules. The officer would be able to step out in the hallway at any point to discuss issues with his attorney, though.
• McCulloch said he is "absolutely, 100 percent in favor of" the federal investigation. He said it "is acting as if the county investigation didn't exist. They are doing everything over again," including the autopsy and interviews. "That is nothing but good and I welcome it."
• McCulloch defended his longtime record as prosecutor and said he has prosecuted police officers in the past, for everything from rape and DWI to excessive use of force. "We've prosecuted police, dozens of them over the years," he said.
Some in the community are calling for a special prosecutor, and Nixon has the power to replace McCulloch now that the governor has declared a state of emergency in the Ferguson matter. Nixon needs to make a decision one way or the other, McCulloch says, because the lingering question is a distraction.
McCulloch said he has "absolutely no intention of walking away from my duties and responsibilities. I've done it for 24 years and, if I say so myself, done a very good job of being fair and impartial."
Among McCulloch's critics is Missouri state Sen. Jamilah Nasheed, D-St. Louis, who has led an online petition drive that has gathered 26,000 signatures demanding McCulloch's removal.
McCulloch got in several digs at Nixon in media interviews on Wednesday morning.
"That is kind of a meaningless statement in terms of resolving this issue ... he's ducking the issue," McCulloch said of Nixon. "Make a decision and make it clear.
"The worse thing that can happen is we get deeply into this and he says he's taking me off the case. Knowing him as well as I do, he doesn't make a decision until he's cornered and absolutely has to make one."
But McCulloch said he doesn't want to get started with the possibility that the case will get yanked away from him at any point, even a month from now.
"Just make a decision," he said of the governor. "Stand up, man up. (Either say) 'I am not removing McCulloch,' (or) 'I am removing McCulloch.' And let's get on with this."
"This is one distraction he can put to rest," McCulloch added. "Others are demonstrating and calling for my removal. I understand that ... But they need to express it to the guy who can do it."
By not making a clear decision now, McCulloch said, Nixon "undermines everything except the cover that he's pulled over his head."
McCulloch said that for him to recuse himself, the case would have to involve a conflict of interest, which McCulloch said even his worst enemies haven't alleged. So recusal isn't at play, McCulloch said. "It's the typical Nixon doublespeak. He says nothing. He's ducking the issue."
"I want to do my job," McCulloch said. "The Brown family deserves that. The community deserves that."
Asked about critics' allegations that the murder of his father, who was a police officer, made him biased, McCulloch denied that.
He said with emotion, "I know the pain of losing a loved one. If anything, it (his father's death) has made me a fierce advocate for the victims of violence."
And when that line of questioning from reporters was over, McCulloch wiped away a tear.
McCulloch said he plans to present every piece of evidence — every interview, every video recording — to the grand jury.  The grand jury decides whether or not probable cause exists that a crime has been committed. The St. Louis County standing grand jury is in session until early September. Their docket is set.
"We'll make extra time," McCulloch said. "We will be presenting what we can between now and the end of their term. After that, their term (will be) extended just for this case."
McCulloch has been prosecutor for 23 years. He's up for reelection again this year. He easily won the primary and has no Republican challenger in the November general election.