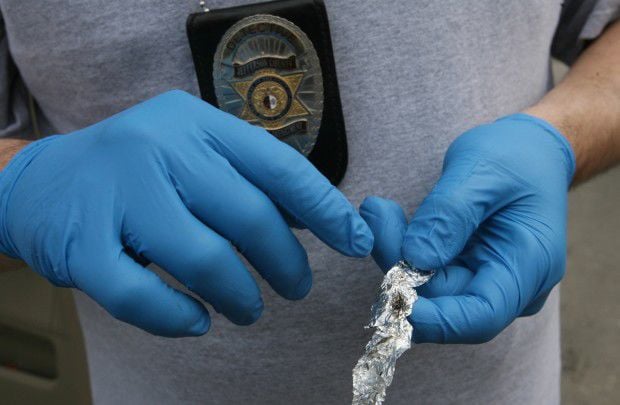 Missouri was once considered the meth lab capital of the country. The frequent busts and tales of exploding labs in residential neighborhoods became so commonplace that they were no longer newsworthy.
But by 2006, the era of storming meth labs came to a near halt after federal and state laws restricted the sale of pseudoephedrine, an over-the-counter cold medicine and essential precursor in home-cooked meth, leading to a remarkable drop in meth lab seizures in the state.
But that sharp drop-off tells only one side of the story.
As the opioid crisis rages across the nation, garnering daily national headlines, a resurgence in methamphetamine addiction is playing out in the background, endangering many Missourians and increasing the burden on state resources.
Drug overdoses from stimulants such as meth claimed more than 7,500 lives in the U.S. in 2016, according to the Centers for Disease Control and Prevention. Between 2008 and 2016 — the most recent year included in a CDC report — the death rate from these stimulants increased by 26 percent each year, on average.
Missourians are seeking treatment for meth addiction in rapidly increasing numbers, with a 52 percent uptick in treatment admissions between 2012 and 2016, according to data provided by the Substance Abuse and Mental Health Services Administration, or SAMHSA.
Missouri went from just more than 5,000 admissions in 2012 to nearly 7,700 in 2016. St. Louis alone saw 719 meth admissions in 2016, an increase of 128 percent, with 404 more admissions that year compared to the total of 315 logged four years earlier.
By contrast, the Missouri State Highway Patrol seized only a single clandestine meth lab in St. Louis and one in Franklin County in 2017. In St. Louis County, a total of six meth labs were seized in 2017, Highway Patrol data showed.
In Jefferson County, there were 250 to 300 meth lab busts in 2011 and 2012. In 2018, the Jefferson County Municipal Enforcement Group seized just 16, said Sgt. Tony Dennis.
"But meth is just as prevalent as ever before, it's just the manner of how they're obtaining it," he said. "The mom and pop meth lab don't exist anymore, but the users and addicts are still out there."
Most of the methamphetamine available in the U.S. is produced in Mexico and smuggled north across the southwest border, according to the DEA's 2018 National Drug Threat Assessment report.
"It's such a cheap drug and with the overabundance coming up out of Mexico, there's no need to take the risk to cook anymore," Dennis said. "So we're still dealing with all the same issues that come from meth, but you don't have a lab next door that could potentially blow up."
The U.S. Customs and Border Protection says meth seizures at the border are increasing in leaps and bounds.
As of September, Missouri's South Central Drug Task Force had seized roughly 15 times more grams of meth in 2018 than it did in all of 2008, but only one-eighth the number of meth labs.
William J. Callahan, special agent in charge at the DEA's St. Louis division, which covers Southern Illinois, Kansas and Missouri, said that a lot of the meth that makes its way into the region is crossing the southern border in liquid form, and then being turned back into "ice," a term for the potent methamphetamine commonly consumed today, at what are called "conversion labs."
Callahan characterizes meth as being part of a larger "stimulant crisis" which includes an increase in cocaine production in Colombia, adding that in regard to meth, producers are "basically dumping it on us."
Callahan said the increase in meth use in the region is due in part to the cheapness, potency and availability of Mexican-made meth.
Meth production
Meth is a stimulant that can be smoked, swallowed, snorted or injected, causing the user to experience a significant increase in wakefulness, as well as a decreased appetite, faster breathing, rapid and/or abnormal heartbeat, as well as other physical symptoms.
Andy Moore, the coroner for Butler County, said that unlike opiates, "with meth you don't just take it and die." Meth use, he said, exacerbates pre-existing health conditions such as heart or respiratory issues, and while certain deaths might not be obviously linked to meth, they could still be considered meth overdoses because the drug ultimately led to death.
Meth overdoses "can feel like you're having a heart attack," said Laura Cameron, director of supportive services at Phoenix Programs Inc. in Columbia, Mo.
Due to advancements in the manufacturing process, meth potency has become extremely high, while production costs are relatively low.
The DEA reported a purity level of almost 39 percent for domestic methamphetamine purchases in the summer of 2007. A decade later, in early 2017, purity levels were upwards of 93 percent.
Despite the chemical advancements that make the meth more pure when produced, it has simultaneously become "almost impossible" to find meth that hasn't been cut with other substances after the fact, according to Jason Grellner, former lieutenant of the Franklin County Sheriff's Department and vice president of the National Narcotics Officers Associations Coalition.
Callahan said that the DEA has encountered meth with traces of fentanyl in it. Fortunately these mixtures are still "a rare occurrence," according to the DEA report.
Meth is constantly being mixed with synthetic drugs, many of which have psychoactive effects. This makes the work of medical staffs incredibly challenging, Grellner said, as people coming in for treatment are often delusional and uncontrollable, experiencing auditory and visual hallucinations.
Even worse, while doctors can test individuals for meth, they still can't detect the host of other substances that it is often cut with.
Years ago, Collie added, local manufacturers were producing an ounce or two at a time. Now that it is so easy to buy Mexican meth in bulk, they don't even bother.
People fighting to recover from opioid addiction may elect to use medications like Vivitrol, Suboxone or naltrexone. But for meth addiction, there are no equivalent drugs available, making it difficult for patients in recovery.
Cameron advocates for patients' access to these medications, in tandem with other components of their treatment plan.
"It takes away the cravings. In a lot of cases the medication will block anything that's coming in. So it's no longer fun — it's a waste of time, it's a waste of money because you're not getting any effect from it," Cameron said.
But there is no widely used equivalent for meth addiction.
Phoenix has tried an antidepressant called mirtazapine — sometimes known by the brand name Remeron — for some of its patients recovering from meth addiction. A 2011 study showed some encouraging results in mirtazapine's ability to curb meth addiction, but the study only examined 60 male patients.
Christine Byers of the Post-Dispatch contributed to this report.