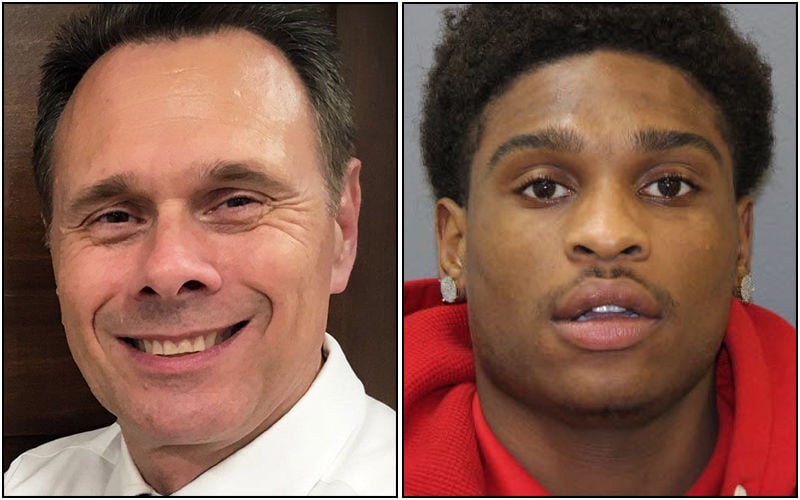 BELLEVILLE • A circuit judge here lied to detectives about his contact with an ex-roommate charged with murdering a man in east Belleville, a state judicial board says. 
Duebbert, 55, is accused of making false statements and withholding information from police investigating the Dec. 30, 2016, shooting death of Carl Silas, 28, in an east Belleville apartment. The man charged with murdering Silas, David E. Fields, 20, of East St. Louis, is Duebbert's ex-roommate. 
Duebbert lied to police about the whereabouts of a phone Fields had the night of the murder and lied about when he last spoke with Fields, according to the complaint. In an interview hours after the alleged murder, the judge told Major Case Squad detectives that Fields returned the phone to him weeks earlier, when he knew he had given Fields the phone the night before.
He did not tell police that he had spoken with Fields hours after the alleged murder. 
According to the complaint: 
Duebbert and Fields met in 2013 and developed a close friendship, maintaining contact while Fields was imprisoned on an aggravated assault conviction in 2015. Fields was released in 2016 and moved in with Duebbert in November of that year, days before Duebbert was elected judge. He moved out about a month later. During their friendship, Duebbert would periodically lend Fields a cell phone. 
Fields returned the phone to Duebbert when he moved out, but then called him Dec. 29, 2016, and asked to get it back. They met in a parking lot in Belleville to make the transaction and then texted each other multiple times that night. Silas was killed the next morning at about 5 a.m. 
Duebbert spoke by phone with both Fields and one of Fields' acquaintances hours later and knew Fields was a suspect in a murder by the time detectives interviewed him in the afternoon.
The judge told police Fields had returned the cell phone he lent to him in early December and that Fields had not contacted him.
Duebbert lied to the Judicial Inquiry Board during his testimony on May 12 and June 9.
He said he believed the phone was in Fields' possession and that he told officers Fields had it, according to the complaint. He told the board that after the interview, he found the phone sitting in his garage and was "totally and utterly in shock and stunned" to find the phone there because he had given it to Fields the night before. 
He also told the board he exchanged text messages with Fields the night before the murder and that Fields spoke with him hours before the interview, during which Duebbert advised Fields to turn himself in. 
The Judicial Inquiry Board, which investigates complaints involving state judges, filed the complaint Thursday with the Courts Commission. The commission has the authority to take disciplinary action against Duebbert, including removal from office. Because of the complaints against him, Duebbert has been restricted to administrative duties. 
Duebbert also faces charges of criminal sexual abuse and intimidation, both felonies, and battery and solicitation of a sexual act, both misdemeanors, according to court documents filed Monday in St. Clair County. 
Allegations against Duebbert include that he grabbed a client's genitals and offered to reduce his legal fee by $100 if the man would perform a sex act on him, according to the Belleville News-Democrat.
He is expected to face trial in that case in July, according to court records. 
In 1999, Duebbert was charged with battery in connection with an 18-year-old man's allegation that Duebbert fondled him. The teen was in the St. Clair County Building to appear in court on a 1998 burglary charge. He alleged that Duebbert offered him a ride to his office in his Lexus then fondled him inside the car.
The disposition of that case is unclear because it is no longer listed on the circuit clerk's webpage. Charges such as battery can be expunged from a person's court record with a court order.
Duebbert, a Republican, beat former Chief Judge John Baricevic, a Democrat, in the November 2016 election. He is a judge in the 20th Circuit, which includes St. Clair, Monroe, Randolph, Perry and Washington counties.
In a television interview given in May, Duebbert said he believed he was being targeted because he was gay and a Republican.
Shake off your afternoon slump with the oft-shared and offbeat news of the day, hand-brewed by our online news editor, Mandy St. Amand.