This story was published in the Post-Dispatch on Nov. 28, 1993
The 10-day search for Angie Marie Housman ended Saturday morning when a deer hunter found the child's body near a wooded ravine in the August A. Busch Wildlife area in St. Charles County, police say.
"Our worst fears have materialized," said Sgt. Robert Lowery Jr., deputy commander of the St. Louis Major Case Squad. "We feel very confident this is Angie Housman. I'm about 100 percent convinced it is the right girl. Now this is a homicide investigation," he said.
The hunter found the body of the 9-year-old St. Ann girl at 11:15 a.m. on a bitterly cold day, just west of Miller School Road near Highway 94 and just south of U.S. Highway 40 (Interstate 64), police said.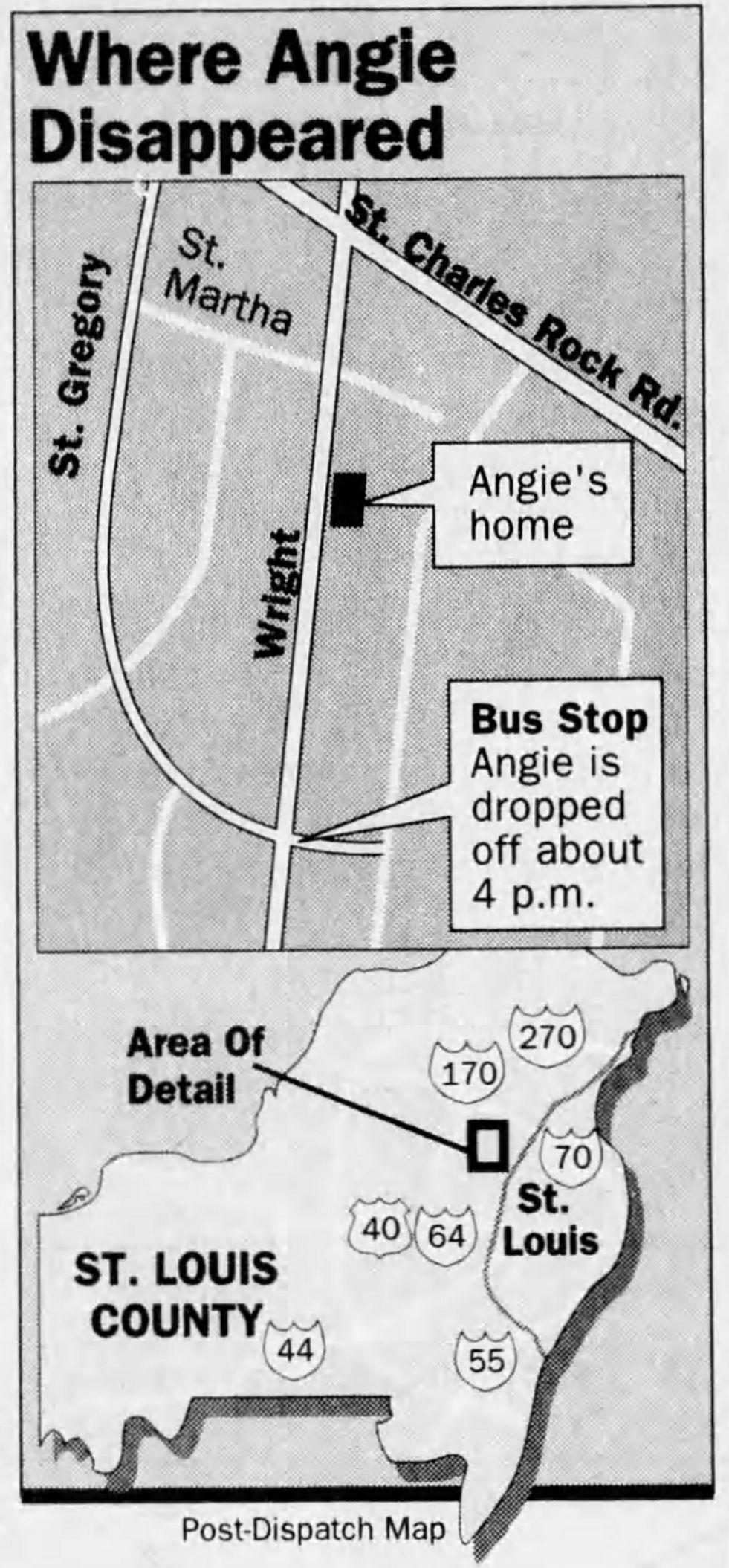 Debbie Skaggs of St. John, Angie's aunt, said police told her that Angie had been shot in the hand.
"They said she had to have been killed by someone she knew," Skaggs said.
Skaggs is the sister of Angelo D'Andrea, Angie's biological father. D'Andrea is a mechanic in the moving business, Skaggs said. "He's fallen to pieces," she said. "My brother will not stop until he finds out who did this."
At 4 p.m., Angie's stepfather, Ron Bone, and other family members left the St. Ann police station and hurriedly got into a car. Bone's hand shook violently as he held a cigarette in the back seat.
"We can't talk," said Bone, 34.
The girl was last seen about 4 p.m. Nov. 18, a Thursday, when she hopped from her school bus and walked north on Wright Avenue toward her parents' duplex.
Almost from the outset, police thought the girl had been abducted as she walked the half-block from the bus stop to her home in the 3500 block of Wright Avenue.
Lowery, a Florissant police sergeant, declined to say how the girl died or what she was wearing when her body was found. He said he didn't know whether the girl had been sexually assaulted.
"We don't have any suspects," Lowery said. "We hope the crime scene will give us some."
While police say they're certain Angie's body was found, they still need to make a positive identification through an autopsy and other tests, which should be conducted Sunday.
All along police had been optimistic the child would be found alive, Lowery said — even as the search for her became more desperate.
Saturday afternoon, Jon and Jeanette Bone, the parents of Angie's stepfather, visited Angie's parents, Ron and Diane Bone.
Jon Bone, who lives in Woodson Terrace, said a neighbor came to the house after 2 p.m. and told them she had heard on television that Angie might have been found. A St. Ann police car then pulled up to the house and took the family to the police station.
Jon Bone said the police told them: "There's a person who's been found. There's no positive ID. There's a very good possibility it might be her."
The family returned home from the station and hurried inside the single-story home. A sign from Angie's classmates at Ritenour's Buder school, where she was a fourth-grader, decorated a front window.
"Come home Angie, we miss you," said a large sign on the front door.
St. Ann canine officer Kevin Jacobs was stationed outside to help the family keep their privacy.
Earlier Saturday, Ron Bone had been trying to get names of people who might have had information about Angie's disappearance. A neighbor had driven Diane Bone to the bank and to a store to pay for Christmas toys on layaway for Angie and her 2-year-old brother, Ronnie. The little boy spent part of the afternoon staring out the front window as reporters gathered in the street.
"Diane had been at the station earlier this morning," Jon Bone said. "She had been in such a state that the wife and I thought it would be good for her to get out of the house."
Earlier Saturday, Jeanette Bone said family members were trying to keep their hopes up.
Police stopped at the Bones' home earlier in the morning to get more of Angie's clothing, Jeanette Bone said.
"The police aren't telling us very much," one of Ron Bone's brothers told a reporter on the telephone.
Sgt. Jim Mantle of the St. Ann police department said late Saturday that the Bones hadn't seen the body.
The Rev. Wally Jones, pastor of the Fee Fee Baptist Church, was with the family, Mantle said.
"Just tell them that justice will be done," Mantle told the pastor before he left for the Bones' house.
During the search for Angie, police used dogs and helicopters equipped with infrared sensors. As many as 40 officers from St. Louis County searched the banks of Cold Water Creek and five parks around St. Ann.
The FBI and other law agencies participated in the search. Detectives from the Major Case Squad tracked hundreds of tips.
Last week, police were trying to determine whether the girl's disappearance might have been connected to an attempted abduction in Maryland Heights on Nov. 8.
In that case a man grabbed an 11-year-old girl who looked similar to Angie just after she got off her school bus.
The girl managed to pull free and run away.
Angie was last seen carrying a blue-and-white Christian Hospital Northeast book bag. She wore blue jeans, white tennis shoes and a long hooded pink overcoat.
Barely 5 feet tall, Angie had blue eyes, brown hair and a cheerful personality, her mother said. She recently spoke of her child's bright smile as she came home from school.
As darkness fell Saturday evening, Jon Bone, a hulking man with broad shoulders, stood on the front porch of Angie's house.
"We've gotten a lot of help from people we don't even know," Jon Bone said. "What we needed was a little more help."