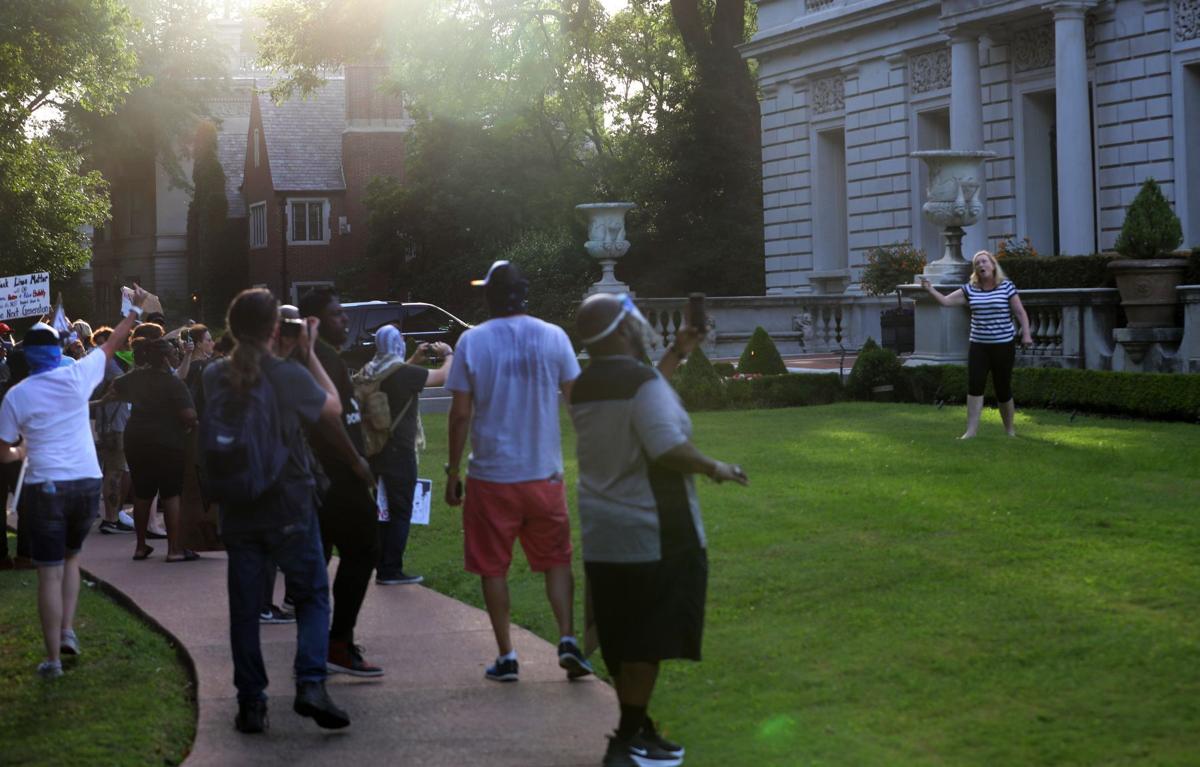 JEFFERSON CITY — Missouri's top lawyer acknowledged Tuesday his intervention in a high-profile unlawful use of a weapon case involving a St. Louis couple is unusual.
"It doesn't happen every day," Attorney General Eric Schmitt told the Post-Dispatch in an interview in the Capitol.
"There is a common law interest if the attorney general feels that the broader interest of Missourians are affected, like the chilling effect that this might have with people exercising their Second Amendment rights," Schmitt said.
"I felt it was appropriate that I weigh in," Schmitt added. "We felt it was important to get it in and make the state's position known early."
Schmitt was appointed attorney general by Gov. Mike Parson after Josh Hawley was elected to the U.S. Senate in 2018. Schmitt is running for a full term as attorney general and is unopposed in the Aug. 4 primary election.
His decision to try to block St. Louis Circuit Attorney Kimberly M. Gardner's prosecution of the McCloskeys has met with criticism from some lawmakers and lawyers.
Rep. Rasheen Aldridge, D-St. Louis, who said he attended the June 28 protest in question, met Schmitt's legal move with derision, calling it a "political sideshow."
"The eagerness with which the governor and Attorney General Schmitt attacked Circuit Attorney Kim Gardner for standing up for her constituents' First Amendment rights is alarming," Aldridge said.
Retired Missouri Supreme Court Chief Justice Mike Wolff on Twitter and in an interview mocked Schmitt's attempt to intervene in the case, saying Schmitt had no role at the trial court level and might be called on to represent prosecutors if the McCloskeys are convicted and appeal.
Wolff said the attorney general's office sometimes helps local prosecutors in rural counties, when directed to do so by the governor. He said it will be up to a St. Louis judge to accept or reject Schmitt's brief.
Wolff said prosecutors could find it difficult to prove the couple did not believe themselves to be in danger. It would be easier to prove a case against young people waving guns around than middle-aged property owners in a fancy neighborhood in the Central West End.
Wolff said that there were many things in the case that were unclear or in dispute that could factor into a criminal case, including whether a private street falls under the state's Castle Doctrine and how many people actually stepped on the McCloskeys' property.
"That's why we have trials," he said.
In another potential hurdle for the prosecution, a former lawyer for the McCloskeys has said that the pistol Patricia McCloskey pointed at the protesters was inoperable at the time of the crime, and the law says the weapon has to be "readily capable of lethal use."
Both Wolff and St. Louis University law professor John Ammann said there was little incentive for the McCloskeys to avoid a trial, citing the promised pardon from Parson, the unlikelihood of jail time if any conviction stands and, in Wolff's words, a "show trial" funded by "millions of dollars from people waiting to make this a big cause célèbre."
Asked about the statements about the case by politicians, Joel Schwartz, the McCloskeys' lawyer, declined to comment. "I plan on vigorously defending these allegations," he wrote in a text message.
An 'extraordinary' case
Schmitt, a Republican, filed a brief Monday hours after Gardner, a Democrat, charged the McCloskeys with felony unlawful use of a weapon for displaying guns in their yard as protesters moved through the Central West End to St. Louis Mayor Lyda Krewson's house.
Schmitt said the charges should be dismissed under the state's Castle Doctrine, which gives Missourians broad rights to defend their property.
"This criminal case is extraordinary," the brief notes. "Based on widely reported facts, the prosecution targets conduct explicitly protected by the U.S. Constitution, the Missouri Constitution, and Missouri statutes setting forth the 'castle doctrine' of self-defense."
But Aldridge said Gardner's decision to charge the McCloskeys is warranted given what he saw that evening.
Two Democrats vying in the Aug. 4 primary to challenge Schmitt in November also blasted the intervention.
"He asks the court to dismiss a criminal case based upon 'published reports' when he did not investigate the case and has not seen all the evidence," Rich Finneran, a former federal prosecutor, said. "Yet again, he has put his partisan political agenda before the judicial process."
Elad Gross, a former assistant attorney general, said Schmitt couldn't move to dismiss charges against a criminal defendant.
"He also apparently doesn't realize that he was appointed attorney general, not King of America," Gross said on Twitter. "I suppose we could change Missouri's laws to create one statewide prosecutor and eliminate local control, but we vote on those decisions, not just silently cede them to political appointees who want to run for the next big office."
Aldridge also blasted Parson for portraying the protesters at the McCloskeys' as "some bloodthirsty, rampaging mob."
"We practiced peaceful civil disobedience and had the threat of violence imposed upon us," Aldridge said. "His dishonest hypocrisy about the events of that night show he has no interest in actual justice, only in exploiting this situation to mobilize his base."
Galloway weighs in
Auditor Nicole Galloway, a Democrat who is running for governor against Parson, also derided the governor's response to the McCloskey incident.
"Governor Parson is desperate to change the subject from his stunning failure to lead Missouri through the COVID-19 crisis. He's desperate to cover for his decades of failure on crime, gun violence, and criminal justice reform. Missouri needs leadership from their governor, not distractions," Galloway spokesman Eric Slusher said in a statement.
Her campaign did not respond to a question about whether she supported the charges.
A spokeswoman for Gardner said the charge the McCloskeys are facing, unlawful use of a weapon-exhibiting, was filed 129 times in 2019.
A St. Louis defense lawyer asked Schmitt in a letter Tuesday if he would also intervene in another case of someone claiming self-defense, that of Marvin Humphrey. Humphrey, then 61, was accused of murder and other charges in January for shooting a father and fatally shooting a son after a fight outside of a St. Louis gas station on Thanksgiving Day.
"As your office so vigorously came to the defense of the McCloskeys, I expect you do the same for those persons, like Marvin Humphrey, who do not have the same affluence, privilege and connections enjoyed by the McCloskeys," Talmage Newton IV wrote.