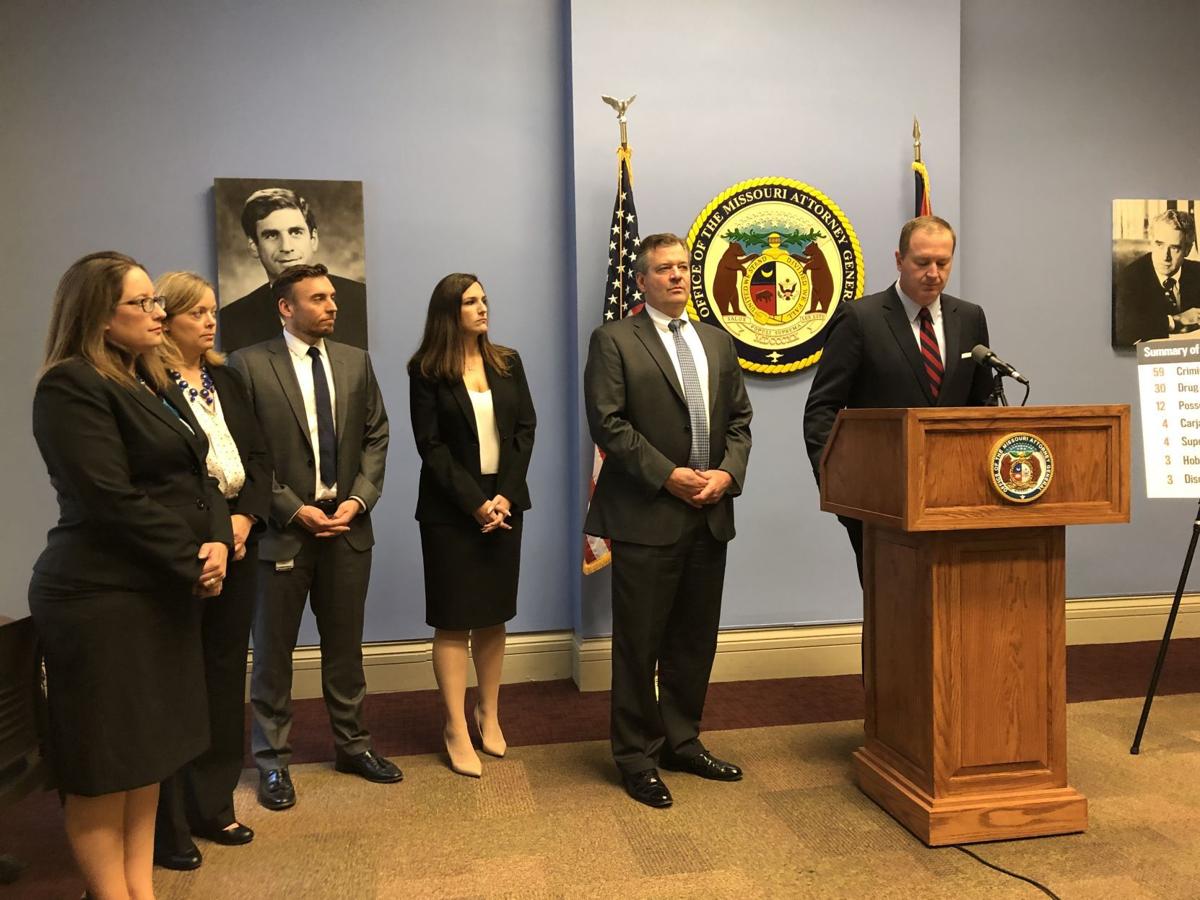 ST. LOUIS — Prosecutors working for Missouri Attorney General Eric Schmitt have withdrawn in the last week from nearly two dozen federal drug, gun and carjacking cases in St. Louis as Missouri moved forward with a new state law that bans the enforcement of federal gun rules.
Schmitt had loaned the prosecutors to the U.S. attorney's office as part of the Safer Streets initiative to combat violent crime, including gun offenses. The initiative, announced in 2019, also involved Springfield and Kansas City.
Nineteen of the withdrawals occurred Friday, the day before Gov. Mike Parson signed House Bill 85, known as the Second Amendment Preservation Act.
Missouri officials fear that state prosecutors could run afoul of the new law in their collaborations with federal authorities. In addition to reducing the number of prosecutors working on violent crime, the law could affect anti-crime task forces made up of federal, state and local law enforcement officers, officials have said.
A spokesman for Schmitt's office, Chris Nuelle, said earlier this week that prosecutors in "the old class" were being replaced by others "as is the natural course in the Safer Streets initiative."
But the prosecutors who withdrew from cases on Friday have not withdrawn from dozens of other cases, including some involving gun charges.
In addition to the St. Louis changes, a state prosecutor withdrew from five cases in Springfield. It was not clear how many cases were affected in Kansas City. Federal officials have repeatedly declined to comment on who ordered the move.
A spokesman for the U.S. attorney's office in St. Louis declined to comment Tuesday. Another staffer on Thursday referred a reporter to a seven-page letter sent Wednesday to Parson and Schmitt in which a U.S. Justice Department official wrote that the new law raised "significant law enforcement and legal concerns."
The letter says the law appeared "to declare numerous federal firearms laws to constitute 'infringements' of state and federal constitutional rights, to prohibit all persons from enforcing such laws in Missouri, to preclude Missouri law enforcement agencies from participating in the enforcement of such laws, and to prohibit Missouri law enforcement agencies from hiring any former federal law enforcement officer or agent who enforced such laws or provided support for their enforcement."
Acting U.S. Assistant Attorney General Brian M. Boynton's letter says the law "threatens to imperil the longstanding and close cooperation between the Federal Government and law enforcement agencies in Missouri that seek to jointly combat violent crime in the state. At a time when homicides have increased in Missouri and neighboring states, measures that impair the effective enforcement of federal law will increase the risk of violent crime in our communities."
Boynton requested clarification of the state law by Friday, reminding Missouri officials that the state cannot nullify federal law and that the law was now in conflict with federal firearms laws.
Schmitt and Parson responded in a seven-page letter on Thursday, arguing Missouri "is not attempting to nullify federal law" but was instead "defending its people from federal government overreach by prohibiting state and local law enforcement agencies from being used by the federal government to infringe on Missourians' right to keep and bear arms."
The move to remove prosecutors has caused a delay in at least one St. Louis case so far, with a federal public defender successfully winning more time for her client to file motions because another prosecutor has now been assigned to the case, the third one to handle it.
Legal uncertainty
Local authorities are still figuring out what the new law means.
"The legal implications surrounding this legislation are evolving and we may make adjustments accordingly," St. Louis police said in a statement.
St. Louis County police Sgt. Tracy Panus, a spokeswoman for the department, said, "We have not changed our operations at this point. We are awaiting legal reviews."
Many lawmakers in the GOP-dominated Missouri House and Senate made passage of the Second Amendment Preservation Act a priority this year as President Joe Biden and other Democrats assumed power in Washington.
The law says, "All federal acts, laws, executive orders, administrative orders, rules, and regulations … that infringe on the people's right to keep and bear arms … shall be invalid to this state, shall not be recognized by this state, shall be specifically rejected by this state, and shall not be enforced by this state."
It was approved on the closing day of the legislative session over the objections of Democrats.
The law says no police officer "shall have the authority to enforce or attempt to enforce any" of the federal actions outlined in the law, including but not limited to taxes that create a "chilling effect" on gun purchases, registration and tracking of firearms, and any act prohibiting the transfer of a firearm by a law-abiding citizen.
State Rep. Jered Taylor, a Nixa Republican and one of the law's sponsors, said local and state authorities could still provide material aid to federal authorities for felony gun crimes substantially similar to ones Missouri has on the books.
"While I think that there may be some instances where our local law enforcement, or law enforcement of the state of Missouri, does not help with federal law, I don't see an issue," Taylor said.
He said local law enforcement ended up either being supportive or neutral on the bill because "they believe the same thing. They believe that in the end, the end product that we came up with was a good bill. It was a good compromise, and that they would still be able to work with federal partners on, you know, putting away the really bad guys."
Throughout the legislative session, Schmitt, who is running for the U.S. Senate, declined to comment on the act.
"I don't think we'll comment on the bill at this stage," Nuelle, Schmitt's spokesman, said on Jan. 20, the day Missouri sheriffs raised concerns about the proposal in a Senate hearing.
In late February, when Schmitt's office said the Safer Streets program had resulted in 516 federal charges and 356 firearms taken off the streets since its launch in 2019, Nuelle was reluctant to comment on the bill's possible effects.
Nuelle again declined comment in late April, when the Senate was debating the legislation.
"We're going to stick to no comment for now," he said.
In bill-review documents provided to Parson's office, the Department of Public Safety warned the measure could affect federal relationships.
The review also noted concerns around conflicts between the bill's proposed provisions and federal law, and said the bill "may reduce clarity around enforcement of gun laws" as well as creating "an administrative challenge for political subdivisions to know if any current or potential employees were former federal officials who enforced, or supported enforcement of, federal gun laws contrary to the bill's provisions.
"These employers may be subject to suit under these provisions for hiring or employing these persons in any capacity," the review said.
Erin Heffernan of the Post-Dispatch contributed to this report.