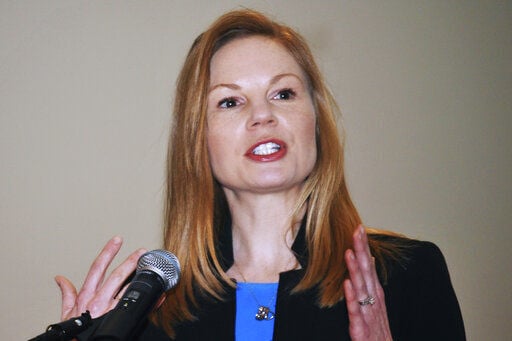 JEFFERSON CITY — Missouri Auditor Nicole Galloway is asking a Cole County judge to intervene in a fight that started after she released scathing audits of U.S. Sen. Josh Hawley's short time as attorney general.
Galloway, the lone Democrat holding statewide office, issued audits showing Hawley may have misused state resources to benefit his successful 2018 campaign for Senate.
Another audit said Hawley's office overspent on travel and did not give prior approval to paying employees for relocation expenses.
One finding showed Hawley used a state vehicle and a driver for some trips without documenting the purpose of the trip. A driver told the auditor that on Dec. 16, 2017, he drove Hawley and his wife, Erin, to Kansas City for a Chiefs football game.
In response, Hawley called on the state Board of Accountancy to investigate Galloway for any violations of her accountant's certification. The board confirmed they would begin a probe last year.
"It's clear political retaliation for an audit that was conducted with professionalism and by the book," Galloway said at the time.
In Wednesday's lawsuit, Galloway said the board is erroneously interpreting a section of law regarding audits that could allow people being audited to alter or weaken audits, as well as endanger the accounting licenses of workers in her office.
The lawsuit also notes that the board's interpretation of the law also could limit what kind of information an auditor could give to law enforcement agencies when they uncover crimes during the court of their work.
And, the lawsuit says the board wants to alter the relationship between the auditor and those being audited, giving state agencies and state officers the ability to potentially block the auditor from reporting crimes.
"The State Auditor routinely discusses information related to its audits with prosecutors, law enforcement, U.S. attorneys, and other agencies for matters within the scope of their state or federal authority without the consent of the auditee," the lawsuit notes.
"Effectively, for the first time under Missouri law, a state board has mandated that the State Auditor's Office obtain consent before publishing any information in a public report, even in cases where the auditee did not pursue any remedy in the courts," the lawsuit notes. "This decision calls into question whether the Missouri State Auditor's Office can continue to produce complete public reports or any report at all."
"This began when Senator Hawley filed a frivolous complaint with the State Board of Accountancy after an investigation of improper governmental activity while he served as Attorney General," Galloway said "The Board of Accountancy absolved the State Auditor on all of Hawley's baseless allegations after sitting on the complaint for more than a year. Then, acting on their own, the board employed a dubious application of a state statute to allege that taxpayers should not have been allowed to see supporting evidence included in the audit."
"By attempting to control information available to the public, a board of gubernatorial appointees is interfering with the Auditor's central role in enforcing government transparency and accountability. This cannot be allowed to stand," Galloway added.
Patty Faenger, executive director of the state board, referred questions to an agency spokesperson who said she was not aware of the lawsuit.