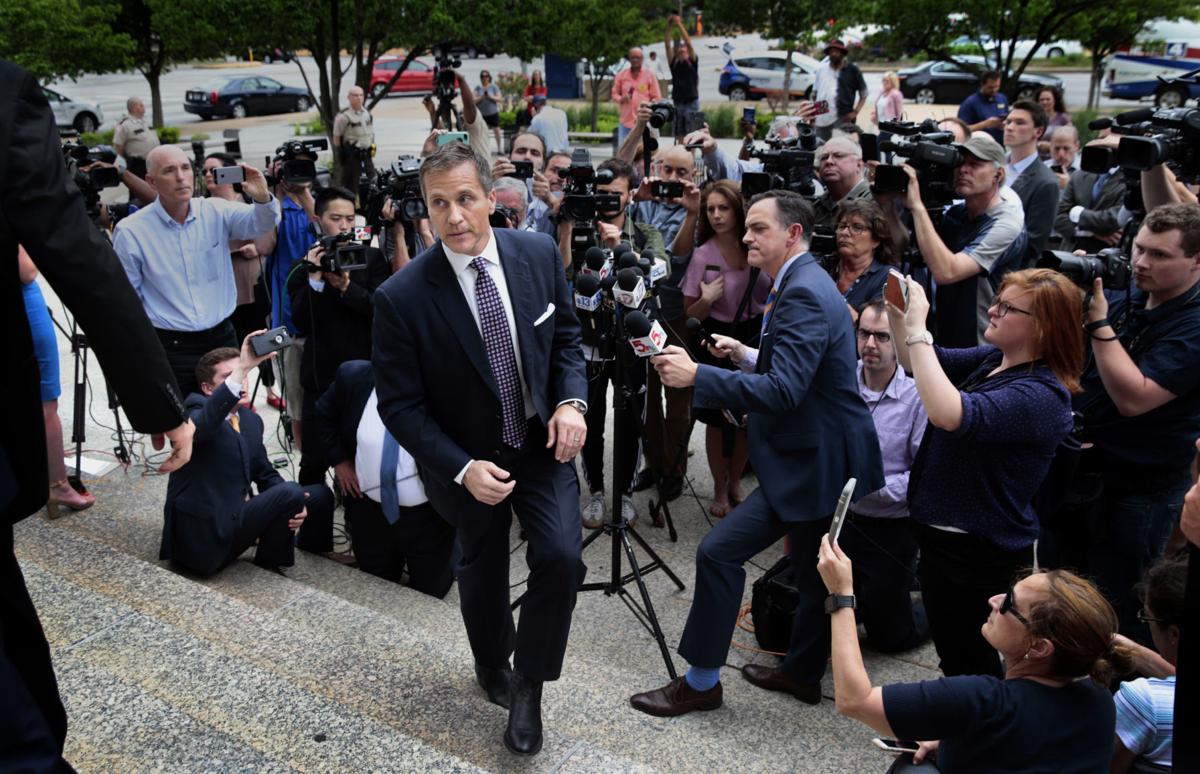 JEFFERSON CITY — A state appeals court on Tuesday rejected an attempt to open the records of a controversial dark money operation formed to help Eric Greitens during his short, scandal-plagued tenure as Missouri's chief executive.
In a nine-page decision, Missouri's Western District Court of Appeals affirmed a 2018 decision by a Cole County judge to dismiss the case brought by St. Louis lawyer Elad Gross.
The appeals court agreed with Judge Jon Beetem, who said Gross did not have legal standing to bring the case, writing that Gross' rationale was "simplistic."
Gross had argued that because A New Missouri claims to serve all Missourians, its records should be available for public scrutiny.
Gross called the ruling "unfortunate" and said he would consider appealing the decision.
A New Missouri was formed soon after the Republican was sworn into office in January 2017. Under federal tax law, donors could contribute unlimited amounts of money without their identities being revealed.
A New Missouri became a focal point of a special House committee investigating Greitens in the months leading up to his resignation. The committee issued a subpoena to A New Missouri demanding documents, but Greitens quit before the documents were delivered.
"Those in charge of the Greitens' campaign had a scheme to hide donor identities and attempt to funnel donors to a ©(4) if a potential donor's identity would either be politically troublesome or they were otherwise prohibited by federal or state law from contributing to the campaign," wrote former Rep. Jay Barnes, R-Jefferson City.
The not-for-profit remains official on paper, but it is not known if it continues to raise or spend money.
Business records show the president continues to be Robin Simpson, an early campaign supporter whom Greitens later appointed to the Missouri Lottery Commission. The Montgomery City woman has since been replaced on the lottery board. She could not be reached for comment.
The treasurer of A New Missouri is lawyer Michael Adams, who is now running to become secretary of state in Kentucky. Adams, whose law firm has raked in tens of thousands of dollars from Greitens' campaign fund, did not respond to a request for comment.
It remains unclear if the not-for-profit continues to rent office space in a building near the Capitol. The group's website is no longer active.
Even though A New Missouri appears to be dormant, Gross said it remains important to fight to open its records because similar organizations could try to influence the political process without disclosing how they are being funded.
"Maybe this organization is defunct but I'm sure there are going to be more like it," Gross said.