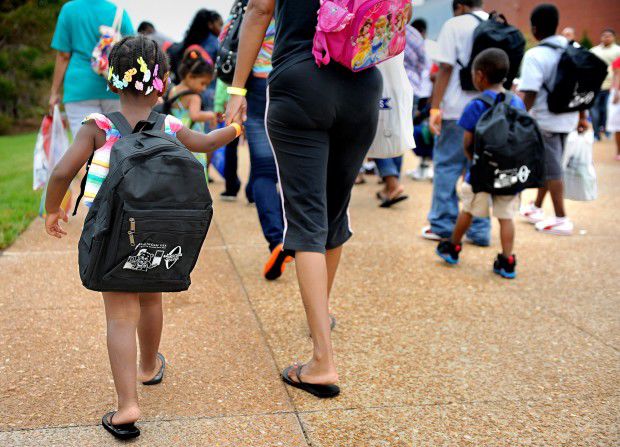 Black elementary school children are more likely to be suspended in Missouri than in any state in the nation, according to a national report released Monday.
Missouri also has the greatest disparity between how often black and white students get out-of-school suspension for infractions.
The study by the Center for Civil Rights Remedies at UCLA uses district level out-of-school suspension rates to compare disparities in every state. About 3.5 million children lost almost 18 million days of instruction in the 2011-12 school year to suspensions, the study says. Keeping students out of school reduces their chances of graduation and success, a phenomenon commonly called the school-to-prison pipeline.
"We know that effective schools do not suspend high numbers of kids," said Daniel Losen, director of the Center for Civil Rights Remedies. "Effective schools keep kids in school and have a high amount of instruction time."
According to the findings, elementary schools in Missouri suspended 14.3 percent of black students at least once in the 2011-12 school year, compared with 1.8 percent of white students. The 12.5-point difference is two times higher than the national disparity.
Pushing Missouri's overall rate upward was St. Louis Public Schools, which suspended 29.1 percent of its elementary school enrollment that year. Normandy and Riverview Gardens each suspended around 21 percent of their elementary students. Kansas City had similar numbers.
The four districts enroll about one-third of the state's black children. Since 2012, the St. Louis-area districts have taken steps to use in-school suspension as an alternative to sending students home.
The Missouri Department of Elementary and Secondary Education issued a statement asking districts to be mindful of the disparity.
"In light of this data showing the disparity in suspension rates for black and white students, the Department urges districts to take a close look at discipline policies and determine how schools can keep students engaged and learning in school," it states.
Losen said disadvantaged schools may not have the support staff needed to effectively handle classroom management problems, which is why some turn to suspensions to deal with discipline. In many other situations, bias plays a role. As a general rule, Losen said, black boys receive harsher penalties for offenses that don't always lead to suspension for children of other races.
"What we're coming to understand as a culture, there's a tendency to perceive a situation involving black males as being more dangerous than it actually is," he said. "It shows up when you look at large numbers over the course of time. It may not show up in every incident."
As children get to middle and high school, discipline rates tend to rise.
In Missouri, secondary schools suspended 27 percent of black students and 7 percent of white students at least once in 2011-12, the study says. The 20-point disparity is the fourth widest in the country.
Illinois ranks ninth with a 19-point difference.
Nationally, there's a 16.7 percentage point difference between black and white suspension rates in high schools.
Losen called Missouri's numbers "disturbing."
"This type of large disparity impacts both the academic achievement and life outcomes of millions of historically disadvantaged children, inflicting upon them a legacy of despair rather than opportunity," he said.