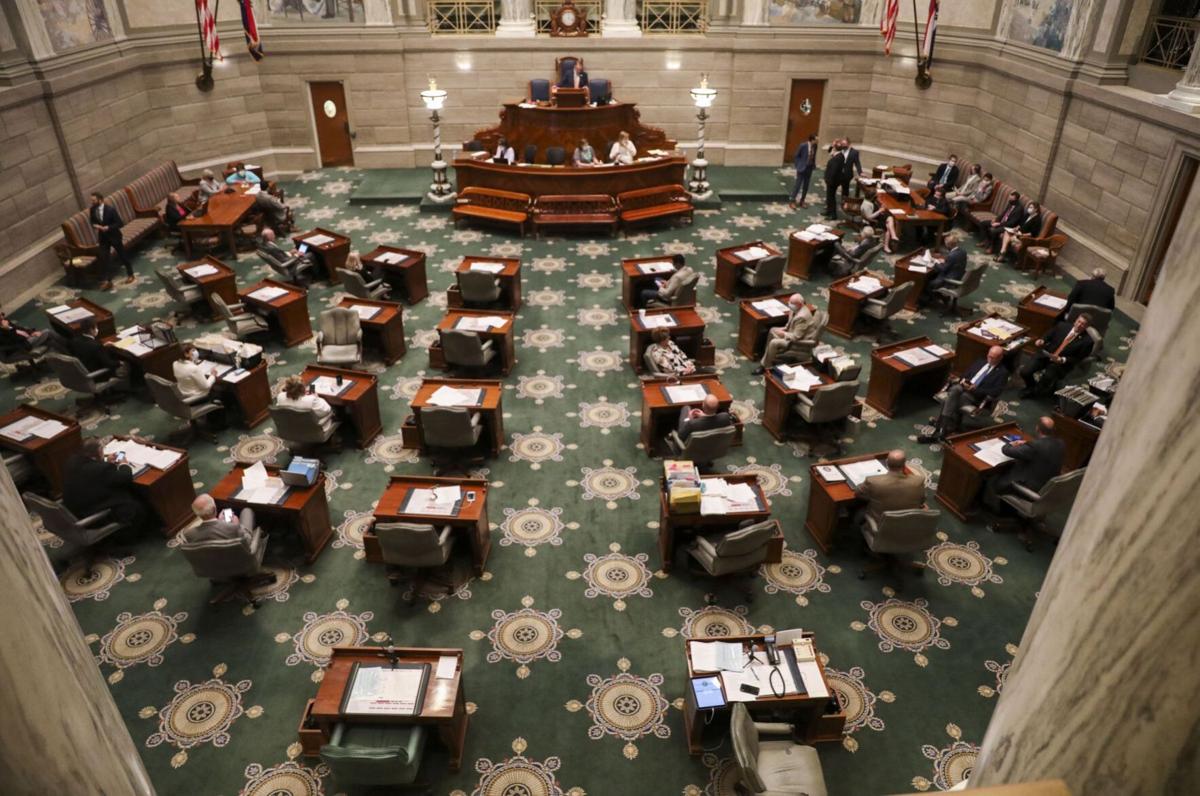 ST. LOUIS — A statewide witness protection program lauded as a key accomplishment of the Missouri Legislature's 2020 special session on crime set aside $1 million to help witnesses, but months into its launch only one $116 claim has been paid.
The Pretrial Witness Protection Services Fund was passed by the Missouri General Assembly in September and put under the oversight of the Missouri Department of Public Safety to provide security for crime witnesses, potential witnesses and their immediate families.
To participate, a law enforcement agency must submit an application to the department that includes why a person needs protection, the methods used for the protection, a statement of projected costs and whether the person is expected to provide testimony or evidence in court.
The legislation zoomed out of the House on a bipartisan 147-3 vote. It moved out of the Senate in September and was signed into law by Gov. Mike Parson on Sept. 21. Lawmakers also approved an emergency clause allowing the bill to go into effect immediately after it was signed.
The money for the program became available to law enforcement agencies beginning in February and $1 million was set aside for fiscal year 2021 ending in July, according to Department of Public Safety spokesman Mike O'Connell. The same amount will be allocated to the fund in fiscal year 2022.
After about four months, the only request has been for $116.68 to Kansas City police in April for "lodging costs," O'Connell said.
"The funds are available and we've approved the one request we've gotten," O'Connell said. "I can't tell you why there haven't been more requests; you'd have to ask the law enforcement agencies."
Sen. Tony Luetkemeyer, R-Parkville, said the law came in response to requests by the police chiefs and mayors of the state's larger cities. He said it's not uncommon for new laws to need tweaks once they are in place.
"I think we're too early to know if the fund will be utilized," said Luetkemeyer, who handled the bill in the Senate. "I'm hopeful long-term it will be used as a tool by law enforcement."
So far five out of the state's more than 600 law enforcement agencies have enrolled: Kansas City police, St. Louis police, St. Louis County police, Missouri Highway Patrol and police in Smithville — a town of about 10,000 about 30 minutes north of Kansas City.
St. Louis police Chief John Hayden, who for years has cited a lack of witness participation as a primary barrier to solving the city's homicides, said in a May 18 aldermanic committee meeting the city plans to begin requesting from the fund soon. At the end of April, the department requested a $5,000 preapproval agreement with the Department of Public Safety to make it easier to access the money.
Hayden said the program is set up so that agencies must reapply for money each time they'd like to tap the fund, but said that state leadership told him that a phone call approval would suffice in an emergency as long as paperwork is filled out later.
Aldermen agreed the fund was needed, but some pushed the police department to both regularly use and publicize the fund so that it might encourage witnesses to come forward.
"We need to make this knowledge out there because I think it would help in maybe ameliorating some of the deaths and high crime we're seeing," said Alderman Carol Howard, 14th Ward.
In Kansas City, Mayor Quinton Lucas was a major proponent of the fund, pushing for a special session of the Legislature in the fall to address witness protection amid skyrocketing violent crime rates in Kansas City and St. Louis last year.
Sgt. Jake Becchina, a spokesman for Kansas City police, said the department is aware of the fund, but has to follow its requirements.
"There are certain parameters that a case and witness must meet," Becchina said. "Our investigative staff weigh the possibility of applying when cases with witnesses that need protection come along."
'I don't think there's a problem'
The legislation's sponsor, Rep. Jonathan Patterson, R-Lee's Summit, said the slow start is not an indication that something is wrong.
"I don't think there's a problem with it. We heard from law enforcement that there is a need for this. It's just going to take some time for the word to get out," Patterson said.
Patterson said he has not heard complaints about the logistics and procedure that police departments must go through to access the funds.
"I don't think that's a barrier," Patterson said.
But he said if there are roadblocks keeping law enforcement from participating in the program, he is willing to seek changes in how it operates.
"I think we could give it a year and assess it then," Patterson said.
Parson also urged patience in the rollout of the program.
"This fund was established at the request of chiefs of police and mayors of the largest cities in Missouri to help them protect victims and witnesses who are essential to criminal investigations and prosecutions," Parson told the Post-Dispatch. "As with any new program, it takes time for visibility on the available resource to reach stakeholders. Also, as with any program, the appropriate performance measures take time to evaluate."
Kelli Jones, a spokeswoman for Parson, said the administration continues to encourage use of the program and will monitor the frequency and amount of usage to recommend any necessary adjustments in the future.