At first glance, the statistics seem to give a glimmer of hope that perhaps meth's grip on Missouri is loosening.
Last year, for the first time in more than a decade, the state did not lead the nation in methamphetamine busts. Missouri dropped to No. 3, behind Indiana and Tennessee.
In Missouri, the number of labs, dumpsites, and glassware and chemical seizures plummeted 25 percent from 2012 to 2013, according to numbers compiled by the Missouri Highway Patrol.
Even Jefferson County, which has consistently led the state in seizures of labs and dumpsites, saw a 35 percent drop.
But as is the case with most such numbers, the statistics don't tell the whole story.
"It should not be any indication that the war on meth is dwindling," said Cpl. Chris Hoffman, who leads the Jefferson County Municipal Enforcement Group, a drug task force.
Rather, the drop could be a result of a change in enforcement approach, new laws and a more powerful product being imported from Mexico.
Not surprisingly, meth busts tend to be higher in areas where officers are devoted to looking for the drug and labs, as has been the case in Jefferson County.
The task force recently has gone after larger-scale labs involving more people, instead of the smaller labs that might have yielded overall higher annual statistics, Hoffman said.
Officers also are spending more time investigating cases involving heroin, as well as synthetic and prescription drugs.
Local laws cracking down on the sale of pseudoephedrine, a decongestant that is meth's main ingredient, are getting credit for the dips as well.
But plenty of local meth cooks are still using the "one-pot method," Hoffman said. That requires just 2-liter bottles, hoses and chemicals — including pseudoephedrine, which is found in brand-name drugs such as Sudafed.
Obtaining the cold medicine, which is sold over the counter in most places, has become a hurdle for meth makers. Missouri law limits how much decongestant a person can buy and requires buyers to sign a log and provide identification. For that reason, cooks rely on "smurfers," or hired buyers, to do their shopping.
The buyers can sell a box of Sudafed to meth cooks for as much as $50 or trade it for heroin, Hoffman said.
Authorities noticed that was happening at two Walgreens stores in Fenton, said Detective Sgt. Jason Grellner, commander of the Franklin County Narcotics Enforcement Unit and president of the Missouri Narcotics Officers Association.
"Those two stores combined were selling on average 24,000 boxes a year in a town of 4,800 people," Grellner said.
Then in September, the stores on Bowles Avenue and Gravois Bluffs Boulevard began requiring prescriptions to buy pseudoephedrine, he said.
Fenton aldermen had debated creating an ordinance requiring prescriptions, but ultimately did not.
Sales at the two stores now are on track to total less than 2,000 boxes in the same time period, Grellner said.
Walgreens issued a statement that said the company is "committed to working with all parties to make our communities safer and our medications accessible for legitimate medical use." A spokesman declined to comment further.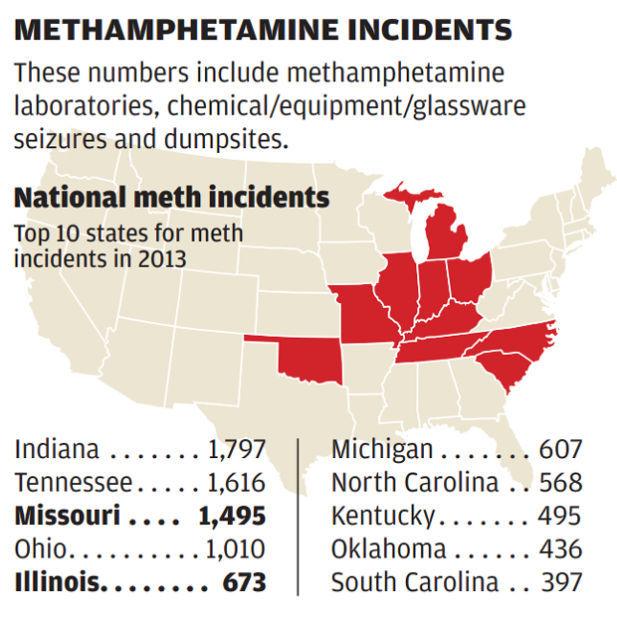 Grellner credits the Walgreens move to sharp drops in lab busts in Franklin and Jefferson counties in the fall and winter, saying officers in both places could trace sales of pseudoephedrine from those stores to labs.
But the Walmart in Fenton does not require a prescription, and when trucks arrive carrying pseudoephedrine, lines lead from the pharmacy counter through the aisles of the store, Grellner said.
He also said that in a 14-county area in southeastern Missouri, where prescription ordinances are now plentiful, meth lab busts dropped 80 percent between 2010 and 2013.
A bill making its way through the Illinois Legislature would require a prescription for drugs containing ephedrine or pseudoephedrine. No such bill is being considered in Missouri.
Opponents of such laws say people who aren't doing anything wrong are inconvenienced, and that some will be forced to pay for a doctor's visit to obtain what is now available over the counter.
Only Oregon and Mississippi have statewide laws requiring prescriptions. And it appears that Indiana and Tennessee, the two states that topped Missouri for meth busts last year, won't follow suit either.
Indiana lawmakers in January killed a bill that would have created a statewide law mandating prescriptions for pseudoephedrine, and the Tennessee attorney general in December issued an opinion that local laws requiring prescriptions violated state law.
HIGH-POWERED MEXICAN METH
Local meth is only part of the problem. The St. Louis area is dealing with stronger meth coming from Mexican cartels, Grellner said.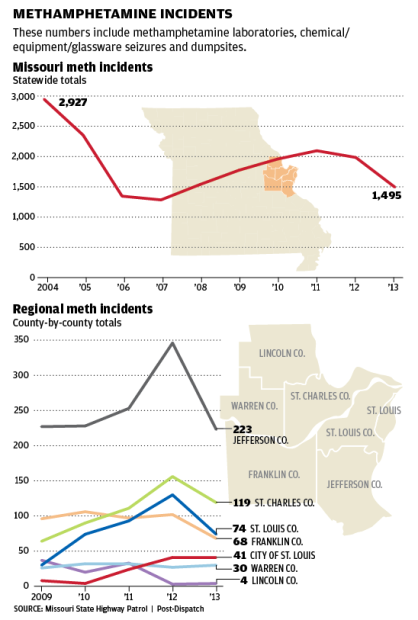 Mexico in 2008 banned the importation of pseudoephedrine, which resulted in less-potent meth coming from that country into the United States. The next year, numbers of Missouri labs spiked as users sought better highs.
But since then, Mexican meth-makers have figured out how to make extremely pure meth without pseudoephedrine.
"They have a product that is as good as the product made locally and you can get it in larger quantities," Grellner said.
Ralph Weisheit, a professor of criminal justice at Illinois State University who has studied meth and written a book about it, said decreases in local labs doesn't mean the craving for the drug has also shrunk.
"If local supplies dry up, it only makes sense that Mexican traffickers will move in to fill the void," he said.
Meth produced in Mexico makes the problem less visible locally — no dumpsites or explosions, he said.
But the core of the problem remains, he said, and that is the powerful allure of meth and the all-consuming need of addicts to get it, regardless of where it originates.
"How do you tell people to stop using something that makes them feel really good?" said Weisheit. "That's the real challenge."