JEFFERSON CITY — Attorneys for a man who is scheduled to die by lethal injection on Oct. 1 pleaded their case for clemency to Gov. Mike Parson's staff on Monday in his Capitol office.
The meeting came days after the legal team submitted a 24-page petition to the governor's office asking Parson, a Republican, to commute the death sentence of Russell Bucklew, who is 51.
"We appreciated the opportunity to present to them and felt that they were paying attention and asking appropriate questions," said Laurence E. Komp, a federal public defender representing Bucklew.
Bucklew was convicted of first-degree murder in 1997 after he shot and killed Michael Sanders, 27, at his mobile home in Cape Girardeau County. Bucklew's ex-girlfriend had been staying with Sanders, and Bucklew kidnapped the ex-girlfriend, raped her, drove to St. Louis, and then shot at police before he was arrested.
His attorneys' pitch, contained in the clemency petition, stresses that Bucklew is not the same man he was 23 years ago.
"Russell Bucklew is a man of profound Christian faith, a loyal and true friend, a caring son, and a man repentant for his crimes," his attorneys said. "Mr. Bucklew's life the past 23 years rebuts the very basis the state invited the jury to recommend death — that he was an unrepentant sociopath that would forever pose an ongoing threat to guards and inmates."
They said moving forward with the death sentence would present "incredible risks" because of Bucklew's medical condition, cavernous hemangioma, which causes weakened and malformed blood vessels, and tumors in his nose and throat could rupture and bleed.
"Russell's compromised medical condition make it highly likely that the state's protocol will cause a visually gruesome execution that will traumatize corrections personnel and witnesses alike," the petition said.
His attorneys also argue that Bucklew's counsel at trial did not adequately interview his family and friends about his upbringing prior to sentencing. They argued such testimony could have swayed a jury to sentence him to life in prison rather than death.
"Russell's childhood was anything but the idyllic picture painted by his parents when they testified at trial," the petition said. "Russell was, and is, a product of his environment in both the positive and negative aspects."
At trial, Dr. Bruce Harry, a Columbia psychiatrist, diagnosed Bucklew with Antisocial Personality Disorder, but relied on the defense's incomplete information, the petition said.
"Relying on Dr. Harry's testimony," the petition said, "the state hijacked the ASPD diagnosis to argue that Russell was an unrepentant 'sociopath' deserving of death."
His Kansas City-based attorneys — Cheryl A. Pilate, Jeremy S. Weis and Komp — said Bucklew also was addicted to opioids prior to his incarceration.
Their petition also said that prosecutors predicted he would harm other prisoners, but the petition said he has committed no serious infraction during his 22 years behind bars.
The petition includes statements attesting to his good character from nine fellow inmates, two family members and two former teachers.
He said death penalty opponents need to remember the victims of violent crimes when they consider abolishing capital punishment.
"I think it was mainly a one-sided debate," said Parson, a former Polk County sheriff. "There are cold-blooded killers out there."
"When you spend a career trying to protect innocent people, the last thing you want to do is hurt an innocent person," he said.
In signing an anti-abortion law in May, Parson declared that "all life has value and is worth protecting" — giving death-penalty opponents hope that he would spare the lives of those sitting on death row.
The 47 men Missouri has executed since 2000
The 48 men Missouri has executed since 2000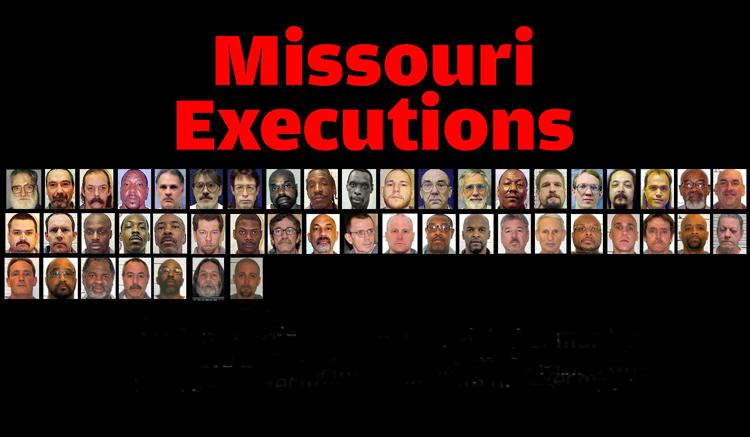 Executed March 22, 2000: James Henry Hampton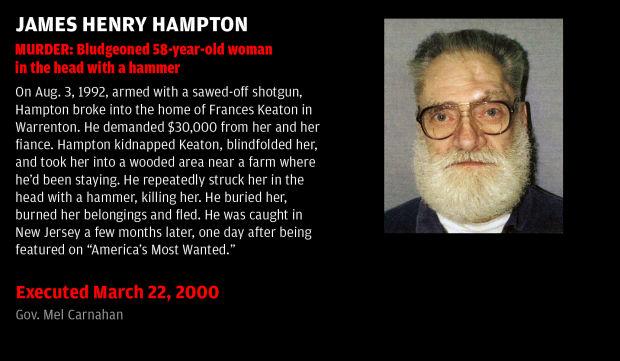 Executed June 28, 2000: Bert Leroy Hunter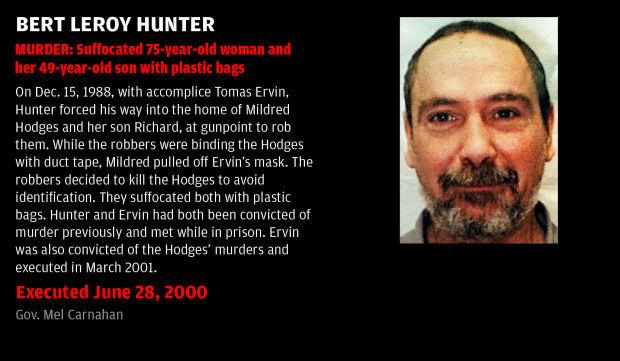 Executed Aug. 30, 2000: Gary Lee Roll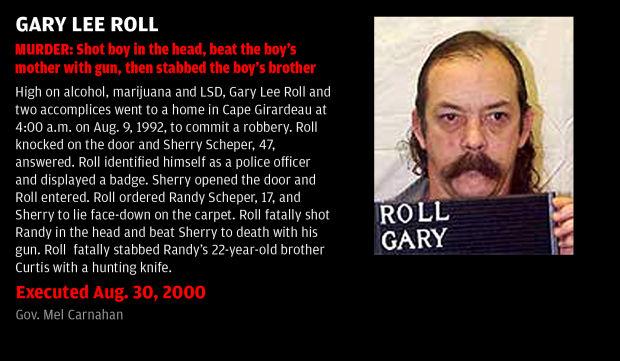 Executed Sept. 13, 2000: George Bernard Harris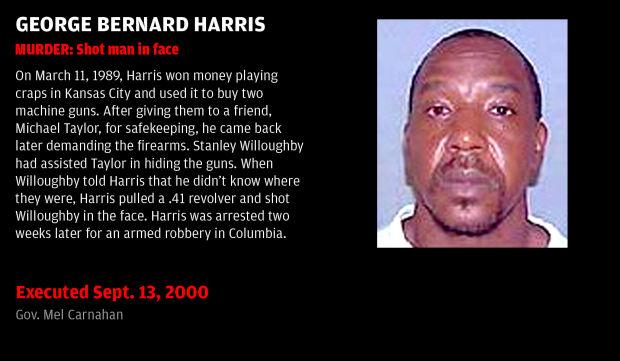 Executed Nov. 15, 2000: James Wilson Chambers
Executed Feb. 7, 2001: Stanley Dewaine Lingar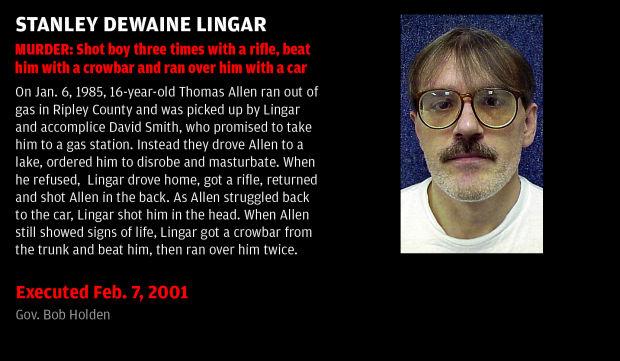 Executed March 28, 2001: Tomas Grant Ervin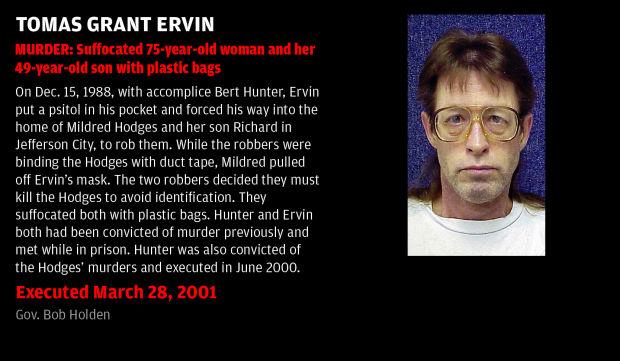 Executed April 25, 2001: Mose Young, Jr.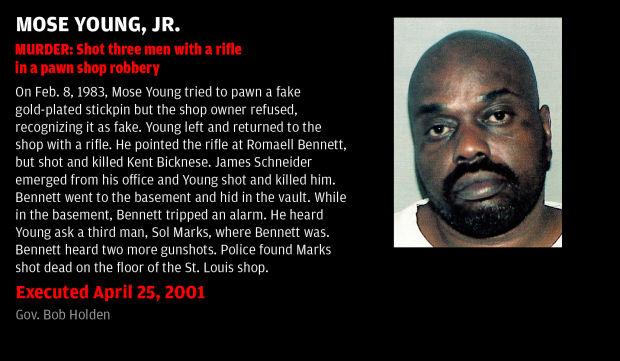 Executed May 23, 2001: Samuel D. Smith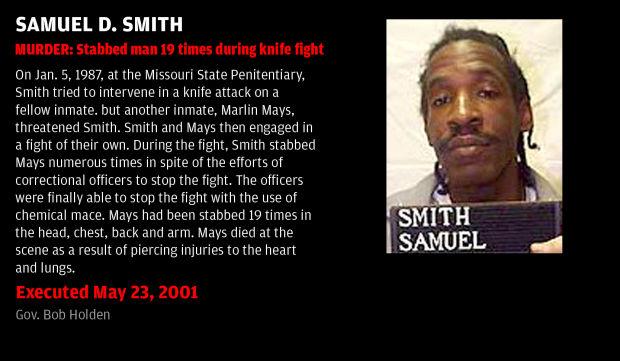 Executed July 11, 2001: Jerome Mallett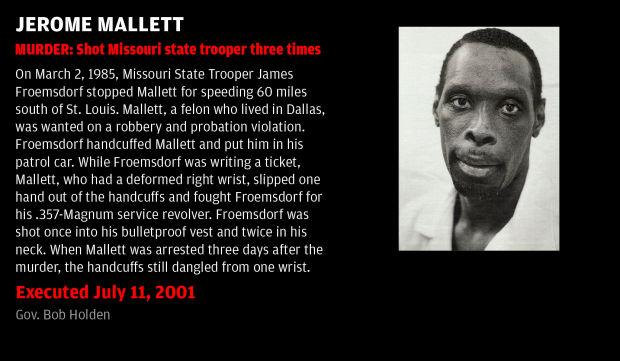 Executed Oct. 3, 2001: Michael S. Roberts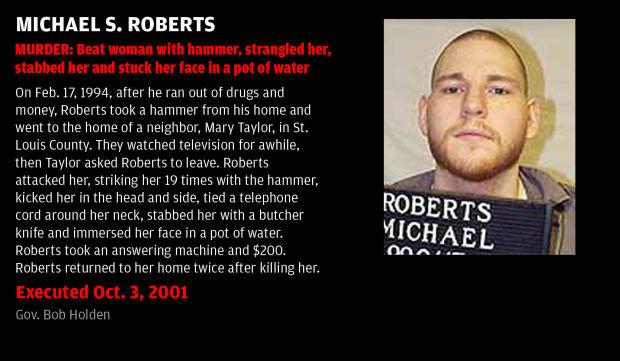 Executed Oct. 24, 2001: Stephen K. Johns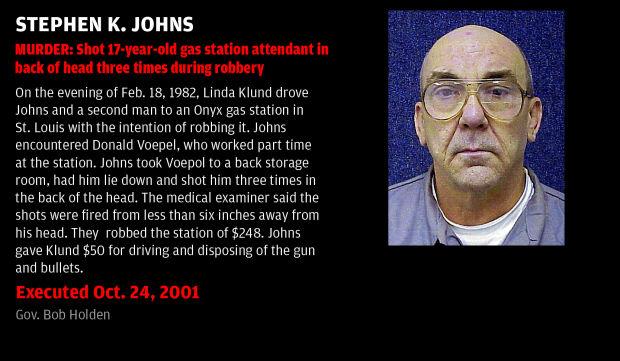 Executed Jan. 9, 2002: James R. Johnson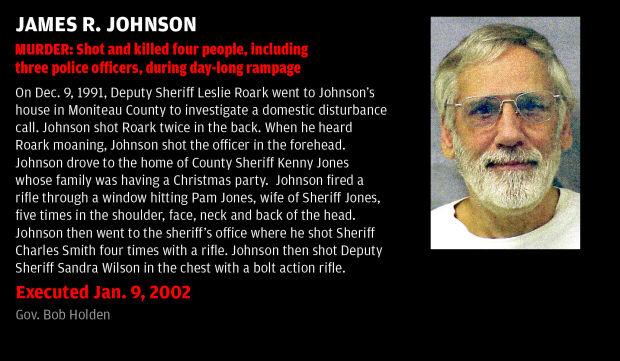 Executed Feb. 6, 2002: Michael I. Owsley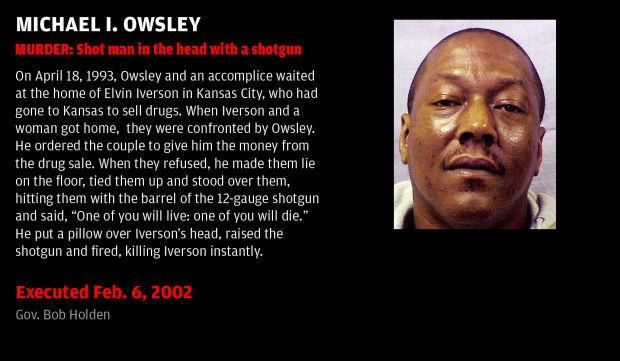 Executed March 6, 2002: Jeffrey Lane Tokar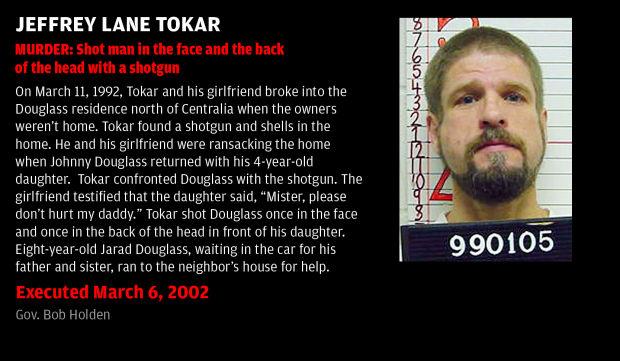 Executed April 10, 2002: Paul W. Kreutzer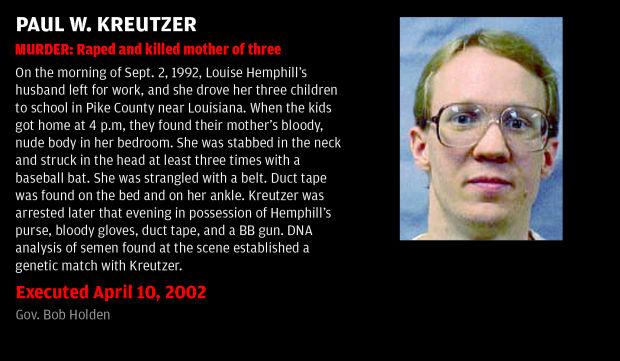 Executed Aug. 14, 2002: Daniel Anthony Basile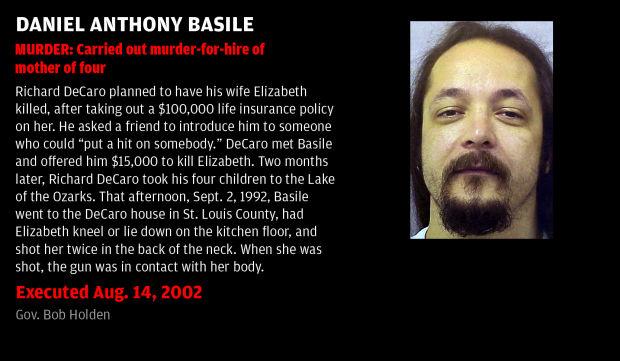 Executed Nov. 20, 2002: William Robert Jones, Jr.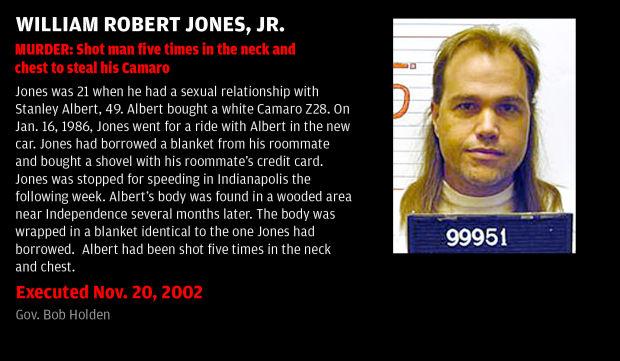 Executed Feb. 5, 2003: Kenneth Kenley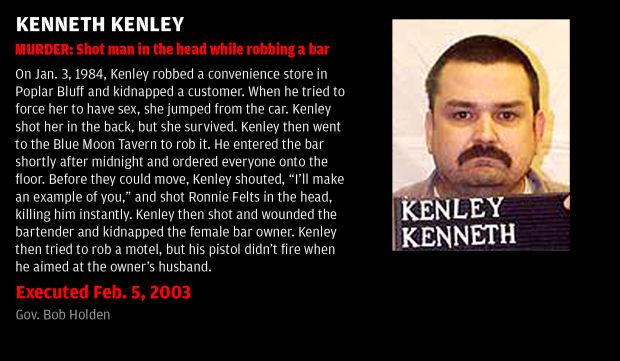 Executed Oct. 29, 2003: John Clayton Smith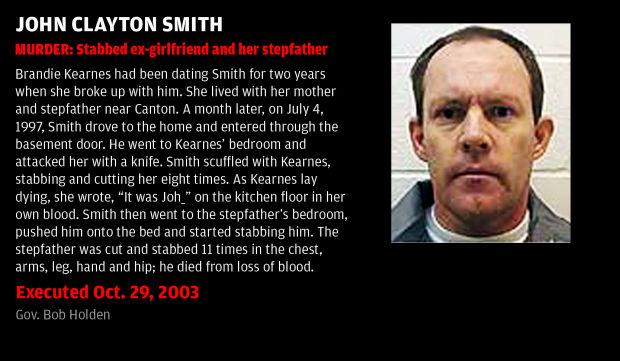 Executed March 16, 2005: Stanley L. Hall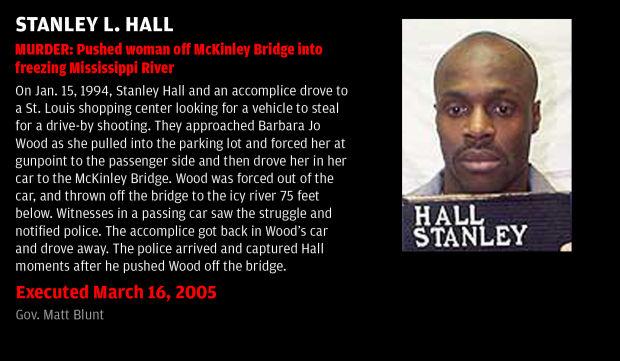 Executed April 27, 2005: Donald Jones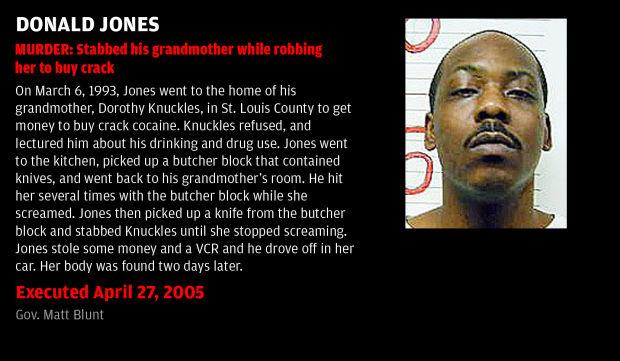 Executed May 17, 2005: Vernon Brown
Executed Aug. 31, 2005: Timothy L. Johnston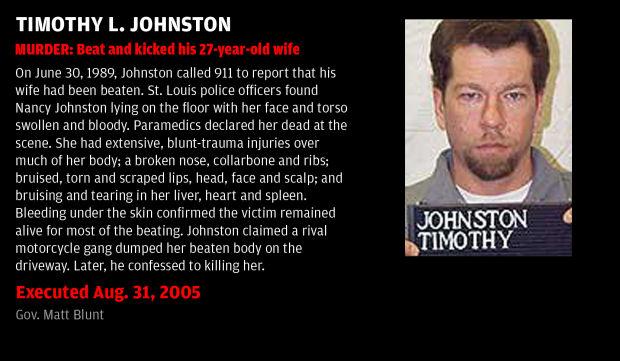 Executed Oct. 26, 2005: Marlin Gray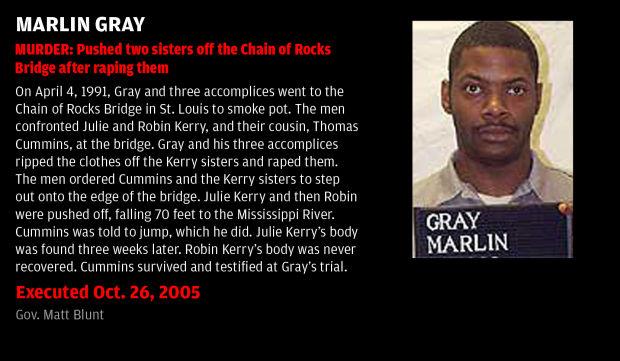 Executed May 20, 2009: Dennis James Skillicorn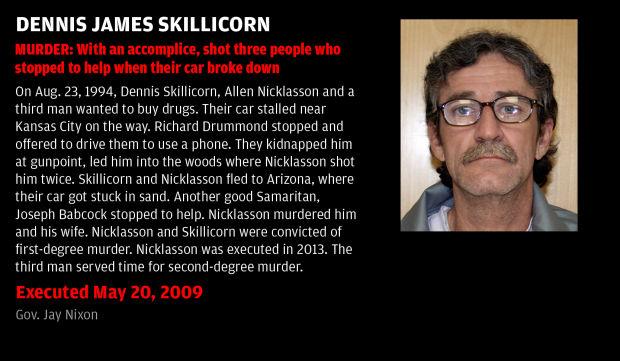 Executed Feb. 9, 2011: Martin C. Link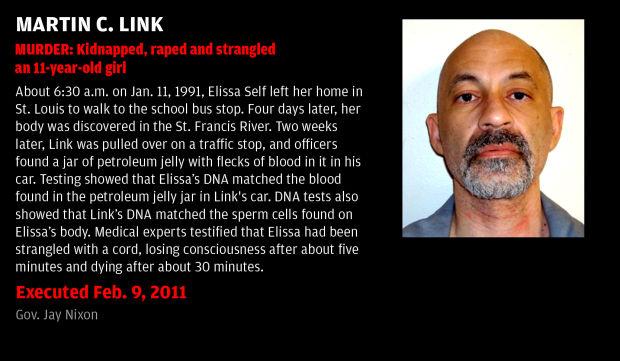 Executed Nov. 20, 2013: Joseph Paul Franklin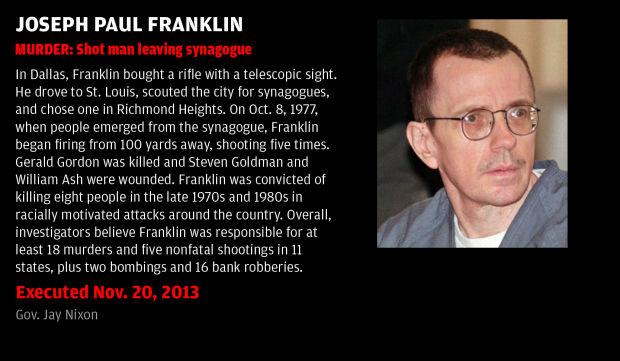 Executed Dec. 11, 2013: Allen L. Nicklasson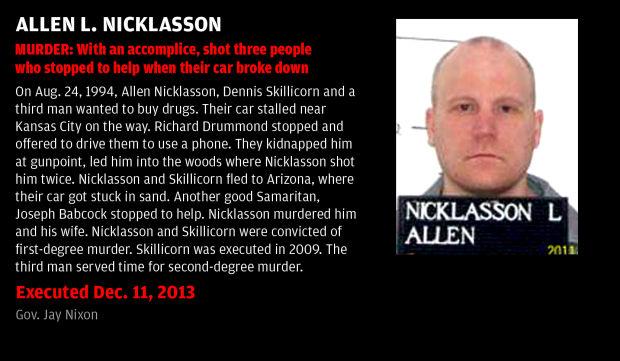 Executed Jan. 29, 2014: Herbert L. Smulls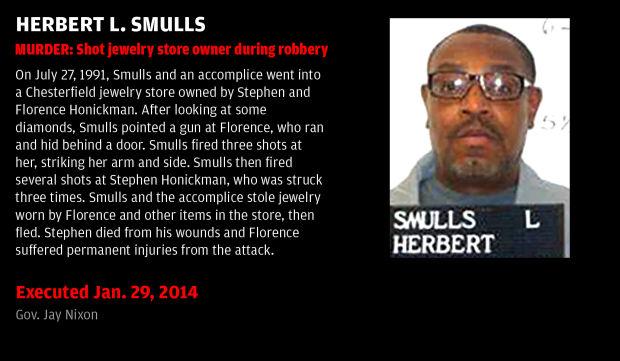 Executed Feb. 26, 2014: Michael Anthony Taylor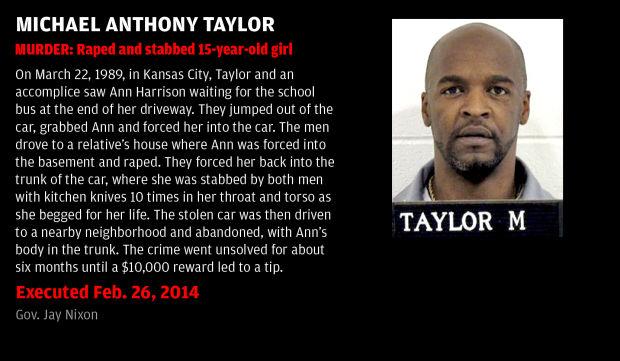 Executed March 26, 2014: Jeffrey R. Ferguson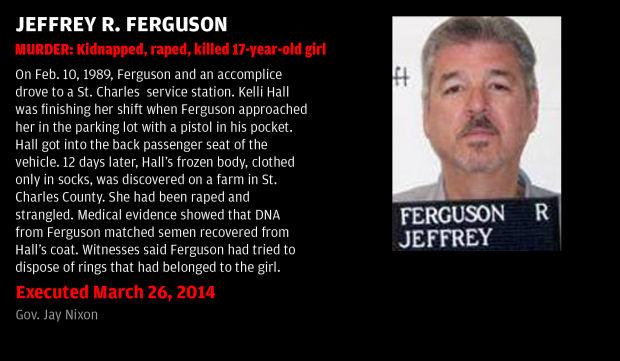 Executed April 23, 2014: William L. Rousan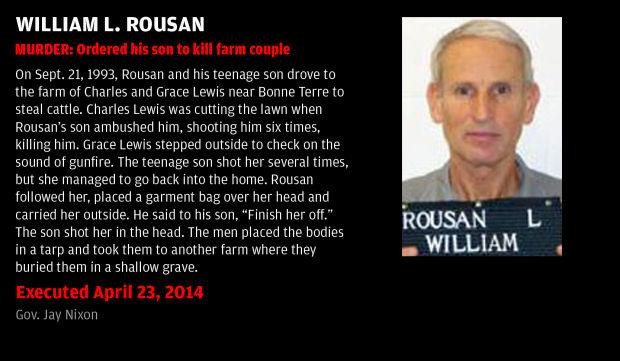 Executed June 18, 2014: John E. Winfield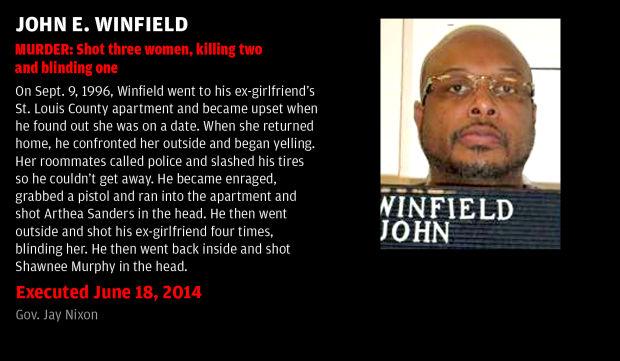 Executed July 16, 2014: John C. Middleton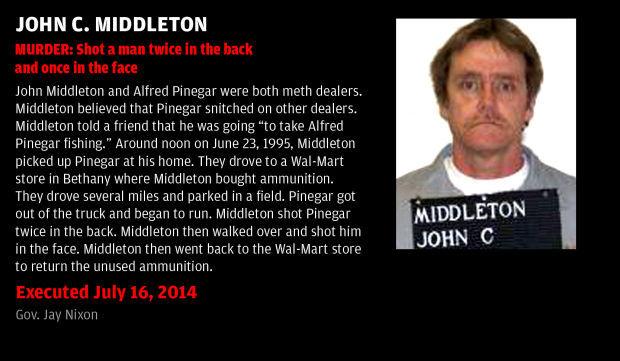 Executed Aug. 6, 2014: Michael Worthington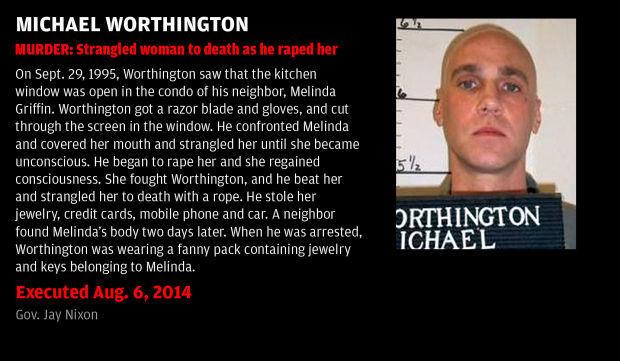 Executed Sept. 10, 2014: Earl Ringo, Jr.
Executed Nov. 19, 2014: Leon Vincent Taylor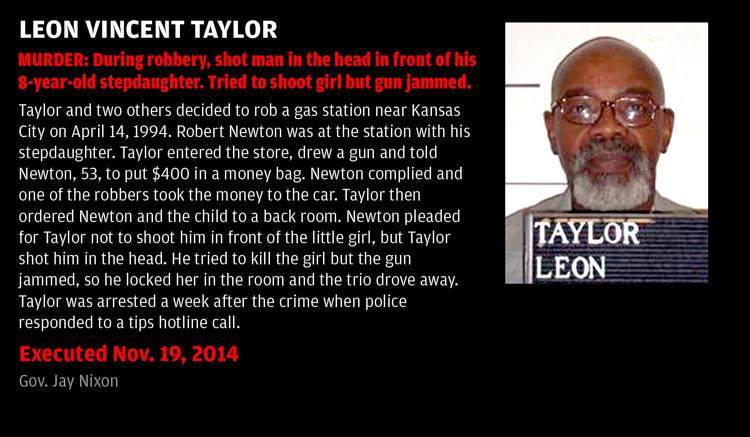 Executed Dec. 10, 2014: Paul Goodwin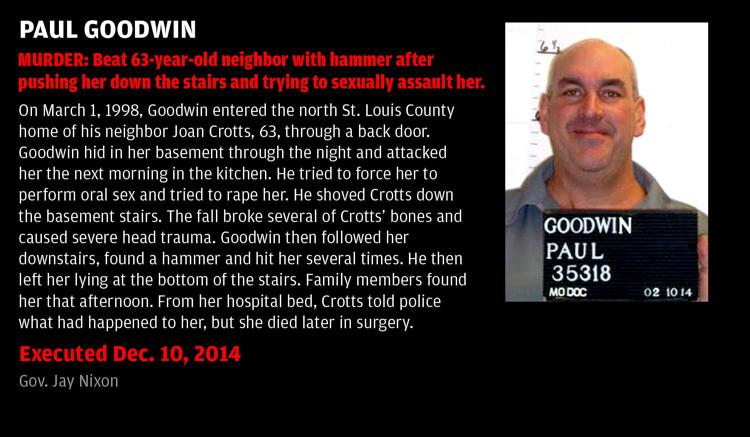 Executed Feb. 11, 2015: Walter Timothy Storey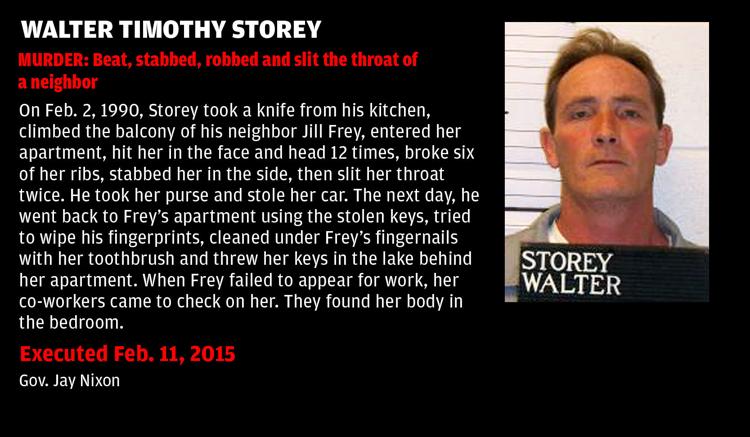 Executed March 18, 2015: Cecil L. Clayton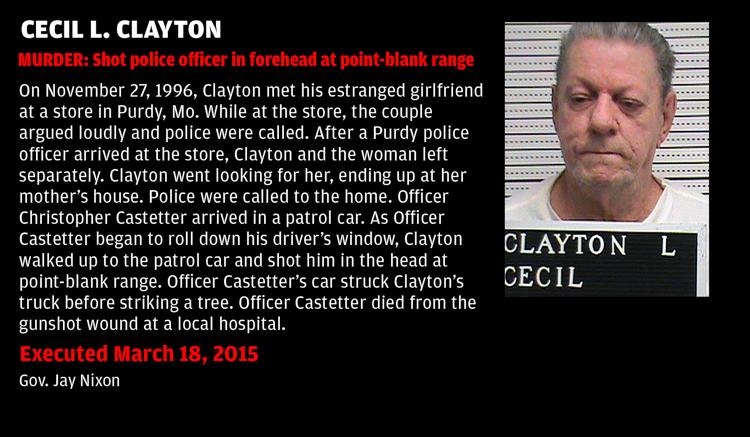 Executed April 15, 2015: Andre Cole
Executed June 9, 2015: Richard Strong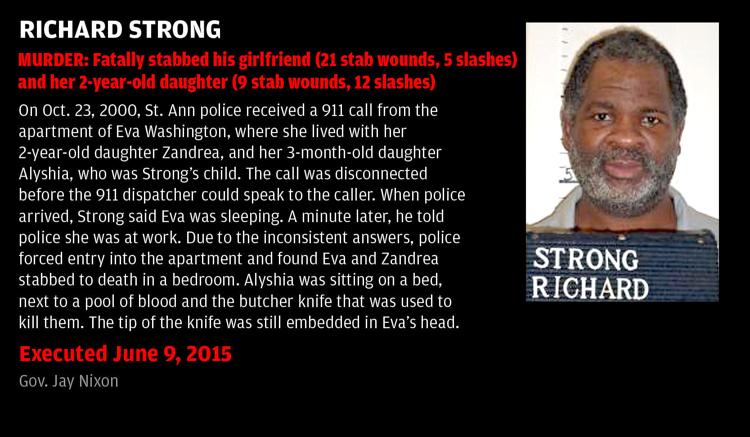 Executed July 14, 2015: David Zink
Executed Sept. 1, 2015: Roderick Nunley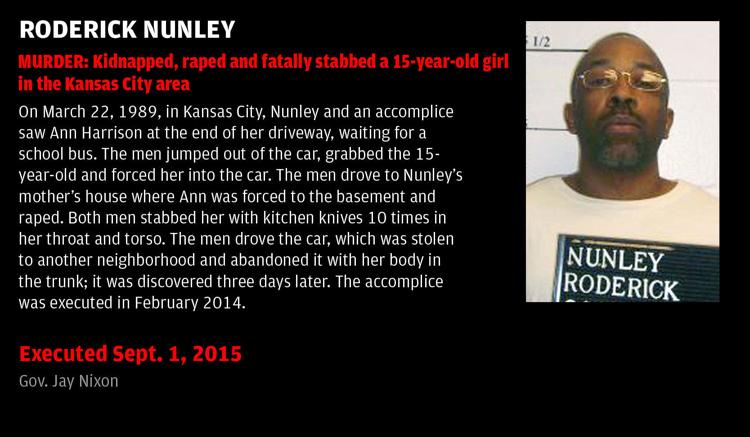 Executed May 11, 2016: Earl Forrest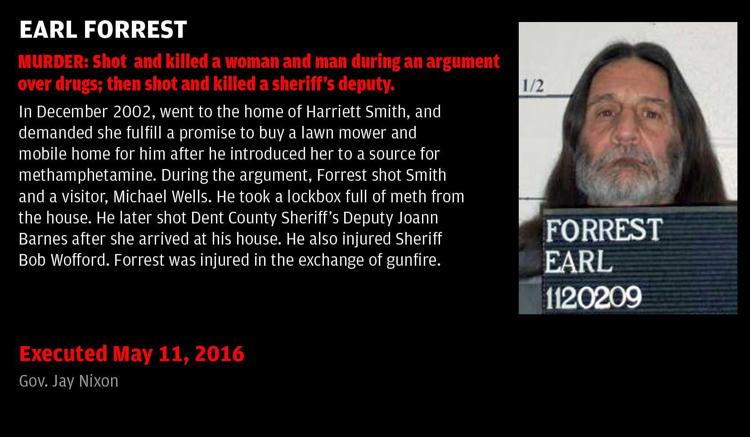 Executed Jan. 31, 2017: Mark Christeson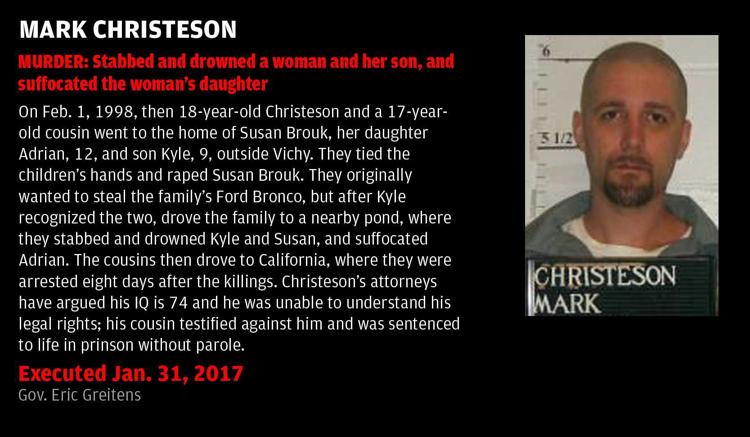 Executed Oct. 1, 2019: Russell Bucklew