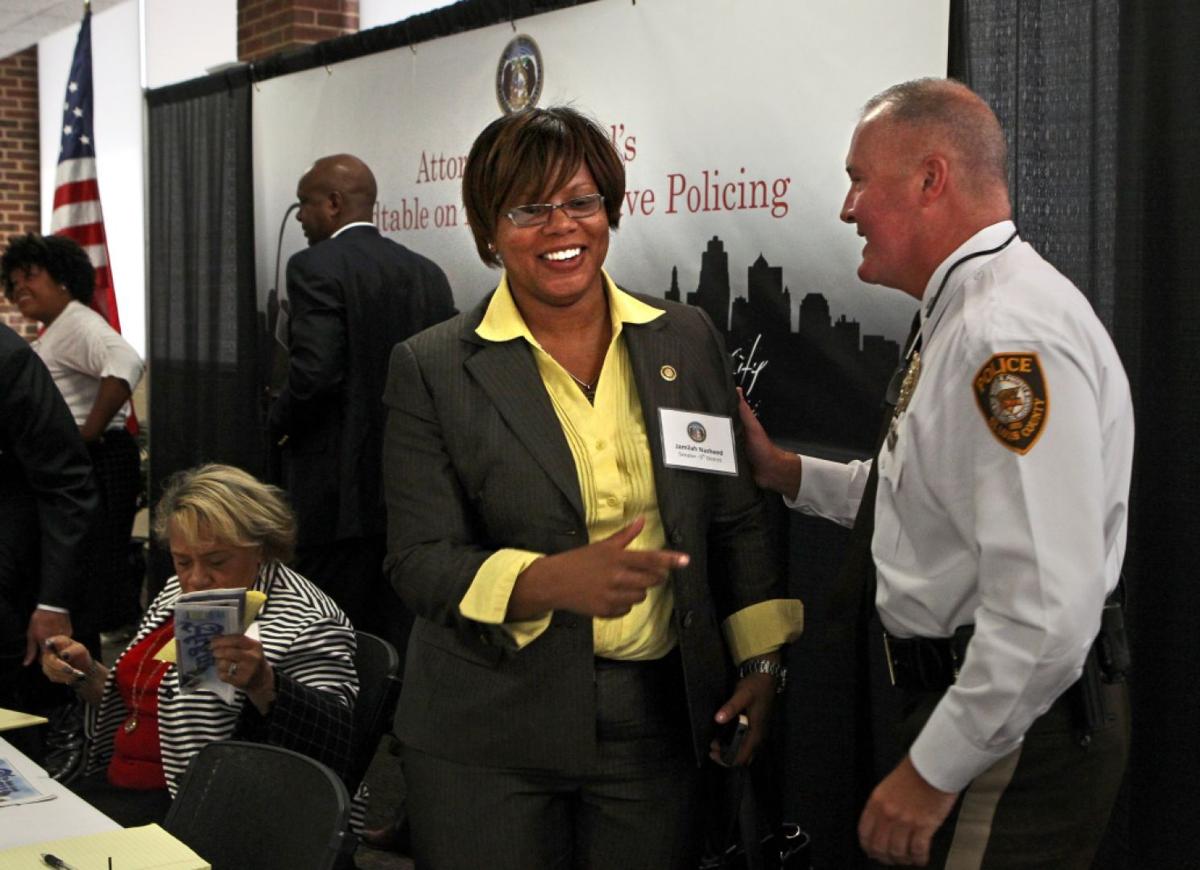 JEFFERSON CITY • State Sen. Jamilah Nasheed grew emotional when she watched a video Tuesday of Walter Scott, a black man, being gunned down by a white police officer in South Carolina.
Nasheed, D-St. Louis, watched it over and over again. And all she could think about was Michael Brown's death eight months ago in Ferguson.
No known video footage exists of Brown's shooting, which left the community to sort through sometimes conflicting witness statements and police explanations. In November, a grand jury chose not to indict then-Ferguson police Officer Darren Wilson in Brown's shooting, and a federal investigation later found no civil rights violations in his death.
Scott, 50, was shot and killed Saturday by police Officer Michael Slager in North Charleston, S.C. Slager initially said that he fired at Scott after a struggle and that he feared for his life. But a video showed Slager firing eight times at a fleeing Scott, who was unarmed. After authorities saw the video, Slager was charged with murder and fired from the department.
To Nasheed, the incident underscores the importance of police body cameras, which bring a "certain level of accountability." She has filed a bill in the Missouri Legislature that would require large police departments across the state to use body cameras. But few in the Legislature's Republican majority agree with her, even after the events in South Carolina.
Lawmakers filed at least nine body camera bills this session, but only one has made substantial progress, receiving about an hour of debate on the Senate floor last month.
That bill, sponsored by Sen. Doug Libla, R-Poplar Bluff, would bar the state from requiring law enforcement officers to wear or attach cameras to their vehicles. He said Wednesday that the decision should be left to the city, adding that the South Carolina shooting video didn't change his position.
The measure also would allow agencies to keep video recordings made by cameras secret. Libla said senators were tweaking that wording before the measure was brought back up on the floor for debate. Senate Majority Leader Ron Richard, R-Joplin, says he has no intention of bringing the bill back up on the floor until issues with the state's Sunshine Law are worked out.
Some Republicans are concerned that allowing public access to police recordings will violate a person's privacy. Libla said he didn't want an embarrassing moment for a family "to show up on a TV program," for example.
Neither does Rep. Shawn Rhoads, R-West Plains, chairman of the House Public Safety and Emergency Preparedness Committee and a former detective with the West Plains Police Department. Most Ferguson-related bills, including the body camera bills, were sent to his committee to be heard.
Rhoads has a different take on how to handle police video footage: allow public access to only some of the footage.
"If the police come into Grandma and Grandpa's house and the next day Grandma in her underwear is on YouTube," that shouldn't be released, he said.
A measure passed by his committee Tuesday would close recordings to the public, allowing disclosure in only certain situations.
Nasheed hopes to get more specific than that. When Libla's bill again is discussed on the Senate floor, she hopes to amend the bill to allow public access to videos when an officer has used deadly force.
Both she and Rep. Brandon Ellington, D-Kansas City and chairman of the Legislative Black Caucus, want to see a body camera mandate on the books this year.
Nasheed's bill would require agencies in cities with more than 100,000 people to equip their officers with body cameras. Those agencies would have to retain the recordings for two years. The measure has not had a hearing yet.
Ellington filed this year three measures mandating the use of body cameras, each with a different funding mechanism. One, which would increase the sales tax rate by 1 cent on retail sales of handguns and ammunition in the state, is estimated to cost more than $24 million.
And that's the major problem with a body camera mandate: how to fund it, Rhoads said.
A city can choose to impose a sales tax for body cameras if it wants to, Rhoads said, but funding shouldn't come from the state.
While lawmakers debate the use and funding for body cameras in Jefferson City, some cities in the St. Louis region have started planning to use them in the wake of Brown's death.
In Ferguson, camera manufacturers outfitted officers with the cameras for free.
In St. Louis County, Chief Jon Belmar began a pilot program for body cameras in the fall. At the March police board meeting, Belmar said his desire to equip his force with cameras had not changed, but had somewhat slowed as he learned more about the costs and manpower required to use them.
"It's a much more time-intensive project than any other we've taken on in my 29 years with this department," Belmar told his board. "And we don't understand the consequences."
Belmar estimates it would cost his department about $2.5 million to buy about 550 cameras, with annual running costs, which include data storage and staffing, of as much as $800,000.
"Just buying a camera and hooking it on a police officer doesn't solve any problems," Belmar said. "You need the infrastructure in place.
"But do I think it's necessary? You bet. We owe it to the community to do this."
In St. Louis, Police Chief Sam Dotson has said he is open to body cameras, although the Police Officers' Association has historically been opposed.
In St. Charles, City Council members approved in January a $424,437 contract with Taser International to provide 90 cameras and five years of storage.
The Missouri State Highway Patrol uses dash cameras, but not body cameras.
Christine Byers of the Post-Dispatch contributed to this report.