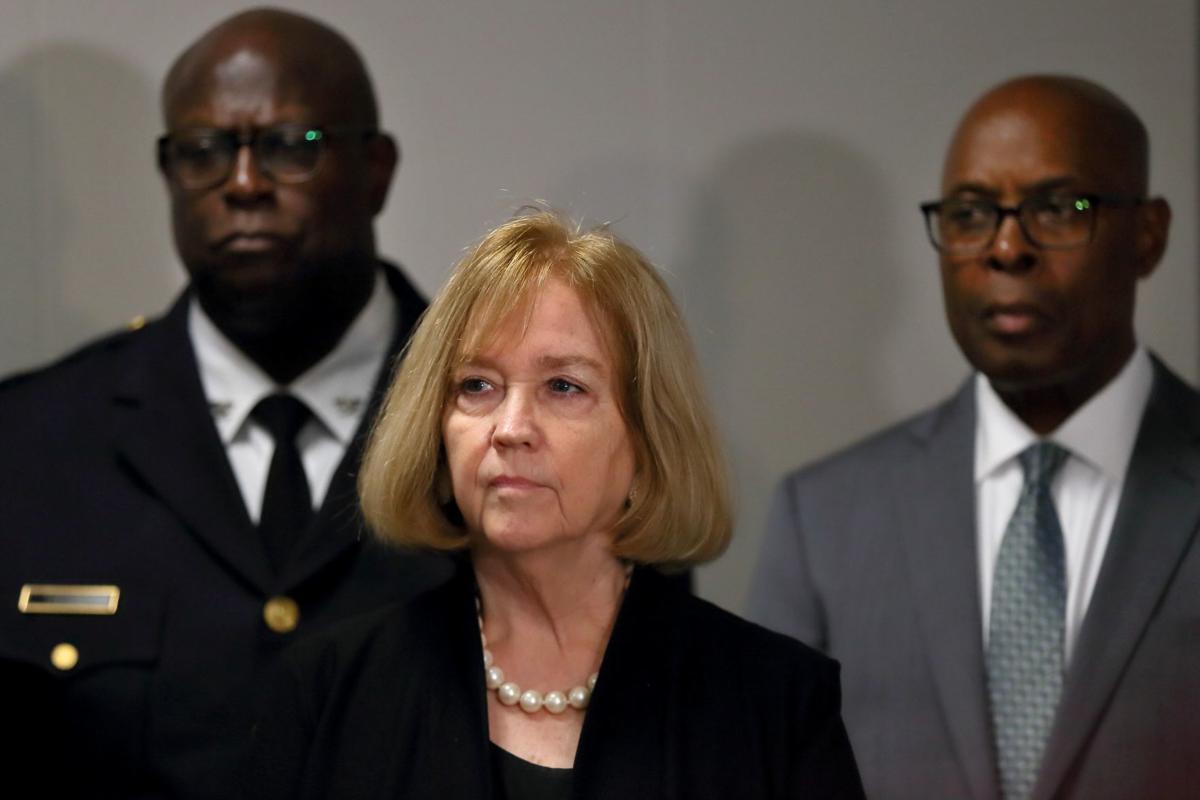 JEFFERSON CITY — With the Republican-led Legislature unlikely to act on any sweeping crackdown on gun violence, Gov. Mike Parson and the mayors of four Missouri cities outlined a more limited agenda for fighting urban crime Monday.
Under a package brokered over four meetings, the mayors said they want to make sure minors, domestic abusers and violent offenders don't have access to guns.
They also hope to boost funding for witness protection programs, which could help police solve more crimes by allowing witnesses to come forward without fear of reprisal from gangs.
Minors under the age of 18 can own or possess long guns, but under federal law, a person must be 18 or older to possess a handgun and be 21 or older to buy one.
"We're trying to keep handguns out of the hands of minors," St. Louis Mayor Lyda Krewson told reporters gathered in the governor's office. (In St. Louis, a bill was introduced Friday that would set up a new municipal ordinance violation barring youths younger than 18 from possessing a handgun. Alderman Jeffrey Boyd, D-22nd Ward, is the sponsor.)
Parson, a Republican, said he believes GOP lawmakers might be willing to address the issue of teen handgun ownership.
"I think that's a worthwhile discussion to have," Parson said. "I think that's a reasonable ask. I need to go out there and make my case to the Legislature."
His comments came after a 30-minute meeting with the mayors and police chiefs of St. Louis, Kansas City, Springfield and Columbia as part of an ongoing effort to address violent crime.
Parson did not offer any details on the state providing financial assistance to the cities. But some of the money could come from a program approved by lawmakers in 2018.
The Missouri Law Enforcement Assistance Program, operated by the Department of Public Safety, will offer grants to support local law enforcement agencies in areas including specialized training, data analysis to determine what factors are driving violent crime, and community policing efforts.
In the governor's proposed budget, the department is asking for $5 million for the program, which has not been funded since it was created.
"This isn't radical reform. These aren't radical ideas," said Kansas City Mayor Quinton Lucas. "We think that these steps are reasonable goals."
Parson has expressed support for some changes to the state's wide-open gun laws.
"I spent 22 years in law enforcement. The more you know about people and what it is they do, is important," said Parson, a former Polk County sheriff.
He also said he supported more law enforcement officers and more resources for mental health issues. The governor also has deployed Missouri State Highway Patrol officers to St. Louis as part of an effort to fight the surge of violent crime.
But Senate President Dave Schatz, R-Sullivan, has warned that Republicans who control the Legislature are unlikely to approve any gun control proposals in an election year.
Members of the House and Senate return to action in January.