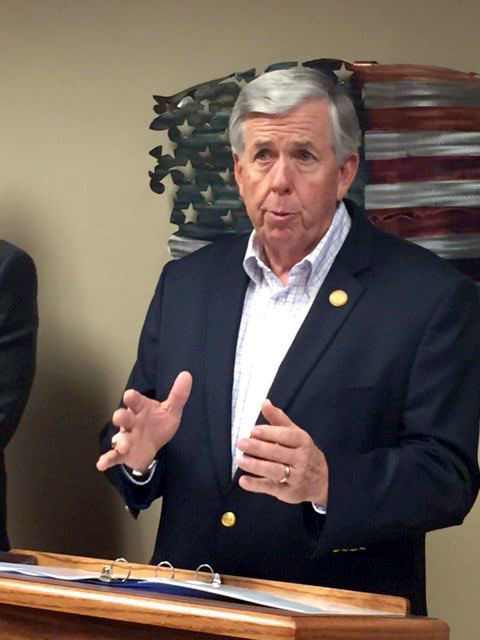 JEFFERSON CITY • Lt. Gov. Mike Parson and the top Democrat in the Missouri Senate are calling for the removal of top administrators at the embattled St. Louis Veterans Home.
In a press conference Monday, Parson said mismanagement at the nursing home in Bellefontaine Neighbors should trigger the firing of director Rolando Carter and his assistant, Aneeqa Khan.
He did not go as far to say Missouri Veterans Commission Director Larry Kay also should leave, saying that is for commission members to decide. Commissioners are appointed by Gov. Eric Greitens, a former Navy SEAL who campaigned on a platform of helping veterans.
Later, a spokesman for Senate Minority Leader Gina Walsh, D-Bellefontaine Neighbors, said the senator agrees with Parson that a change in leadership is needed.
The concerns include improper medication, including overuse of antipsychotics, the inability to hire and retain quality personnel, a lack of transparency and honesty in investigation of complaints, and a loss of faith between veterans, families and the administration of the Missouri Veterans Commission.
"The more I learn, the more frustrated I get," Parson said.
Parson is basing his call for removal on a report his office conducted on the home dating to February, which confirmed many of the concerns, including a lack of cooperation by administrators.
As a former county sheriff, Parson said the reluctance to share information got his attention.
"Nobody wants to admit we're not helping our veterans," Parson said.
Among his concerns is that Carter was administrator of a Chicago-area nursing home where a resident allegedly died from medication errors there in 2010. He also filed for bankruptcy protection in 2001 and again earlier this year.
Parson's comments come two weeks after Greitens announced that an outside firm — Harmony Healthcare International — will be paid $45,000 to conduct an independent investigation of the complaints.
In late October, more than 100 family members, employees and veterans asked for an independent investigation of allegations of abuse, mistreatment and neglect at the facility. Missouri's two U.S. senators also asked for an investigation.
In all, the HHI probe will be the fifth time the home has been surveyed for problems in the past year.
One of the reports — a survey conducted by the federal Department of Veterans Affairs — found a clean bill of health.
A spokesman for the commission did not immediately respond to a request for reaction.
 A report from HHI is expected by year's end.